50+ Beautiful Laurel Wreath Tattoo Designs and Meanings
The laurel wreath tattoo can be recognized for its simplicity.
It's made up of interwoven limbs and leaves of the laurel plant.
Despite the understated depiction, it has many definite meanings.
For the longest time, the symbol has been linked to glory and victory.
This can be traced back to Ancient Greece, where these were used as items to honor winners of competitions.
It rings true even today because it has transformed into a universal symbol of success.
Anyone who has reached a major milestone in their lives deserves a laurel wreath to remind them that they have done something big.
The meaning of Laurel wreath tattoos
Laurel's wreath is a sign of achievement and perfection.
Laurel leaves have long been associated with nobility, triumph, and victory.
The renowned crowns were designed to crown the Roman Empire's rulers.
They were presented as prizes to soldiers and great athletes in ancient Greece.
According to tradition, the laurel was celebrated with the crowns with which surrendered to praise the overall winners were fashioned.
If victory had been important and decisive, the winner coming in Rome mounted on a carriage, crowned with laurel, while the people cheered him as they pass through the male and dashing it had been.
The laurel wreath tattoo is a unique symbol that doesn't merely signify victory.
The plant the wreath derives from was actually believed to possess spiritual properties.
In modern times, its use is prevalent in academics. It can be seen at graduation ceremonies where laurel wreaths are crowned to students after completing education.
The symbol also finds its way to other fields, including the fashion industry.
Case in point, it gets featured in new releases of some fashion houses.
You can find them imprinted on rings, bracelets, and other types of jewelry.
Having said that, the inspiration for a laurel tattoo can be its original meaning, which is victory.
If you just hit a major achievement and don't want it to go unnoticed, ink your skin with this tattoo.
This way, everyone will notice it as well. They may be intrigued and end up asking you about it.
There are other meanings attached to the circular symbol, such as prestige and fortune.
Traditional laurel wreath tattoo
The laurel wreath comprises leaves and branches, so to present it traditionally, emphasize them.
What's the best location to place it?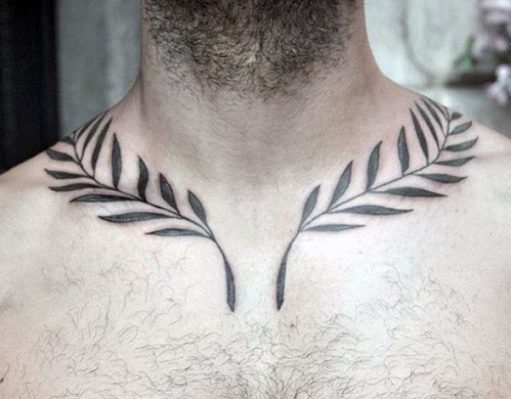 Laurel wreaths were used as crowns on the head. But since this is a tattoo, we can rule out this option.
A symmetrical location makes a good pick for a sense of balance, such as the neck or back.
However, it doesn't mean other areas aren't ideal.
What determines the outcome is the quality of the work itself.
If a tattoo is done tastefully, it will stand out no matter which part of the skin it resides.
Greek laurel wreath tattoo
Receiving a laurel wreath is considered a great honor, but it doesn't take a victor to wear one.
There are many reasons people get a tattoo.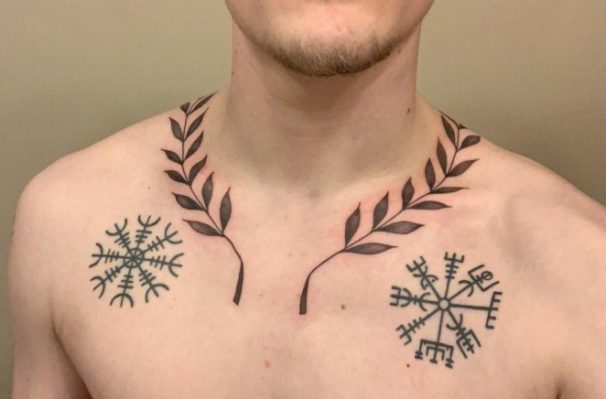 Some want to acknowledge the symbolic meaning; others call it for the sake of its beauty.
For a symbol rich in history, though, it's still important to gather information before turning it into a tattoo.
And that applies to the laurel wreath as it was crowned to special people.
Design-wise, all attention should be on the leaves because that's the core element.
You can make them lush or a bit scarce to give room for the branches.
Roman laurel wreath tattoo
Julius Caesar wore this headdress to show his authority and leadership, but getting this tattoo isn't a sign of a holier-than-thou attitude.
It could be just a way to say you're comfortable in your own skin.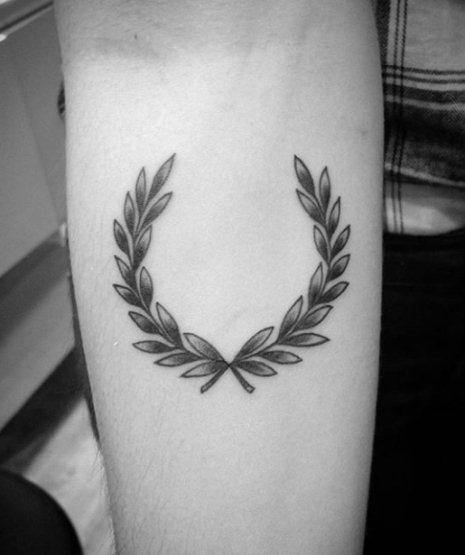 The depiction of the laurel wreath in Ancient Rome is similar to that of the Greek one.
Hence, don't be too fixated on how the leaves appear.
As long as they come from the same evergreen plant, you do it right.
On another note, the inside of the wreath can be filled with something or left empty.
If you go with the first option, choose a symbol that goes well with it, like a lone eye, maybe.
Laurel wreath tattoo on arm
The simple design gives a laurel tattoo a high degree of flexibility.
It's easy to fit in any part of the body.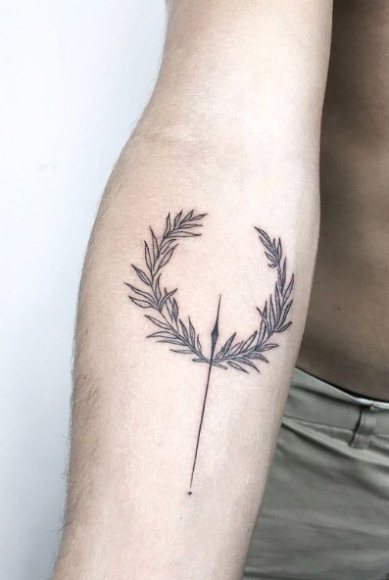 To make it more obvious, it can be a standalone tattoo.
When it comes to placement, you can put it close to the shoulder or the forearm.
Next, think of the size. Many people draw it medium-sized, which is a good move because it's quite straightforward.
They probably want to save larger areas for more sophisticated tattoos.
Laurel wreath tattoo on knee
The laurel wreath wrapped around the knee looks a lot like it being crowned on a bald head.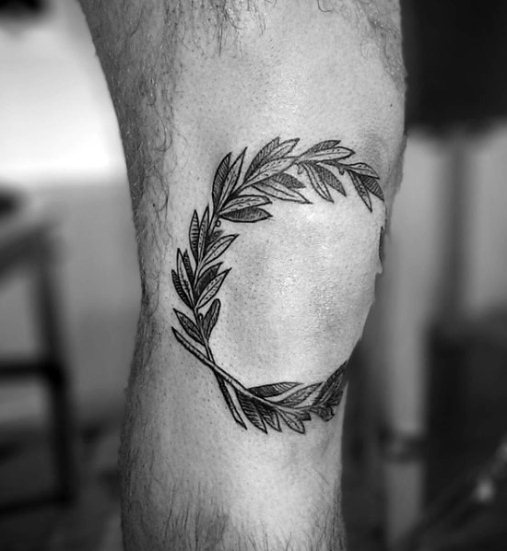 Back in the day, this structure was worn on the head, making this placement feel appropriate.
Additionally, the knee has a sense of symmetry. It matches the portrayal of this headdress which usually takes a round shape.
Another perk of this location is that it has a patella.
It can be a natural filling for the inside of the wreath if you prefer it ornate.
FAQs
1. How much do laurel wreath tattoos cost?
Laurel tattoos don't demand much effort because they look simple, like lifeline tattoos or infinity tattoos.
However, if you intentionally make it complex, then it will cost much higher.
If we go by size, then a small laurel wreath tattoo should cost less than $100.
A medium one is in the $200 range; it could be higher if it's done at an established tattoo shop. Price goes up as the size gets bigger.
2. Where do you put the laurel wreath tattoo?
There are no restrictions as to where you should put the tattoo. It's originally meant to be a headpiece.
However, many people seem to love it on their necks.
But since it's a tattoo, the neck can be a good alternative because it's the closest one. Besides, this location warrants greater visibility.
3. Does Justin Bieber have laurel wreath tattoo?
From some paparazzi shots circulating on the internet and pics he took himself, Justin Bieber does have a laurel wreath tattoo wrapped around his neck.