Gamer Tattoos: Ideas, Designs, and Meanings
It's normal; deciding on a tattoo might take some time.
Because the tattoo will be there for the rest of your life, make sure you choose wisely.
You need to come up with the greatest design possible before injecting ink into the skin.
If you love video games, you have come to the right place.
Thanks to the nice people at Hobbiestly, we learned more about tattoos in the gaming world and can share them with you in this post.
How can you tell gamer tattoos from others in the crowd?
It's actually simple; the tattoo should bring back fond memories of gaming.
As an excellent illustration, consider a controller tattoo.
The fact that we require them to play video games means that it's strongly linked with gaming.
Another example is a character tattoo.
Over the years, video games have given rise to many iconic characters.
You name it: Pac-Man, Donkey Kong, Mario, and Zelda are just a few.
If you're a big fan of one of these characters, you can use it to design the tattoo.
Small Gamer Tattoos
There are some parts of the body where large tattoos are hard to accommodate.
The forearm and back of the hand, for instance, don't have broad surfaces to place tattoos.
In these locations, you can go for smaller ones. There's nothing wrong with a small tattoo.
You don't have to make it big to show your great appreciation to a character or video games in general.
The placement is indeed important as it affects visibility.
Although the forearm doesn't provide a broad space to draw a tattoo, it's one of the most easily noticeable spots on the entire body.
Hence, this makes a terrific placement for a tattoo.
As for the design, it can be anything that you find attractive, like a controller, control buttons, etc.
You can either choose a 2D or a 3D design.
Both are good in their own way.
3D just has more sense of depth, but if you like 2D designs more, go for it.
Simple Gamer Tattoos
Should you choose a simple tattoo over an elaborate one?
Well, it will be on your skin, so the decision is all yours.
Simple doesn't have to be bad. It's wrong to equate the two because simple tattoos can also look stunning.
It depends on the artist's skills. If an artist is experienced, he can turn a simple design into an interesting one.
There are many things that affect the outcome, like details, shading, colors, etc.
When it comes to a simple tattoo, the design can be anything. You can pick a single object instead of putting some together.
Do you like Pokémon? There are many you can choose from as tattoo ideas.
Not only powerful, but each one also has distinguishable physical traits.
Any Pokémon would make a nifty tattoo design, but you can pick one that you actually adore.
Those who are into the series surely have their own heroes.
A tattoo can also be made simple by not using distracting colors.
Colors play a big role in the complexity of a tattoo.
A design that's simple can look fierce when it's brought into existence with vibrant colors.
PC Gamer Tattoos
There are two types of gamers by how they play, PC gamers and console gamers.
Which one do you identify as?
You don't have to exclusively play one, though. Here we have some PC gamer tattoos.
The word 'PC'S is the highlight, which means you need to choose something that's PC-related to put more emphasis on this type of gaming.
A peripherals design is a good idea. You can include in the tattoo a monitor, a keyboard, and a mouse.
Or if you want one object only, touch it up, so it has some gaming vibes to it.
A gaming setup can be a nice tattoo design because it's an essential part of PC gaming.
Without a powerful CPU, a vibrant display, and others, you won't be able to enjoy the best gaming experience.
By the way, the tattoo can be heavily inspired by your own gaming rig.
Every rig consists of unique items, so it's likely that yours is different from a gamer friend.
Keep in mind that peripherals come in various designs.
Let's take keyboards as an example.
There are full-size keyboards, tenkeyless, gaming keypads, etc.
The same goes for mice, headsets, and the rest.
Gamer Girl Tattoos
Everyone has the right to decorate their bodies with tattoos.
Whether you're a boy or a girl, if you think that a tattoo can help boost your appeal, then go get it.
Tattoos are not necessarily about looking cool or trendy.
Some use them to reminisce about special moments or things in their lives.
What's an appropriate tattoo design for a gamer girl?
There's no definite answer, but one thing is for sure, it doesn't need to have a girly appeal.
There's a popular belief that girls' favorite things have to be girly.
While many do love cute stuff, others aren't too invested in things that lean towards one gender.
You may consider yourself as one, too. Just think of something that you're passionate about.
If there's one game you've been playing a lot lately, the tattoo can take a cue from elements in the game.
It could be characters, items, settings, etc.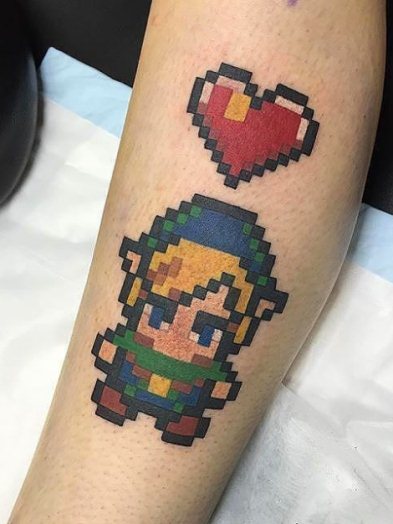 What may surprise you is that many gamer girls go all out with their love for tattoos.
Instead of getting a tattoo on a small portion of the skin, they choose to get a full-body tattoo.
Well, different strokes for different folks. You can do anything that floats your boat.
Final Thoughts
Do you feel inspired after seeing all these gamer tattoos?
Tattoos are a form of expression and a work of art.
If you appreciate them wholeheartedly, then it's great to have one or two.
But if they're not your cup of tea, you can still like them without needing to ink one on your skin.
Tattoos aren't just about captivating visuals.
Some people use them for identification, and others get them because they have deep meanings.
Whatever the reason, getting a tattoo is quite a big decision.
It affects the first impression especially when it's placed on a visible area.
Not all are keen on the idea of seeing tattoos on someone.
But regardless of people's views, your body is your private property.
Nobody but you can dictate what you do with it.
If you're a gamer and into tattoos, you can add one and be unapologetic about it.