Every tattoo artist needs to have at least one tattoo kit. The tattoo industry has been gaining in popularity in recent years. This tempted many manufacturers to create their lines of tattoo supplies.
Although tattoo machines are sold in single pieces, for a beginner it's a must to choose a package that includes all the basic supplies.
If you're new to this business, you may feel confused with all different components that a tattoo gun has.
It takes time to understand how those individual components work together. The best tattoo kits for beginners should help anyone who wants to simplify their tattoo work.
Best Tattoo Kits for Beginners
---
This kit is ideal for beginners, but can be just as useful for professionals. There's one coil machine with 10 wraps in the package. It's made of stainless steel that lends its modern appeal. It's not specifically a shader or a liner as both tasks could be handled.
For starters, the 2 bottles of ink isn't that bad. Of course, you can find more in a larger kit, but this isn't bad by any means.
Don't let the simple design fool you. The machine is reliable enough for doing day-to-day tattoo work. Besides, it's also easy to tune, which is important especially for those who just learned about tattoo equipment.
Other supplies in the package include a power supply, a foot pedal, tips, properly sterilized needles, and gloves.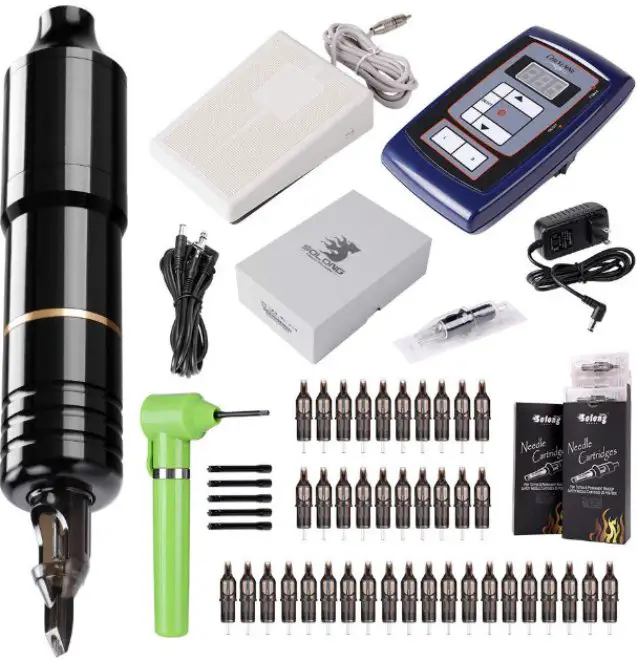 Choosing the right of machine can be time-consuming. As we know, tattoo machines are more than just the coil type. There are also rotary and hybrid ones. They all have different uses.
A hybrid machine is a good start because it can perform different tattoo techniques. This machine looks fairly simple, resembles a pen. It's sturdy thanks to its aluminum alloy construction. The anodized finish adds to its overall appeal.
In terms of functionality, this machine would make you content. It's everything you'd expect from a quality machine. It operates silently, stable, but powerful at the same time.
It's also suitable for long-time working because the advanced technology makes it less susceptible to overheating.
If you're wondering how complete this kit is, it comes with a jack plug adaptor, a foot pedal, a power supply, a pigment mixer, and needle cartridges.
This is for those who want a kit consisting of coil tattoo machines. There are 2 guns in the package, one for lining, and the other one for shading.
Coil machines are pretty much the standard in this industry. People like them because they do a terrific job in their respective areas. For example, liners do an excellent job to create outlines, while shaders can create detailed shades.
As with other kits, this also includes a clip cord and a foot pedal. No matter how high a machine costs, it's useless without a power supply.
As for coloring, the package includes 7 different colors. All of them are common colors that people use a lot for tattooing. Other additions to the package include 20pcs needles, o-rings, tips, etc.
This kit is quite comprehensive, actually. Even if it just has two machines, other supplies are aplenty. Let's start with the main component, namely the machines. The two units are both coil machines, a liner and a shader.
Performance-wise, it won't disappoint because the machines offers good working stability. They are also good for long-time working. Newest machines have gotten so much better in handling heat production.
You can use either gun for 8 hours non-stop and it won't feel scorching hot. Aside from the guns, there are other essential supplies, such as a clip cord, a power supply, a total of 7 bottles high quality color inks, disposable needs, and grips.
With such a long list of supplies, there is no need to upgrade your kit as it also suits professional tattoo work. However, it's wiser to buy a kit that corresponds to your needs.
If you just got into the business, a small kit will do the trick. You can always switch to a larger one next time, one that that has masks, apron, fake skin, and a lot of other items in it.
Price is a big consideration when it comes to purchasing a product. This kit has a decent price tag, not cheap, but not too expensive, either. It fits right in the middle, so whether you're a professional or a beginner, we think you can get one.
The machine looks ridiculously handsome. It's coated in a rose gold finish. Meanwhile, the material is space aluminum which ensures its sturdiness. As for performance, it relies on a Japan motor.
This tattoo pen sports an ergonomic design which is lightweight and silent during operation. The package comes with dual batteries, allows continuous working.
You can use one till it runs empty and then recharge it while using the other one. There is also a total of 20 pcs cartridges. They're highly safe thanks to the strict sterilization process.
Some people like tattoo pens over the other types for a number of reasons. Simplicity is one of them. It can take hours to finish a tattoo. When a machine is a bit too heavy, it would put a strain on the wrist, making you feel fatigue more easily.
This gun solves the problem with its lightweight design. On the contrary, the performance is actually good. It's powered by a Taiwan motor that not only delivers exceptional power, but also produces little to no noise.
It operates at voltage levels between 7 and 12V DC. On top that, this machine works with power supplies by other manufacturers. Other than the machine, there are also a foot pedal, a power supply, a clip cord, fake skin for you to practice on, and needle cartridges.
Tips for choosing the best tattoo kit for beginners
---
1. See what's included
This is important because every kit has a different number of supplies. Some kits have just one machine, while others can have more than 4. Of course, larger packages are more expensive because they contain many supplies. They are not always better, though.
The best way to pick an ideal package is by knowing your needs. If you just started to learn about tattooing, you can get a small kit. If it will fill your tattoo shop, then a larger one can be an option. Also, pay attention to the additional items.
Please find out what's included and excluded. Just because a kit is costly doesn't mean it has all the supplies you need. Just read the product page carefully because the list of items is usually displayed there.
2. Buy from well-known brands
Nobody says that you can't buy an affordable tattoo gun kit, but if quality is your biggest concern, then well-known brands are the way to go. Top manufacturers usually have been in the game for a long time.
They have put much time and effort into developing high-quality products. Since they are experts in this field, they often sell complementary tattoo equipment, such as needles, ink, thermal copiers, power cords, grips, and much more.
Bear in mind that famous brands are used widely by professional tattoo artists. So when a brand has reached a top-tier level in terms of popularity and recognition, you'll see many artists recommend its products.
3. Read reviews
What you see on a listing can be deceiving. That's because the images used for the product have been taken professionally. If you want to know how people feel about a tattoo kit, you should read reviews by those who have used it first.
Online marketplaces usually reveal this information to their visitors, so it's not hard to see if a product is worth-buying or not. Even products from the same manufacturer can receive different feedbacks from customers. Some would rank higher than the others and it's normal.
Conclusion
---
Getting the best tattoo kit for beginners is quite challenging, but it shouldn't discourage you because there's a lot to learn as you search around. It's okay to start out with a small kit.
In case you want to have your own tattoo shop, a larger kit would be a necessity because you will frequently deal with broken needles and worn-out machines.
A kit should at least include the basic supplies, like a machine, needles, and ink. These are the most important ones.
As for replacement parts, you can think about them later when the existing ones start to deteriorate. Don't hesitate to splurge on a quality kit because it has quality to make up for the high price.
---
Related Posts – Tattoo Machines
---