Best Tattoo Starter Kit: Reviews and Complete Buying Guide 2023
The idea of the best tattoo starter kit is hard to define because we all have different needs. What may seem like a complete package for one may feel the opposite for the other. Therefore, you should know your needs before shopping around.
If you're a novice, it makes sense to opt for a starter kit. But if you've been in the business for years, then this type of kit may not longer accommodate your needs. You'll need to upgrade to a larger package especially if you plan on owning your own tattoo shop.
There are quite a few major tattoo suppliers you'll find down the road. Keep in mind that they sell a broad range of supplies and kits which not only vary in size, but also price.
Depending on the number of items, a kit may cost less than $50 or over $100. Although they contain varying items, the basic ones like machines are never absent.
Apart from machine(s), you will also find a power supply, a cord, a foot pedal, inks, caps, needles, etc in the same package. Some are probably missing, but it has to do with the size of the package itself.
Spiritus Tattoo is reader-supported, and as an Amazon Associate, we earn commissions from qualifying purchases (at no extra cost to you). See our disclaimer page for more information.
Best Tattoo Starter Kits
---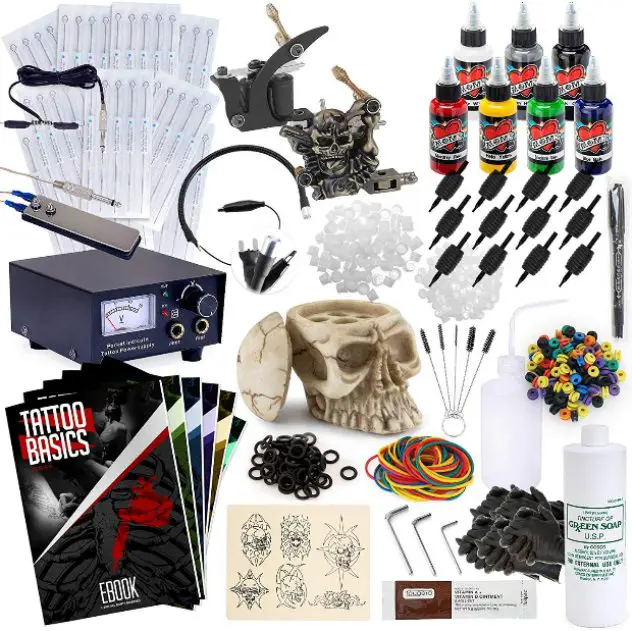 This kit is pretty decent size-wise. You will get the most basic accessories, including tubes and needles. It's a two machine configuration, a liner and a shader. The power supply system also has its own foot pedal, so you don't need to buy this component separately.
The inclusion of an instructional eBook will be helpful especially for novices. As we know, not every machine comes with an easy setup. Some require proper tuning which demands technical skills.
Now that it has a tutorial, you don't need to ask a tattoo expert how to make it work. There is a wide array of supplies in the package, including 7 bottles of ink, clear caps, silica tubes, and needles.
Don't worry about safety because the needles have been sterilized using ethylene oxide. From the picture, it's clear that this kit is quite large.
Aside from the aforementioned supplies, you will also get grommets, rubber bands, and gloves.
Our second pick for this review is slightly smaller in size. It just has one machine, but that's not a big deal because it can still do the regular tattoo work. The machine can act as a liner and a shader.
There is also a power supply for operation of the machine. For safety reasons, the seller also includes 2 disposable gloves.
The thing with a smaller kit is that we study the components more carefully. Once you've been familiar with the basic supplies, you can upgrade to a larger kit that has more pieces in it. Besides the ones already mentioned, this kit also has o-rings, grommets, ink, ink cups, and practice skin.
The last one isn't always included in a kit, but very beneficial especially for those who still make a lot of mistakes doing a tattoo.
It's a no brainer to choose a Solong tattoo kit. That's because the company is known for creating quality tattoo products.
If you don't want to be bothered by the sea of choices, then your best bet is on the most popular brands, and Solong belongs to this elite group.
What does this kit has to offer?
The first one is 2 coil tattoo machines. This configuration is perfect for beginners. If you just got into this skin art recently, then start with a smaller kit. Besides the two guns, it also includes an LCD tattoo power supply.
Of course, it also comes equipped with a clip cord and a foot pedal. The connection can't be established when one is missing. And then, you will also get a total of 28 tattoo ink colors with extraordinary quality.
The colors are bright, but most importantly, they're safe for skin application. There's more to see, such as grips, ink cups, tips, and sterile needles.
We also want to introduce this kit by Solong, which is suitable for intermediate users. There are 4 different machines, all are classified into shaders and liners. As with the previous offering, this also includes a power supply and a foot pedal.
One of the striking differences is the number of ink colors. It has twice as many inks. Many would say that the machine is the integral part of a tattoo kit. There's nothing wrong with this statement, but ink also plays an important role.
Don't undermine the importance of ink because not every ink is safe for use. Those included in this kit are not just bright and vivid, but also meet safety standards. There are also 50 needles for long-term use.
And if that wasn't enough, the kit ensures that you don't run out of ink cups too soon because it has 100 of them along with 10 grips and 10 tips.
This is an example of a kit that doesn't include ink. Maybe you already have your own selection of ink colors, so this would be good kit to have either way. Other important accessories are included, though.
There's only one machine in the package. This is a multifunctional device that you can use to create outlines and shade. The machine is a coil variety that has 10 copper coils. Another reason to have this kit is because it gives a free manual.
You'll be taught how to get started with the machine, perfect for someone who just learned about tattooing.
In case you're curious about origin of the brand name, it was actually inspired by sharks, which are known for their speed and maneuverability.
Basically, the company aims to produce machines that can help you finish tattoo work fast. There are a few other items you'll find while unboxing, such as a power supply, a foot pedal, a clip cord, needles, grips, ink cups, and grommets.
Many starter kits have just 2 machines. Well, 2 guns are more than enough for a novice user. Heck, you can even do a tattoo with a single hybrid machine.
The number of machines matters because different tattoo techniques need different types of machines, but for someone who's just getting started, a 2 machine configuration is perfect.
You can learn how to use a liner and a shader because these two are often sold as a set. In this package, you will also get a power supply, o rings, and other essential supplies.
How to choose the best tattoo starter kit
---
1. Value for money
In general, value for money means getting the most benefits out of a product by paying the lowest price possible.
However, you shouldn't mistake this for being cheap. Cheap goods aren't necessarily value for money.
If a product is cheap, but it comes with low quality, then it isn't value for money at all. It can only fall under this category if it brings a lot of bang for the buck or has good quality to make up for the low price.
2. Ease of use
Different types of machines require different levels of mastery. Many tattoo artists agree that coil machines are typically harder to work with.
For this reason, if you want to buy a kit containing this type of machine, then you should get to know the components. Try to locate the armature bar, front spring, coils, and other parts.
By knowing the working mechanism, you will understand how to do proper tuning to achieve the desired levels. Other types like tattoo pens may be easier to operate, but they still have downsides that you should be aware of.
3. Basic supplies
A good starter kit is one that includes the basic supplies. A machine is just one component. The kit should also include a good power supply system, needles, and ink at the bare minimum.
You can't do a tattoo when one of these items is missing. Sure, you can buy them separately, but what's the point of buying a kit when you end up looking for another package to get started?
Focus on the basic supplies. Other extras like fake skin, cleaning set, and gloves aren't crucial because a tattoo machine doesn't need them to work.
Conclusion
---
What it takes to get the best tattoo starter kit?
Time is the answer. You should take time to shop around and compare different packages. The most important part of a tattoo kit is the machine. It can make or break your decision.
It's okay to purchase an affordable kit, but make sure the machine is at least reliable.
The next important consideration is budget. If you're on a shoestring budget, it's also a good idea to invest in an affordable kit. There are plenty of inexpensive kits on the market.
You can get one for as low as $30. Price doesn't always define quality, but great quality often drives high prices, so don't be too skimpy.
Tattoo Machines Related Posts
---