53 Cool Nightmare Before Christmas Tattoo Designs
Tattoos based on popular movies are rather prevalent. After all, the goal of this type of entertainment is to disseminate the creator's message to others as well as to make a profit.
The Nightmare Before Christmas is one of those films that people remember for years after they see it because it has so many memorable components.
We are encouraged to enter the mind of the creator, Tim Burton, through this film.
With all the creepiness going on, it doesn't truly symbolize the Christmas spirit, despite being widely shown during the holiday season.
The Story Behind Jack Skellington
Jack Skellington is the main protagonist in the movie. He's portrayed as a tall skeleton wearing a black pin-striped suit as well as a uniquely shaped bow tie which looks like a bat.
He's earned a title as the Pumpkin King, and seamlessly morphed into an icon of Halloween with his frightening appearance.
The movie starts with him celebrating yet another successful Halloween, but this time, he feels a little tired with the annual routine.
Long story short, his weary self leads him to come across a door to Christmas Town, which is full of happiness and joy.
Seeing all that, he creates a plan to surprise the inhabitants. The plot thickens as he decides to hold Santa hostage and replace him as the father of Christmas.
So instead of handing out lovely gifts to kids, he gives them things that cause nightmares, like snakes and flying demons.
To no surprise, that brings him joy because it's been his intent all along.
Nightmare Before Christmas Tattoos for Couples
Many couples who got their tattoos inspired by The Nightmare Before Christmas chose to get inked with Jack and Sally images.
It's not surprising given that they're the stars.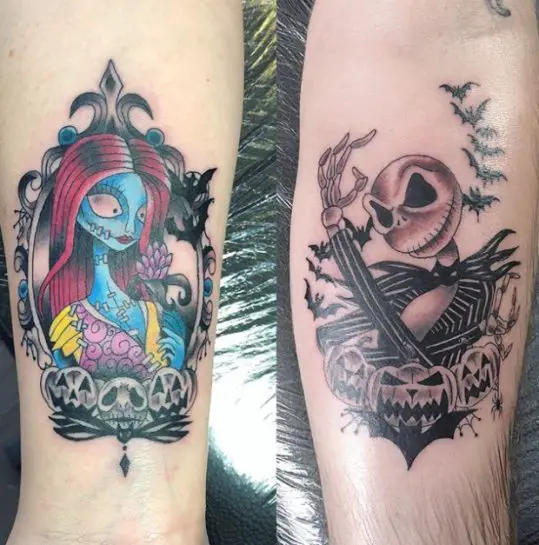 Couple tattoos, however, can be good or bad depending on how your relationship develops.
Sure, no one wants to break up with their significant other, and many want to take it to the next level. 
However, as humans can never predict the future, people frequently hold back from getting couples' tattoos.
This is especially true for tattoos that include the name of a lover.
It will be safer if the tattoo is based on a universal theme, like the Nightmare Before Christmas movie, for example.
Jack and Sally show that true love exists. Love waits patiently and sneaks up on us when we least expect it. 
They are the embodiment of love, so including Jack and Sally in your couple tattoos would be great.
Also, there's nothing to worry about if the romance suddenly turns sour.
No need to get a cover-up if your relationships go south—which, of course, we don't want to happen.
It might bring back old memories, but it wouldn't be as depressing as keeping a name tattoo.
You don't want your new partner to see your ex's name tattooed on your skin, do you?
Jack and Sally Tattoos
It's thrilling to see Jack and Sally's mutual love. These two characters are polar opposites, which makes them an excellent couple.
Jack is emotionally insensitive to the feelings of others. His naivety is palpable, whereas Sally is portrayed as the more grounded character.
We can also draw parallels between the two due to their ability to take off body parts.
Surprisingly, this strange ability does no harm.
It's perfectly fine to think of them as a symbol of unconditional love.
They have inspired countless tattoos based on The Nightmare Before Christmas. And if you've been a long-time fan of the film, getting one shows your adoration.
Jack and Sally's love is as enduring as the film, which has aged like fine wine.
You can design the tattoo however you want.
They could, for example, embrace, lock gentle gazes, or flash wide smiles as if they had a romantic crush.
The sky's the limit.
Best Jack Skellington Tattoos
Small Jack Skellington Tattoos
Jack's spooky face is enough to frighten anyone.
If you want to reduce the size of a Jack tattoo, one option is to remove the body.
It goes without saying that his entire appearance is terrifying, but his expressionless face would startle anyone.
You had no idea that Jack could be so adorable.
You should make him smile to dispel the creepy vibe.
And if you want to keep his torso and limbs intact, simply scale it down accordingly.
Jack Skellington Tattoo Sleeves
Because of his height, Jack is ideal for a tattoo sleeve. Inking this character on a large scale allows you to include his spindly arms and legs.
His gaunt appearance, on the other hand, is bound to leave some empty spaces.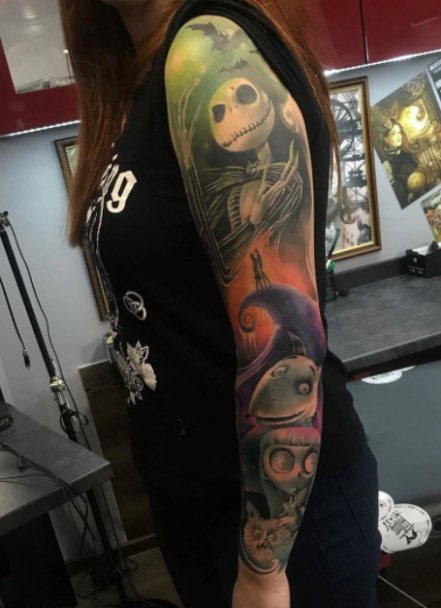 But that's not really a problem because the movie has engrossing aesthetics that many would call "twisted beauty."
You can always incorporate these visual elements into the tattoo.
Sally from Nightmare Before Christmas tattoos
Sally is another important character in the movie, which is a ragdoll taking on humanoid form.
Created by Dr. Finkelstein, she's always under his supervision. It's hard for her to break free from his clutches. But she doesn't give up that easy. With a deadly concoction, she manages to escape.
Sally is Jack's love interest, but unfortunately, the feelings aren't mutual at first, but they do have a happy ending when he reciprocates her love. Despite the fact that she's a doll, she conveys emotions like a human.
She can be sad, frightened, and even shy especially regarding how she feels about jack.
She's also caring and forgiving. The great personality is what makes Sally a wonderful tattoo design.
Oogie Boogie Tattoos
There are many characters in the movie that can inspire your tattoo, but Oogie Boogie would be just a strange pick due to him being an antagonist.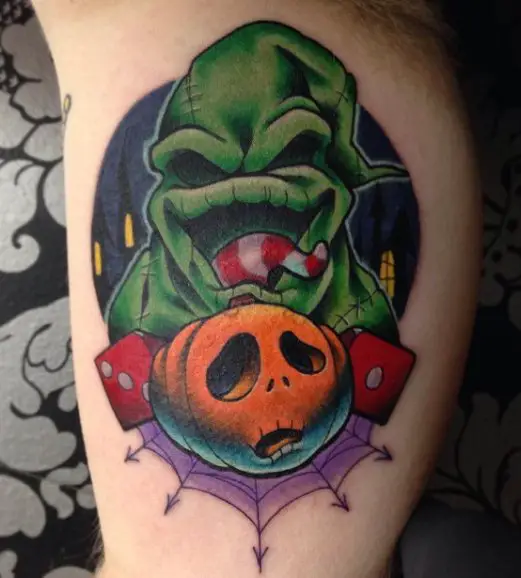 He embodies the word evil with his treacherous nature and overall sadistic behavior. Besides, he's also quite scary-looking.
Getting this tattoo doesn't mean you're okay with his manipulative ways or all the bad traits this character exhibits. You probably just enjoy the creepy side of him.
At the end of the day, Halloween is all about horror and terror, so all these frightening monsters are expected to be associated with the holiday.
Oogie Boogie is depicted as a burlap sack containing bugs and scary animals. For a tattoo, you can draw up his whole body or a close-up shot. His face is iconic enough to deserve its own tattoo.
Zero The Dog Tattoos
Unlike a real dog, Zero has a ghostly appearance. Yes, he barks like one, but instead of walking on its legs, it floats in the air and glides effortlessly through it.
One of the recognizable features of this loyal dog is its glowing nose. While he's just a supporting character, he holds importance in the story because he is Jack's pet dog.
The only thing that keeps him from becoming a real dog is his looks. Other than that, he behaves just like any other dog with a penchant for bones.
Getting a tattoo based on this character is a good idea because he possesses good qualities. Besides being smart, he's also kind and displays objection to his master's fixation with Christmas.
Nightmare Before Christmas Sleeve Tattoos
Creating a sleeve tattoo out of characters in this movie shouldn't be difficult as there are many of them, as you can see in this black and grey tattoo design.
The iconic movie poster is another you can consider because it captures the essence of Halloween especially with the color theme and jack-o-lanterns sitting on the ground.
Now if you opt for the characters, think of ones to be featured on the tattoo.
Aside from Jack Skellington, there are Sally, Oogie Boogie, Barrel, Lock, and much more.
Nightmare Before Christmas Thigh Tattoos
The thigh allows you to create a large tattoo, which is a great way to honor the movie as a die-hard fan.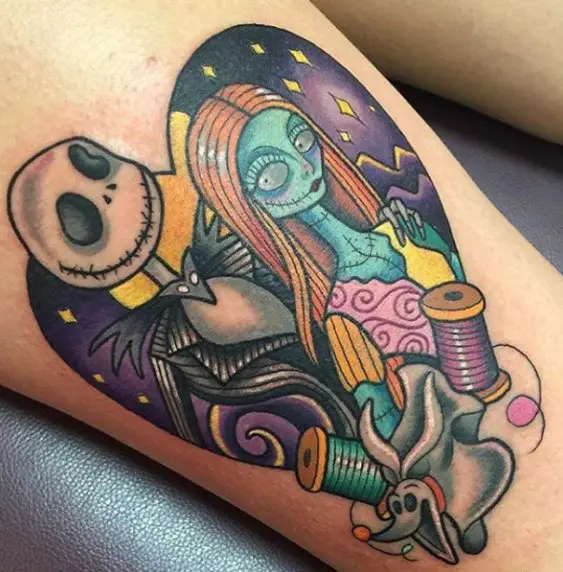 People who are obsessed with a movie usually don't mind decorating a large section of their skin with a tattoo taking a cue from the said movie.
In this case, you can include the main protagonists, namely Sally and Jack.
The spark of love between the two is so heartwarming even though the whole theme feels dark.
FAQs
Why do people get Nightmare Before Christmas tattoos?
People get tattoos of things they like. But does this movie deserve to be showered with praise?
Yes, because it's exceptional. Everything about it is timeless, from the characters, storyline, music, and cinematography.
What does Jack Skellington symbolize?
He's pretty much the personification of Halloween. He's depicted as a bad villain halfway through the movie, but then becomes good and corrects his mistakes.
As a character, he represents humans in the most sincere way.
Yes, we can be bad sometimes, but it's never too late to realize that and be a better person by learning from past mistakes.
What is the message of The Nightmare Before Christmas?
It teaches that whatever we do, can be perceived differently by people. Basically, despite the good intentions, there's a chance that we upset some people.
Another good lesson is to know yourself better. It's better to be great at one thing than be the jack of all trades.
Jack (the character) is good at Halloween but fails miserably when he tries to take over Christmas.
Relive your nightmares and horor with these Nightmare Before Christmas Tattoos Designs!