41+ Inseparable Sisters Infinity Tattoos You'll Want to Get.
One of the reasons individuals get tattoos is to express their feelings for someone.
It's not always a girlfriend or boyfriend.
The individual you've been living with might be the idea for the tattoo.
It may be your mother, father, brother, or sister.
Because women are emotional beings, the last one often develops a strong link inside a family.
If you are searching for sister tattoo ideas, you might consider getting a sister infinity tattoo.
It is a beautiful way to commemorate your special bond with your sister.
You may divorce your husband, but family is everlasting.
This is especially poignant when the sisters are twins. It would be fantastic if they had matching tattoos.
Sister infinity tattoos meaning
The significance of this tattoo is similar to that of the infinity tattoo.
It's simply that the word "sister" has been added to the mix.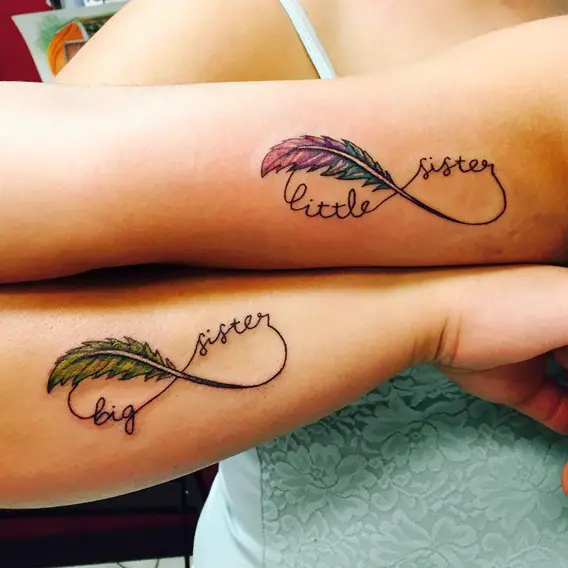 In terms of aesthetics, it plainly takes inspiration from the infinity sign.
Yet certain adjustments have been made to make it more personal.
This symbol is shaped like a figure eight with no broken portions.
The line's infinite continuation implies limitlessness.
When used in the context of love, it signifies that love bonds two people together for all time.
This is especially true when it comes to a familial tie.
No matter how strained your connection with your sister is, your blood runs through her veins as well.
And a sister infinity tattoo can show that you'll always have each other's backs even after you go separate ways to have your own family.
Big sister little sister infinity tattoo
Sister infinity tattoos come in a variety of styles and sizes.
For the record, these are most likely among the simplest-looking tattoos ever.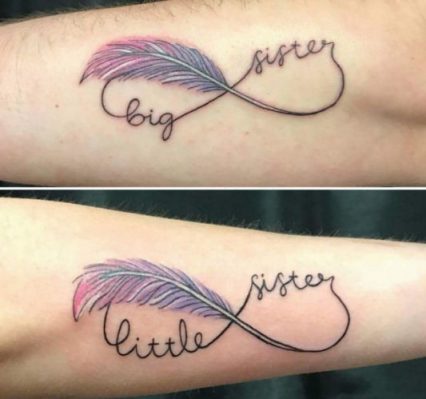 Even the larger ones are often done in a way that makes them appear inconspicuous.
That makes sense because the infinity sign is basic, similar to the number 8 turned on its side.
Because it is the most important component, you should be pushed forward rather than hidden in the rear.
You should be cautious in elaborating specifics since they may drown it out.
To make it more intriguing, include the word "sister, big sister, big sis, or little sis" in the mix, or consider using other symbols of love, such as the heart.
Those words will give the tattoo more dimension. It indicates that you'll always have each other's backs, even after you go your own ways to start your own family.
Now, let's discuss popular tattoo design/tattoo ideas for this type of tattoo art.
Sibling tattoo: Soul sister infinity tattoo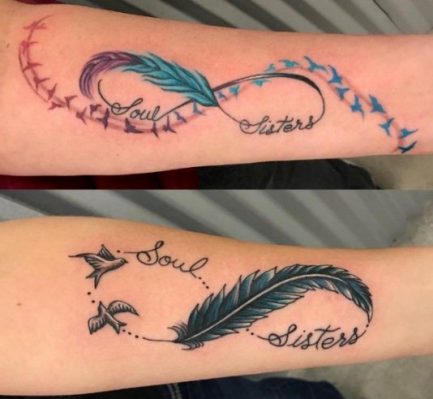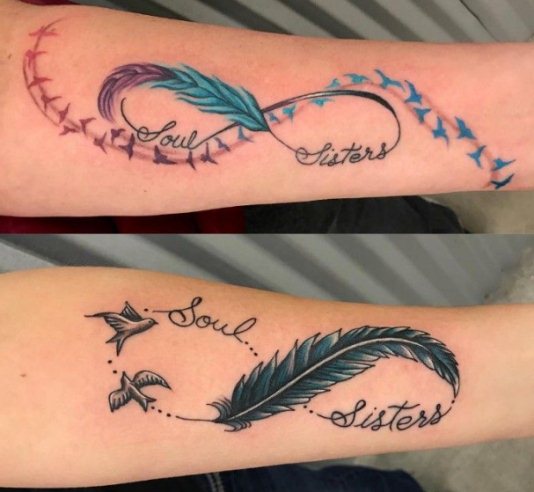 If you're looking for the equivalent of sisters for people who aren't related,' soul sisters' is the term to use.
We're confident you have at least one buddy that you connect with on a personal level.
Infinity sister tattoo would be ideal for depicting that bond.
They can be built similar to one another (matching infinity tattoo), one for you and one for her.
This design is also perfect if you have a twin sister.
Make careful to emphasize the symbol because it is the focal point of the tattoo.
It can be enhanced with other symbolic artifacts, such as a feather, which also symbolizes spiritual connectedness.
Feathers are associated with good emotions such as trust, knowledge, and tranquility.
Sibling tattoo: Sister tattoos for 3 (Three)
Tattoos featuring infinity symbols can be shared by more than two sisters.
Suppose there are more ladies in your family.
In that case, you can construct more to represent the close relationship you have with your siblings.
They might use the same design or one that is distinct yet comparable.
Tattoos that are supposed to build a relationship rely heavily on placement.
If one person receives it on their forearm, others should do the same.
It will be easy to picture them together this way.
Sibling tattoo: Sister tattoos for 4 (Four)
Though sister tattoos are popular, there are several styles available.
More popular designs often outshine the infinity symbol.
To be honest, matching infinity tattoos are already tough to come by.
Choose a higher number; they will be rarer.
Having said that, we're sure you can imagine how these tattoos would appear on four persons or sisters in this case.
Consider viewing a photo of a matching sister tattoo and a replica of that next to each other.
That is how we can see 4 sister tattoos.
They might be close or even identical in terms of design if the artist is skilled at shading and line.
FAQs
1. What tattoo symbols represent sisters forever?
The infinity symbol immediately comes to mind because it is a secure depiction of global love.
It may be used by anyone, regardless of the sort of relationship they have with someone.
Other emblems include the dove and the Celtic love knot.
Doves, in particular, are widely regarded as a symbol of love, and their representation is strongly linked to romantic relationships.
It can also represent platonic affection among family members.
The interlacing pattern of the Celtic knot can be seen as the tying of two people in a long-term partnership.
2. Where do you put the infinity tattoo?
To be fair, there is no such thing as a good tattoo location.
Every portion of your skin is fine; what counts most is your intent.
If you want it to be visible, regions like the forearm, hand, and leg are ideal.
However, if you wish to conceal it, the inner lip or the back of the ear would work wonderfully.
If you're worried about pain, avoid sensitive places like the rib cage and inner thigh.
3. How much do sister infinity tattoos cost?
Because infinity tattoos are often basic in appearance, they should be less expensive than others of the same size.
They are similar to archery tattoos in that the emphasis is on the linework.
Though shading is an option, it can ruin the whole image; thus, it is seldom highlighted.
4. Why should you get sisters' tattoos?
Well, only you can answer this question.
Suppose you think your relationship with your sister is strong and indestructible.
In that case, this is an excellent piece of artwork to reflect that.