Does it hurt to get a tattoo? The fact that we can easily find the best tattoo numbing creams says it all. It may not be the most painful thing to go through, but painful enough to make many people refuse to get one.
Apparently, everyone has a different pain threshold. What you perceive as intolerable pain might feel like ant bite to someone else.
Another factor that affects the level of pain you'll get from tattooing is the size of the design. A large tattoo takes hours to work on, meaning that needles will be poking through your skin for longer. This will make the pain intensify with every hour.
Another essential factor to consider is the location of the tattoo. Some parts of the skin are highly sensitive, like the side chest. If you decide to get a tattoo in this area, it will be more painful then drawing it on, let's say the forearm.
This will no longer be a problem if you have applied numbing cream prior to getting a tattoo. You can choose one of the following products:
Best Tattoo Numbing Creams
---
You can use this product repeatedly on a smaller section of the skin. But if you plan on getting a large tattoo, it can cover up to 6" x 6" area.
Apply a thin layer on the skin to quickly numb it. Once the effect wears off, you can apply it again. This cream contains potent ingredients.
It doesn't matter if you have low pain tolerance. You can count on this product to manage the pain caused by the needles. And it's not just for tattoos.
Whenever you decide to get body piercing, this product would help also alleviate the pain. It absorbs quickly thanks to the water-based formula. Active ingredients that penetrate through the skin quickly will allow faster absorption.
As a result, the area will go numb more quickly. Application is easy, too. You must first clean the area of the tattoo with soapy water. Rinse it off and then remove excess water with a towel.
After that, apply a thick layer of the cream on the surface. Follow with the second application. Rub it all over the skin and then cover with plastic wrap. Wait for 2 hours until the skin are no longer sensitive to stimuli.
How does it compare to other similar products?
For starters, this cream has a numbing effect that lasts for up to 5 hours. It's a pretty good deal considering many products require another application every 3 hours or less.
The cream in the tube can cover an area of 15x15cm. If you want to try this, follow the instructions carefully. To make sure that the ingredients can be absorbed efficiently, you should exfoliate the dead skin cells first.
Any exfoliating product is welcome, but best stay away from chemicals because the skin is going to deal with harsh tattoo work. You can also use alcohol to sterilize the whole area and open the pores.
It aims to allow better absorption of the ingredients. Once you've done the cleanup, apply the cream approximately 3mm in thickness. Rub it gently until it covers the skin where the tattoo will be placed.
This product doesn't require a repeated application. Just one layer is enough, but seal it tightly using plastic wrap. It takes about 1 hour until the skin goes numb. It will remain in this state for another 3 or 4 hours.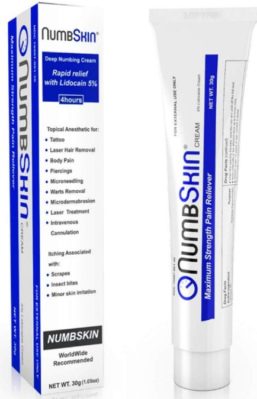 Many numbing creams use lidocaine as the main ingredient because it has the ability to reduce sensitivity in the skin tissue. This product boasts lidocaine 5% for fast relief of local discomfort.
Remember that the onset of pain varies depending on the area where the tattoo is at. Some parts of the skin are super sensitive, so a stronger formula is required to avoid torture during a tattoo session.
This product lasts up to 4 hours. There's a lot your tattoo artist can do within this time frame. He'd probably ask to stop once the effect wears off and makes another appointment to finish the tattoo.
Another benefit of using this cream is it doesn't get tested on animals. Although the product has cosmetic motivation behind it, it's just as useful for treating health problems like nerve pain.
This can be debilitating because the pain strikes anytime we put pressure on the feet or hands.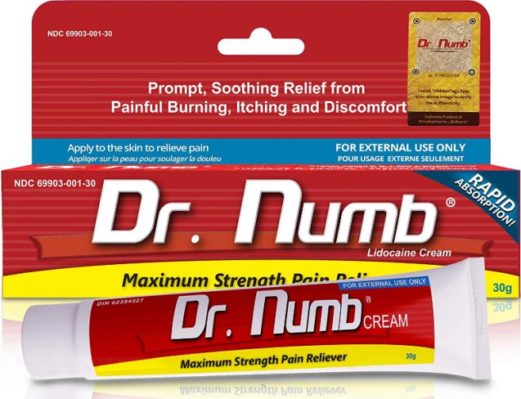 This is another product that uses lidocaine as the main ingredient. It's not really surprising given its potency as a topical anesthetic agent. This cream has a hypoallergenic formula, so it should be safe for application on sensitive skin.
It takes just about 15 minutes to be fully absorbed. And after the application, the area will experience a decrease in sensitivity for up to 4 hours. The multipurpose formulation also makes it suitable for all kinds of procedures.
Whether you want to have a tattoo or about to undergo minor surgery, it can help manage the pain. Additionally, the cream doesn't feel greasy.
Too much oil can slow down absorption. This one, on the other hand, penetrates through the skin quickly.
In regard to safety, this product has been FDA-certified, which is an accomplishment in itself.
The jar contains 10 gram of numbing cream. It's equal to 4" x 4" of covered area. If one jar isn't enough to cover your large tattoo, you can buy a few more.
This product isn't less impressive than the ones already mentioned. It's also powerful for numbing the skin tissue. It's not just for tattoos. You can use the same product for other procedures that can trigger pain, including laser treatment, waxing, and piercing.
Its non-sticky formula is water based. Apply it directly on the location of the tattoo, it will melt right into the skin.
Lidocaine has become an integral part of topical anesthesia. This anesthetic agent can be found in many numbing creams, including this one. It contains 5% lidocain, which has the potency to block pain signals from the nerves to the brain.
Thus, you will no longer feel pain on the area where the cream has been applied to. It takes no more than 30 minutes until the numbing effect occurs.
The desensitization continues for about 2 hours. This product is totally safe for a number of reasons.
Firstly, it contains no parabens. Secondly, it's free of animal cruelty. Thirdly, there are no harsh chemicals added during the manufacturing process.
What to look for in a tattoo numbing cream
---
1. Fast acting
A good numbing cream is one that can numb quickly. In other words, you don't have to wait for too long before the cream takes effect.
Some products require 1 hour pre-tattoo application. Since every product has different ingredients, you should focus on the main components. There is probably one or two that plays a big role in creating the numbing effect.
2. Lasting effect
Depending on the formula, a numbing cream may have an anesthetic effect that lasts from an hour to a couple of hours. You can find this information on the listing page.
When a cream has good durability, you don't need to apply it over and over again. This can, in turn, save you and your tattoo artist from stress.
Timing is everything. Read the directions of use to find out when the cream is supposed to be applied before tattooing starts.
3. Active ingredients
Some products combine several active ingredients to boost the anesthetic effect. Lidocaine is a common medicine added to these type of products. When used in combination with prilocaine, it will boost the efficacy.
As a result, the skin upon which you apply the cream will be dead quickly after application. For you information, the use of numbing cream is not just for tattooing.
Since it helps dull the sensation of pain, it works for just about any procedure that involves pain and discomfort.
Conclusion
---
Having low pain tolerance shouldn't stop you from getting a tattoo. It may cause a lot of discomfort, but the best tattoo numbing creams can take care of that. These creams contain ingredients that block nerve signals in the body.
In choosing a product, you should take into account the lasting effect it can provide. Besides, pay attention to the directions of use.
Remember that such creams aren't just useful to prepare for a tattoo. You can also use the same products for painful procedures like waxing and laser hair removal.
Last but not least, safety should be a concern because some ingredients may cause allergic reactions. Always do a test before applying a cream on a larger part of the skin. This way, you can tell if the skin can tolerate all the compounds or not.
---
Related Posts – Tattoo Aftercare Products
---