30+ Bold & Beautiful Tribal Tattoos for Women
When it comes to tribal tattoos, many people refer to them as tattoos with dark hues of black and tribal motifs.
Tribal tattoo designs have been around for a long time, and different cultures utilize them for various purposes.
Getting a tribal tattoo isn't as simple as asking your tattoo artist to draw a splash on your skin.
Symbols in tribal tattoos seem to have a lot of historical weight; therefore, wearing one without knowing what it means may insult certain people.
The silver lining is that they can serve as an introduction to traditional tattoos from other cultures.
As you dive further into them, you will uncover a plethora of intriguing information.
Tribal tattoos meaning
The meaning of tribal tattoos varies depending on where they are from.
One of the most well-known tattoos comes from ancient Samoan civilizations.
They wore tattoos to demonstrate dominance among the group's members.
They also symbolized authority and hierarchy.
The traditional tattooing procedure was famously unpleasant in ancient cultures.
Puncturing the skin with a needle, on the other hand, will always cause pain.
We are just fortunate to live in an era where local anesthetic is utilized in tattooing.
The Hawaiian culture has its own kind of tribal design.
They were worn as amulets to commemorate the passage into maturity.
The meanings vary since the culture recognizes various symbols, such as Tiki, sharks, geckos, sea turtles, and so forth.
Additional tribal designs contain a variety of other distinctive symbols.
Hawaiian tribal tattoos for women
Hawaiian tattoos are greatly influenced by nature.
They're made up of overlapping symbols that come together well to make a beautiful work of art.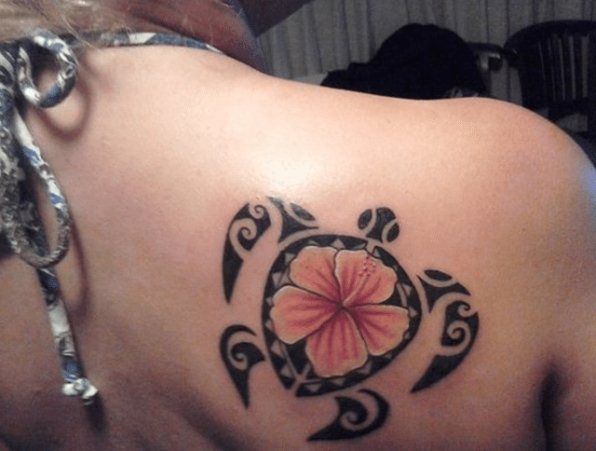 Hibiscus is frequently seen in Hawaiian tattoos.
In fact, it is designated as the state flower.
It can be brought to life with colors nowadays, but it looks beautiful in black and white.
For the record, hibiscus is significant for women in Hawaii; however, it does not always signify femininity.
If you like this unique symbol, it might complement your tattoo.
Other symbols mimic geometric forms; however, they should not be taken at face value.
When you see triangles, for example, they may be supposed to represent shark teeth.
Notice the close resemblance in shape between the two.
African tribal tattoos for women
Tribal tattoos, which are also popular throughout Africa, have profound significance as well.
In addition to being a tool for identification, this type of body art is said to give spiritual protection.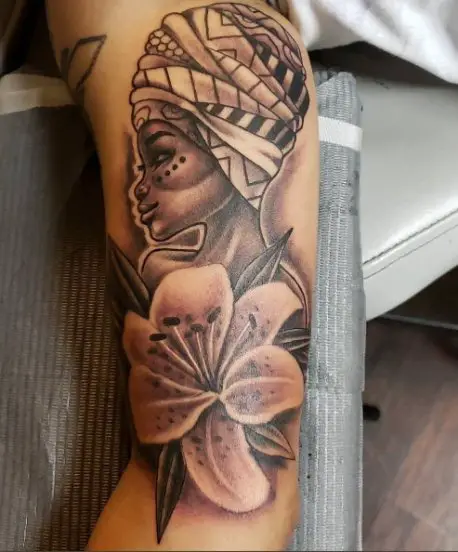 They, like other tribal tattoos, are used to denote rank or prestige.
Furthermore, scarification is a distinct process there.
It is a type of body alteration in which the skin is altered by cutting through layers of the organ, causing scar development.
It may appear severe, but every scar has meaning for the person who wears it.
Some people use them to fend against negative energy, while others use them to commemorate significant events in their lives.
Female tribal tattoos on leg
Consider having a tattoo on a larger region, such as the leg, to include more tribal motifs.
It might begin from the thigh and work its way down to the ankle, or it might start from the knee if it is smaller.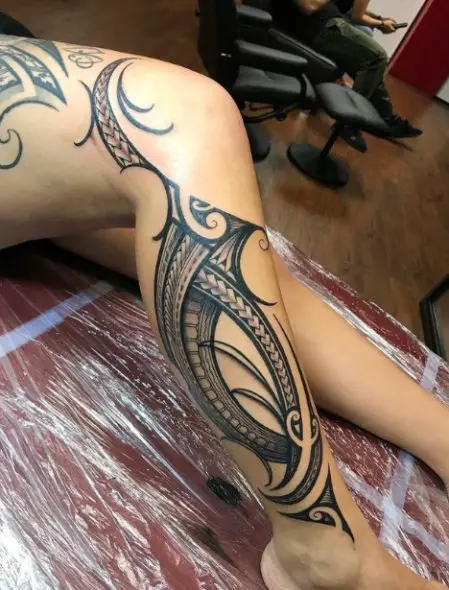 In terms of design, draw inspiration from a certain culture.
While it is OK to pay homage to diverse cultures, it is not appropriate to mix them together.
By incorporating characteristics from one culture, you may stay faithful to the foundations of that society.
We're sure there's a slew of them.
Tribal tattoos for women's lower back
The lower back is quite narrow.
Instead of cramming in too many items, limit yourself to one or two.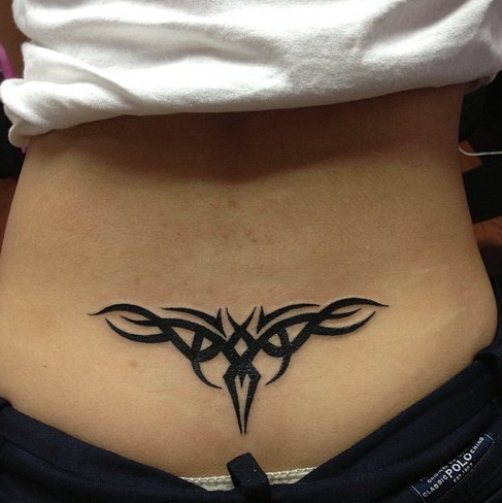 That alone is sufficient to occupy the entire room.
Simply make it slightly larger so that it completely covers the lower back.
Choose a symbol that can be extended sideways, such as a wing.
It would be an ideal match for this area.
Tribal tattoos for women's stomach
The stomach is a difficult area for individuals with poor pain tolerance to have a tattoo since it causes pain and discomfort.
For many, it's a solid 7 on a scale of 1 to 10.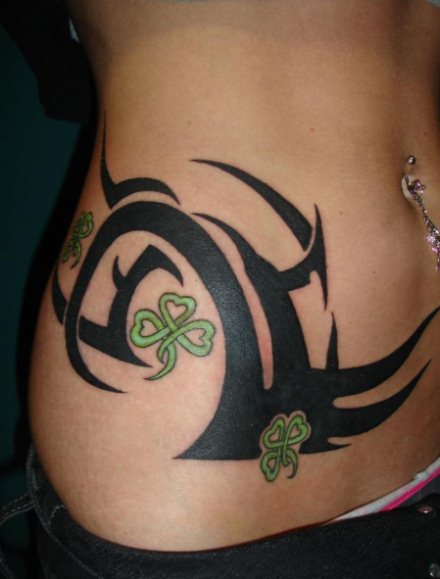 However, it may differ over the surface.
The toughest spots are usually around the rib cage and hips.
Consult your artist ahead of time so that he may offer advice or a design option just in case.
Tribal tattoos for women's wrist
The wrist does not allow for a large tattoo unless it is stretched all the way to the elbow.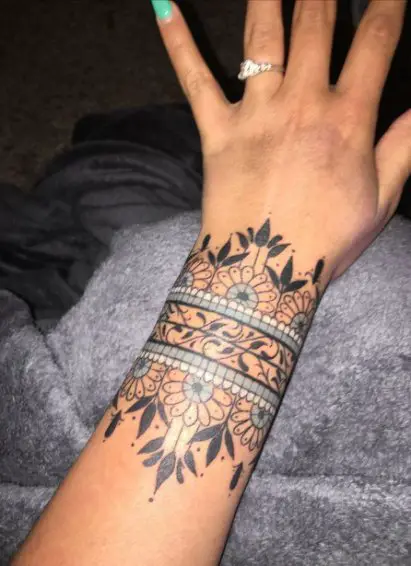 Choose a design that takes up less space if you want to keep it near to the wrist.
You may build it in the shape of a bracelet or in a single place.
There are several emblems to select from, so take your time.
FAQs
1. What cultures have tribal tattoos?
The Aztec and Borneo cultures are credited with inventing this tattooing technique.
Other societies include Samoa, Hawaii, India, Polynesia, and the Maori people of New Zealand.
2. What distinguishes a Polynesian tribal tattoo?
In Polynesian culture, tattoos would denote prominence in a hierarchical society and sexual maturity, ancestry, and social standing.
Tattoos were almost universal in ancient Polynesian civilization.
The term "Polynesian tattoo" refers to designs from various cultures, including Maori.
Polynesia is a geographical area of Oceania that includes New Zealand (the Maori homeland), Hawaii, and Easter Island.
It is made up of islands and archipelagos.
The name itself means "many islands," implying many lands, cultures, and traditions, each with distinct tattoo characteristics.
3. How do I choose a tribal tattoo?
Before getting a tribal tattoo, learn about the culture that inspired it.
Perhaps there are some lines you should not cross, especially if you are not born into society.
Another critical aspect is to recognize your body type.
Tribal tattoos make extensive use of overlapping symbols.
The ultimate result will be affected by whether the skin is loose or tight.
Please consult with your Tattoo artist because they have better knowledge about this.
Modern tribal tattoos are variants of traditional tribal tattoos, and creative artists may add a tribal twist to nearly anything.
These patterns can include bands, words, animals, lines, armor, shields, and random forms.
4. Are tribal tattoos disrespectful?
They might be, especially if the emphasis is only on the aesthetics rather than the symbolic meanings.
As a result, gather knowledge before having a tattoo influenced by culture.
Every symbol has meaning, so be careful what you add to the tattoo.
5. Can women get tribal tattoos?
Yes, many women do get them.
By the way, having a tribal tattoo is a real decision regardless of who wears it since some people may be insulted.