The best tattoo stencil machines give you the flexibility to draw a perfect design before applying it onto someone's skin. The basic principle of this machine is that you have to draw a design first on a piece of transfer paper. And then, the machine will take part in making a copy of the same design.
It will be used as a template for creating an actual tattoo. Instead of drawing a design right on the skin, it's much easier to do it this way.
There can be a few changes that need to be made before your client feels satisfied with the result. By drawing on transfer paper, you can avoid damage to the client's skin.
Best Tattoo Stencil Machines
---
This thermal copier is quite affordable. Besides, it has all the basic features for your professional tattoo work. Making a stencil has never been easier as it takes just a few steps to transfer a design over to the thermal paper.
This unit is pretty lightweight, too, weighing just 1.17kg. It can be used with A5 and A4 paper sizes. In terms of practicality, it can compete with conventional tattoo machines. One of the biggest advantages is it doesn't need any ink.
Other components like heating elements are also absent, which contribute to its lightweight design. As for settings, it allows you do to mirror and normal copies. It still has overheating issues, though, but thankfully the device has its own overheating indicator.
To use it, you have to prepare the transfer paper and another blank paper with the design on it. Put them on their respective slots and press on the copy button to start the process.
It doesn't take more than 5 minutes to create a stencil with a thermal copier although the size of a design also matters. Well, it's more practical than doing it right on the skin. It can avoid errors and make tattooing much effortless.
There are 10 pcs of stencil paper in the package. Each one of those sheets consists of 3 different layers. You should know which one to dispose and which one to be used for printing. In terms of size, it's slightly heavier than the previous machine, but the difference is not significant. This one weighs roughly 1.6kg, still compact enough to carry for travelling.
There is also a manual which you can read to better understand the buttons and lights on the machine.
In case something goes wrong with the printing process, there's a light indicator to show you that. The same goes for overheating. This is called a thermal copier for a reason, don't be surprised if it feels too hot at times.
At 1.6 kg, this machine is still considered lightweight. Despite the compact design, it's not the best choice if you want to create complicated stencils. It's made more for simple images.
Being limited in functionality doesn't make it a bad product per se. It's still a reliable printer especially for transferring simple lines. Another good thing about it is the ease of use. Expensive machines typically have more features, but they also require more skill to use.
Thankfully, you won't find any problem with this because it's easy to operate even by beginners. As with other thermal copiers, it offers two options, normal copy and mirror copy. It also offers a few other deepness settings
Yilong is not a new player when it comes to tattoo supplies. You will come across many of its products if you're searching for items to fill up your tattoo shop. This machine has received good feedback from customers. Besides, it comes with a low price tag.
There are many machines that cost more, but considering this is by a well-known brand, it's a good investment still. Firstly, this machine has a decent weight, 1.6kg to be exact. Secondly, the performance is exceptional.
Apart from the high transfer speed, it doesn't heat up quickly, which is a problem with many thermal copiers. It's also very quiet during operation.
As far as design is concerned, it looks pretty nice with ABS covering the whole exterior. This material is known for being tough and environmentally friendly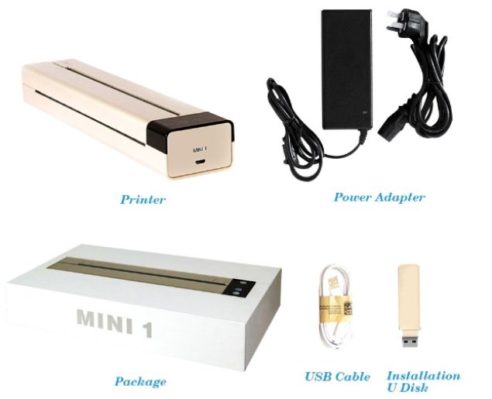 In a nutshell, this machine is fast, durable, reliable, and low-noise. There is an array of buttons assigned to different functions. And then, there are also several indicator lights to show you the current status of the printing process.
Another advantage is it supports computer pairing. Some devices don't provide this convenience, but with this machine, you can connect it to your computer at the drop of a hat. Heck, it even supports mobile connection, which means you can control the printout right from your phone.
The best part is the device can detect no activity. So if you don't insert anything into the feeder and there's nothing else going on, it will go into sleep mode.
This machine has a unique design that allows the paper to stay in order, resulting in a better copy. There are 2 indicator lights, one of which is to show if an error is occurring during the copying process.
You will also see 5 other buttons with different functions. It's easy to adjust the deepness, resolution, and other parameters to your heart's content. Meanwhile, the body is constructed using ABS, a material known for its safety and durability.
Everything you'd expect from a quality machine is present here. The transfer speed is high, the noise output is low, and it doesn't get hot too quick while in use. If you're in need of a reliable stencil machine, you can count on this one.
What to look for in a tattoo stencil machine
---
1. Features
Features and settings are clearly important for creating quality stencils. For this reason, you must take time reviewing the features that a product has to offer.
For example, a stencil printer may offer a few levels of deepness. This particular feature is beneficial when you want to draw fine and heavy lines on a design. Some machines have an exemplary ability to create perfect outlines.
If you want one that does exceptionally well in this area of tattooing, then you should look for a machine with this specific requirement. The thing is, these type of machines may fall short when it comes to drawing more intricate designs. Hence, you should find one that really suits your needs.
2. Portability
This is also important. Before adding an item to the shopping cart, you must look closely at the size. Pictures on a listing page can be deceiving at times.
The best way to measure the actual size of a printer is by reading the dimensions, which include its length, width, and height. Size is a huge factor to determine portability.
Larger machines tend to be less portable because they're harder to carry around. On the contrary, compact machines are more ideal for traveling.
3. Value for money
A product is worth the money when it offers a wide selection of features while keeping its price at a minimum. Since there are so many products out there, it's challenging to find the right one, which is also friendly to your pocket.
If price is a big concern to you, then please be realistic. Don't expect an affordable thermal copier to include all the premium features. Instead, focus on the most basic features. They should at least be included.
4. Heat dissipation
A good machine should remain cool during operation. If it heats up quickly even under moderate usage, it indicates serious temperature issues. You wouldn't want to deal with any of these devices especially if you plan on using it heavily.
The solution to this problem is to invest in a high quality product. These machines usually have above average prices, but they're worth every penny especially those coming from reputable manufacturers.
Conclusion
---
While it's possible to do a tattoo without a stencil, this part makes tattooing a lot easier. That's why we recommended you some of the best tattoo stencil machines. They are unique printers that can help you create stencils with ease.
This type of machine is used in conjunction with tattoo transfer paper. This is a very specific type of paper that allows you to draw a design and then place it onto someone's skin. It's easy to use even by those who just got into this business.
Although there are a variety of machines with a broad range of features, they work almost the same way. If you're still confused, just read the manual that comes with the package.
---
Related Posts – Tattoo Machines
---