Best Tattoo Kits for Beginners: Reviews and Buying Guide 2023
As an Amazon Associate, we earn commissions on qualifying purchases (at no extra cost to you).
Every tattoo artist needs to have at least one tattoo kit.
The tattoo industry has been gaining in popularity in recent years. This tempted many manufacturers to create their lines of tattoo supplies.
Although tattoo machines are sold in single pieces, it's a must to choose a package that includes all the basic supplies for a beginner.
If you're new to this business, you may feel confused with all the components of a tattoo gun.
It takes time to understand how those individual components work together.
The best tattoo kits for beginners should help anyone who wants to simplify their tattoo work.
Related: Tattoo Kits for Professional | Tattoo Pen vs Tattoo Gun | Top Tattoo Machine Brands | Tattoo Guns for Beginners
The Best Tattoo Kits for Beginners
---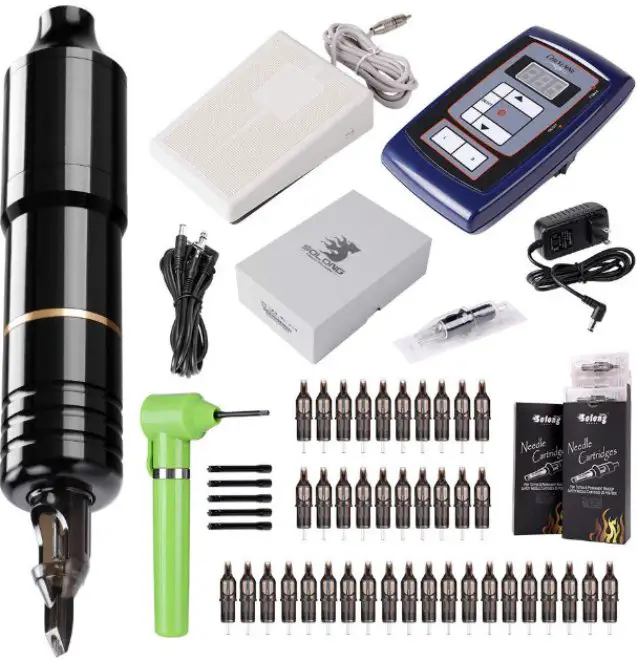 Choosing the right machine can be time-consuming.
As we know, tattoo machines are more than just the coil type.
There are also rotary and hybrid ones. They all have different uses.
A hybrid machine is a good start because it can perform different tattoo techniques.
This machine looks fairly simple, resembles a pen.
It's sturdy, thanks to its aluminum alloy construction. The anodized finish adds to its overall appeal.
In terms of functionality, this machine would make your content. It's everything you'd expect from a quality machine.
It operates silently, stable, but powerful at the same time.
It's also suitable for long-time working because the advanced technology makes it less susceptible to overheating.
If you're wondering how complete this kit is.
In that case, it comes with a jack plug adaptor, a foot pedal, a power supply, a pigment mixer, and needle cartridges.
Price is a big consideration when it comes to purchasing a product.
This kit has a decent price tag, not cheap, but not too expensive, either.
It fits right in the middle, so whether you're a professional or a beginner, we think you can get one.
The machine looks ridiculously handsome. It's coated in a rose gold finish. Meanwhile, the material is space aluminum which ensures its sturdiness.
As for performance, it relies on a Japanese motor.
This tattoo pen sports an ergonomic design that is lightweight and silent during operation.
The package comes with dual batteries, allows continuous working.
You can use one till it runs empty and then recharge it while using the other one.
There is also a total of 20 pcs cartridges. They're highly safe, thanks to the strict sterilization process.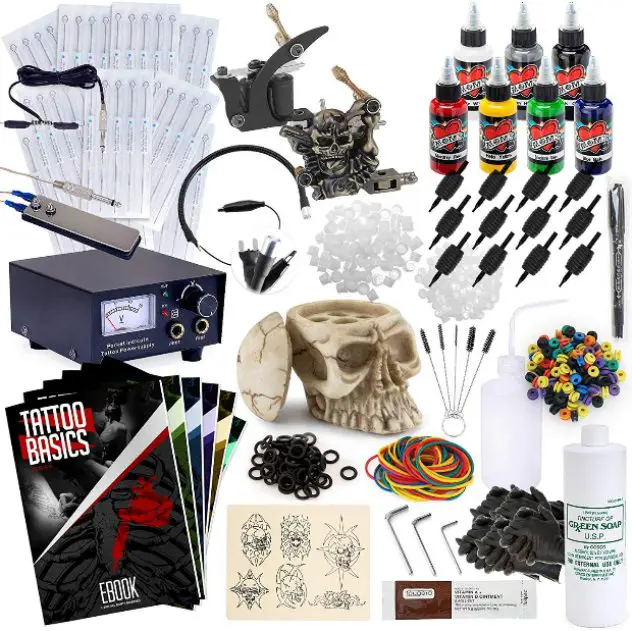 This kit is pretty decent size-wise. You will get the most basic accessories, including tubes and needles. It's a two machine configuration, a liner and a shader. The power supply system also has its own foot pedal, so you don't need to buy this component separately.
The inclusion of an instructional eBook will be helpful especially for novices. As we know, not every machine comes with an easy setup. Some require proper tuning which demands technical skills.
Now that it has a tutorial, you don't need to ask a tattoo expert how to make it work. There is a wide array of supplies in the package, including 7 bottles of ink, clear caps, silica tubes, and needles.
Don't worry about safety because the needles have been sterilized using ethylene oxide. From the picture, it's clear that this kit is quite large.
Aside from the aforementioned supplies, you will also get grommets, rubber bands, and gloves.
Related:
We also want to introduce this kit by Solong, which is suitable for intermediate users. There are 4 different machines, all are classified into shaders and liners. As with the previous offering, this also includes a power supply and a foot pedal.
One of the striking differences is the number of ink colors. It has twice as many inks. Many would say that the machine is the integral part of a tattoo kit. There's nothing wrong with this statement, but ink also plays an important role.
Don't undermine the importance of ink because not every ink is safe for use. Those included in this kit are not just bright and vivid, but also meet safety standards. There are also 50 needles for long-term use.
And if that wasn't enough, the kit ensures that you don't run out of ink cups too soon because it has 100 of them along with 10 grips and 10 tips.
This makes a perfect kit for everyone. Whether you're new to this business or have had a long experience, this will always be a good pick.
Coming with the package is 4 tattoo machines with 10 coils. There is also a tutorial book in case you are very unfamiliar with tattoo equipment.
The best part is it includes a training DVD. Learning is much easier through visuals. There are also 7 bottles of different ink colors in the box. You can mix them to create new shades.
These items are packaged with a special carrying case. Besides the aforementioned items, you will also get grips, gloves, and needles.
For the record, this kit was made with great craftsmanship in mind, which is why it suits everyone, skilled or amateur. Tuning is one of the most important steps in preparing a tattoo machine.
The good news is the machines come in handy as they offer easy tuning. This is not the case with older machines which require a lot of work to get ready.
In terms of safety, this kit delivers. Some inks are still considered unsafe due to negligence in the manufacturing process, whereas this kit has color inks that are not just vibrant, but also safe for skin application.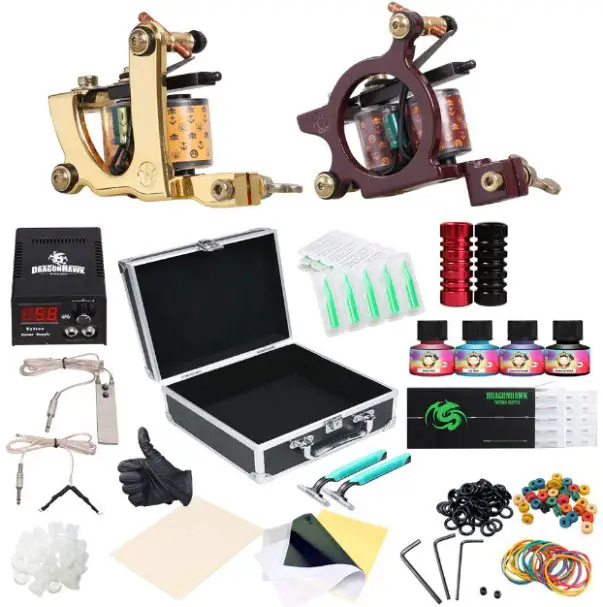 When you hear Dragonhawk, quality is the first thing that comes to mind. Its products receive good feedback from customers.
So, what's special about this kit?
Just look at the handsome machines. It's not just the design, but their performance is also outstanding.
There are 2 with different functions. One is meant for lining, while the other one is for shading. The frames are cast iron, a material known for its longevity and extreme toughness.
Meanwhile, the spring is based on a composite material which lends its flexibility and sturdiness. The package also includes immortal inks.
They are appropriate for professional tattoo work due to their rich and vibrant colors. Additionally, this kit already has sterile needles and other basic supplies in it.
Related: Types of Tattoo Machines | Tattoo Pen Machines | Rotary Tattoo Machines | Coil Tattoo Machines | Liner Tattoo Machines | Tattoo Power Supply
Tips for choosing the best tattoo kit for beginners
---
1. Design
A well-designed tattoo gun shows that the manufacturer put serious effort into creating it. It's visible right from the exterior.
A good machine should be made of a robust material. Although metals are generally strong, different types possess different levels of strength.
You should look for a gun constructed using the most rugged and tough material although it may cost more.
2. Functionality
A good machine isn't necessarily one that can do everything. It's better to opt for a machine that can excel in one area than one that does multiple things but quite mediocre in all of them.
Have you heard about liners and shaders?
Both are special types of machines aimed to do different jobs. Liners are excellent for lining, while shaders are perfect for shading.
Some machines can do both, but they don't always turn out to be superior. If you want to buy a hybrid machine, look further into the performance. You'd want it to master the techniques you want to do.
3. Value for money
In general, value for money means getting the most benefits out of a product by paying the lowest price possible.
However, you shouldn't mistake this for being cheap. Cheap goods aren't necessarily value for money.
If a product is cheap, but it comes with low quality, then it isn't value for money at all. It can only fall under this category if it brings a lot of bang for the buck or has good quality to make up for the low price.
4. Ease of use
Different types of machines require different levels of mastery. Many tattoo artists agree that coil machines are typically harder to work with.
For this reason, if you want to buy a kit containing this type of machine, then you should get to know the components. Try to locate the armature bar, front spring, coils, and other parts.
By knowing the working mechanism, you will understand how to do proper tuning to achieve the desired levels. Other types like tattoo pens may be easier to operate, but they still have downsides that you should be aware of.
5. See what's included
This is important because every kit has a different number of supplies. Some kits have just one machine, while others can have more than 4.
Of course, larger packages are more expensive because they contain many supplies. They are not always better, though.
The best way to pick an ideal package is by knowing your needs. If you just started to learn about tattooing, you can get a small kit. But if you own a tattoo parlor and need to fill your tattoo shop, a larger one can be an option.
Also, pay attention to the additional items. Please find out what's included and excluded. Just because a kit is costly doesn't mean it has all the supplies you need. Read the product page carefully because the list of items is usually displayed there.
6. Buy from well-known brands
Nobody says you can't buy an affordable tattoo gun kit, but well-known brands are the way to go if the quality is your biggest concern.
Top manufacturers usually have been in the game for a long time. They have put much time and effort into developing high-quality products.
Since they are experts in this field, they often sell complementary tattoo equipment, such as needles, ink, thermal copiers, power cords, grips, and much more.
Bear in mind that famous brands are used widely by professional tattoo artists. So when a brand has reached a top-tier level in terms of popularity and recognition, you'll see many artists recommend its products.
7. Read reviews
What you see on a listing can be deceiving. That's because the images used for the product have been taken professionally.
If you want to know how people feel about a tattoo kit, you should read reviews by those who have used it first.
Online marketplaces usually reveal this information to their visitors, so it's not hard to see if a product is worth buying or not.
Even products from the same manufacturer can receive different feedbacks from customers. Some would rank higher than others, and it's normal.
Tattoo Starter Kits FAQs
How do beginners start tattooing?
The core element of a tattoo is the design. Hence, being a tattoo artist should start by learning how to draw quality sketches.
Some people do have more talent in drawing, but this skill can be improved with practice.
And remember that it goes beyond making awesome sketches because a steady and nimble hand would be helpful when you start working on your first tattoo.
Please use fake skin or fruit to practice with, as you need to get it right before doing the real thing.
Why is it necessary? Tattoos are permanent, so if you mess them up, there's no way to revise them.
And then implement the right technique per the machine used.
This is especially true for coil machines since each unit is meant for a specific style, such as lining or shading.
What tattoo supplies should a beginner buy?
Knowing what to buy is another important step in becoming a professional tattooist.
There are many items that you need to buy. Tattoo machines are among the most essential ones.
Additionally, you'll need a foot pedal, a power source, an extension cable, ink, gloves, disinfectants, and other sterilizing tools.
What is the best rotary tattoo gun for beginners?
Rotary machines have always been a terrific option for novices because they're versatile and possess many other great qualities.
Apart from handling shading and lining at once, they're also lightweight and don't generate distracting noise.
By the way, the best rotary gun would be the one a league of its own price-wise, like the Cheyenne Hawn pen or Bishop V6.
But if you need an affordable alternative, Dragonhawk and Solong are some brands worth checking out.
Is rotary tattoo machine better than coil?
Not necessarily. Both have strong suits and weak points. On top of that, both machines work differently.
Coil machines utilize coils that form an electromagnetic field to drive the needle. At the same time, rotary pens have an electric motor built into them to serve the same purpose.
In a nutshell, rotary machines have the advantage of being quieter, more lightweight, and flexible.
On the other hand, coil machines have stronger tapping power and are reliable for creating refined lines.
Do you stretch the skin when tattooing?
Yes, it aims to keep the tattooed skin tight so that the needle can hit more precisely. Skipping this may lead to the lines showing up too weak or bold.
However, it also requires the right amount of pressure as being too forceful runs the risk of promoting scar formation.
Another concern is that the fingers should be placed properly with the thumb and index finger forming a 'U' shape and the machine working in between.
Can you tattoo if you can draw?
Being a skilled drawer doesn't automatically make you a tattooist.
Tattooing is a complex subject that involves making sketches and applying them to the skin.
You need to acquire the skill to use tattoo machines first, which is not easy.
That said, if drawing is your passion, you're off to a good start.
Wrap Up
Getting the best tattoo kit for beginners is quite challenging, but it shouldn't discourage you because there's a lot to learn as you search around.
It's okay to start out with a small kit.
If you want to have your own tattoo shop, a larger kit would be necessary because you will frequently deal with broken needles and worn-out machines.
A kit should at least include the basic supplies, like a machine, needles, and ink.
These are the most important ones.
As for replacement parts, you can think about them later when the existing ones start to deteriorate.
Don't hesitate to splurge on a quality kit because it has the quality to make up for the high price.
Other Tattoo Supplies and Equipment Posts