The Best Tattoo Kits for Professional [2023]
As an Amazon Associate, we earn commissions on qualifying purchases (at no extra cost to you).
What are the best tattoo kits for professional?
Before asking this question, you should have an idea of what a tattoo kit is. Basically, a tattoo kit is a collection of items that needs be put and used together to create a tattoo.
It typically consists of a tattoo machine, needles, ink, and a power supply system. These were just the basics that we can expect from most tattoo kits.
Other additions like gloves, grips, rubber bands, etc are optional. The first thing to take into account when purchasing a kit is the size.
A small kit may just have 5 items or less. Meanwhile, a larger one can contain more than 10. If you're a novice or just learned about tattooing, a small kit would be sufficient.
But if you already have enough skills, a kit with more complete supplies is the better option considering it has more things to help with your daily tattoo work.
Related: Types of Tattoo Machines | Tattoo Pen Machines | Rotary Tattoo Machines | Coil Tattoo Machines | Liner Tattoo Machines | Tattoo Power Supply
The Best Tattoo Kits for Professional
---
Dragonhawk has never ceased to amaze us. Just when you thought its standalone machines were already outstanding in quality, they are also sold in packages.
This kit is a must have because it contains some of the high quality products from the company. There are 4 machines in the set with different capabilities, a liner, a power liner, a shader, and a color packer.
Needless to say, this is a perfect lineup to add to your arsenal. There is also a power supply with adjustable voltage levels. Changing the output is often necessary as it affects the tapping power of the machine. The best part is all these items come with an eye-catching carry case.
Solong has also proven to be a reliable tattoo supplier. If you want Solong products sold as a set, this can be an option.
Here are the specifications. The most important part of the package is two 10 wraps coil machines. As usual, both serve different purposes.
The first one is a shader, while the second one is a liner. The selection of ink colors is also quite varied. Not just that, the quality is equally amazing. Additionally, it comes equipped with a power supply complete with a foot pedal and a clip cord.
There are other important additions, such as tattoo grips and tips. While the voltage levels are adjustable, it's best to keep them under 12V as higher levels could cause a problem to the machine.
For your information, inks by different brands contain different chemicals. Therefore, you should do a quick allergy test by applying the pigment on a small section of the skin.
If there are signs of allergic reactions like itchiness or redness, you need to stop the use. If nothing happens, you can go ahead with it.
What's interesting about the kit is its free online tutorial, which is useful for beginners. They will tell you how to properly set up the machine and even teach how to do a tattoo correctly.
There's a warning on the product page that this machine is quite complex anatomically. You shouldn't try to take the components apart or else, it may void the warranty. Besides the two tattoo machines, you will also get a power supply, a foot pedal, and a clip cord.
As for coloring, there are 10 different color inks and another black one. Needles have also been included along with ink cups and o-rings. Mind you, this package is pretty extensive although beginners can have it, too.
Related:
This kit has just one machine, but versatile enough that you can use it as a shader or a liner. The package includes a decent amount of supplies, like 5 color inks, needles, a power supply, a foot pedal, a clip cord, o-rings, rubber bands, to name a few.
Speaking of the needles, they have been properly sterilized. However, if you find some sort of defect on the packaging, then you should contact the seller right away.
It's important to not keep a damaged package because it may actually affect the condition of the items inside.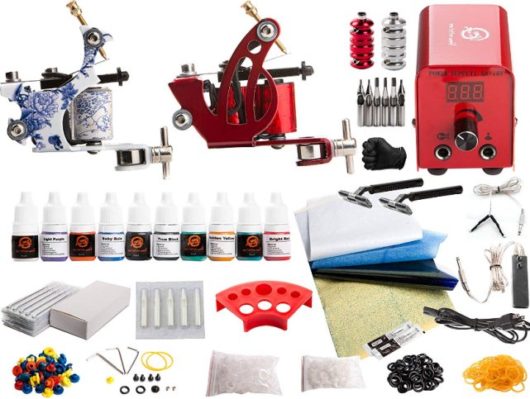 The set consists of 2 machines that are totally handmade. There are also 10 color inks. Most of them are common colors, anyway. You can create all kinds of tattoos with those colors without the need to buy extra inks separately.
And if you need new shades, just mix them together. As most of us would expect, the kit already includes a power supply and its complementary elements, namely a clip cord and a foot pedal. There are also multiple ink cup holders.
They should come in every package that has ink in it. Tattoo grips are also included, which can be paired with 6 different tips. There's much more to see, like needles, grommets, and transfer paper.
Whether you're new or a professional, this kit would make a great fit, the reason being – it has a wide variety of supplies. However, before we have a closer look of the supplies, there's little a message that the supplier has to us.
It's advised to set the starting voltage to 3V. Another point to remember is the optimum operating voltage ranges between 5.5V AND 8V. Also, please avoid contact with water because it can damage the internal components.
Now if you want to know the inside of the package, there are 2 tattoo machines, a combination of a liner and a shader. Just like any other kit, it also includes a power supply, a cord, and a foot pedal. These three are essential to open and close an electric circuit.
There is also a total of 50 needles with varying sizes. Different types of needles can add different effects to a tattoo, so this large bunch would be very helpful. There are also color inks, aluminum grips, grommets, rubber bands, gloves, etc.
Related: Tattoo Kits for Beginners | Tattoo Pen vs Tattoo Gun | Top Tattoo Machine Brands | Tattoo Guns for Beginners
Things to Consider When Choosing Professional Tattoo Kits
---
1. Material
All items in a kit are made of different materials, but we're specifically talking about the machine, which is the primary component. To make sure that you get a high quality machine, you should know the material used to build it.
There are a few common materials for tattoo guns. The first one is cast iron. This material offers high compressive strength and lifetime durability.
Hence, you will come across a lot of machines constructed using this solid metal. Aluminum alloy also has similar properties. Apart from incredible rigidity and durability, it's also very lightweight.
This is a big concern as we often use a tattoo gun for hours. Choosing a heavy material can quickly cause hand fatigue. So if you want a machine that's light in weight and resistant to corrosion, make sure it's made of this material.
2. Components
Don't forget to check everything in the bundle since tattoo kits vary in size and price. Even two kits that cost roughly the same can have very different lists of supplies.
One probably has more machines but skips the needles or ink. The other probably just has a single machine but the other supplies are more complete.
For this reason, you should always read in detail things that a package includes. You would want it to cover all the amenities you need to start your tattoo work.
Sure, you can buy extra supplies individually, but they will cost you time and money. It's way more practical to buy a kit that has plenty of items.
3. Selection of machines
The number of machines included in a kit has to do with versatility doing a tattoo. As we know, not all machines can perform different tattoo techniques. Some are specifically designed to do just one thing.
For example, a liner is perfect for creating outlines. In terms of construction, it's also slightly different particularly in the length of the front spring.
The same goes for a shader. It does exceptionally well for shading, but if you use it for making outlines, the outcome won't be as good. There are also machines for color packing, known as color packers.
Some kits have just one type, while others have two or even 3 of these varieties. And then, there are also hybrid machines, which have the ability to perform different tasks. But even then, they still have drawbacks that may restrict their appeal.
Pro Tattoo Kits Conclusion
---
All tools in a kit are supposed to complement each other. This is why you should choose a package that's good quality overall, not just the machine itself.
While it's true that a good machine plays a role in creating great tattoo work, the quality of the ink and needles is just as important.
A tattoo gun is only a medium to drive the needle and inject ink into the skin. When other components fall short, you won't get the desired results. It's also worth-noting that quality often goes hand-in-hand with price.
Hence, don't tighten your budget if you want a kit that lives up to your high expectations. That's our review of the best tattoo kits for professional.
Other Tattoo Supplies and Equipment Posts