30 Beautifully Touching Tattoos of Hearts with Names
We are all aware that hearts are the universal symbol of love.
Hearts are everywhere, whether you realize it or not.
You can easily find various heart designs on custom stickers, labels, packaging, and other forms of extreme art, such as tattoos.
Humans do not live forever in this world.
There could be children, parents, or close friends who are no longer with us.
As a symbol of love, it's no surprise that many people choose this design when creating a memorial to a loved one.
Tattoos of hearts with names—no matter how repetitive they appear—are popular, full of meaning, and can be truly unique with a little creativity.
Even though the heart is one of the most common (classic) tattoo designs.
That isn't always a bad thing.
The heart is present in all of our bodies.
It is one of the most important organs since it pumps blood to deliver nutrients and oxygen to the body, which keeps us alive.
Everything will come to a halt when the heart stops beating.
And this may result in death.
The heart is a ubiquitous symbol of love in tattoos.
The analogy is accurate because when you love someone, you will give them your entire heart.
So, do you wish to obtain one for your new tattoo?
Here are a few images to get you started.
…But first, if you need customized stickers with tattoo designs, you can always rely on Custom Sticker for high-quality, low-cost stickers.
Heart tattoos with a name: Tattoo design and meaning
A 'heart tattoo with a name' has a very literal meaning.
It indicates you're dedicating the tattoo to the person whose name appears on it.
For example, a tattoo with your girlfriend's name on it may represent your love for her.
However, this sign is not necessarily linked with love.
Tattoos with black ink convey a completely different meaning.
It may imply melancholy or sorrow when drawn in black.
Having stated that, the meaning might be completely subjective or non-existent.
You may still get a black heart tattoo as a form of love expression.
Several modifications may be made to make it more significant.
By including a flame, you're expressing your undying love for her.
The addition of a wing indicates that love should arrive and make space for freedom.
In other words, there are no guidelines for why or how you should love someone.
Heart tattoos with names inside
By putting your significant other's name inside the tattoo, you may make it the focal point.
Because the emphasis is on the word, you may keep the heart to a minimum.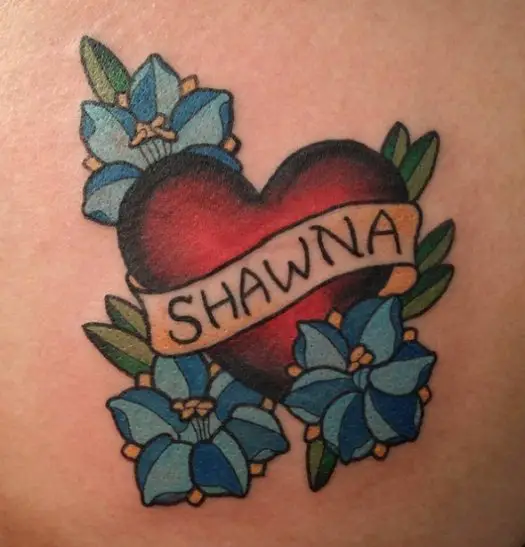 The way the name looks may be customized to your liking. It might be merely a name with no underlying pattern or presented with a banner.
It will make the receiver feel more special.
Why was this location chosen in the first place?
The cause might be as simple as wanting to keep him or her close to your heart.
Heart tattoos with names on wrist
One thing that stands out about wrist tattoos is that many of them appear to be basic.
It makes sense because the wrist doesn't have a large tattooing surface; therefore, you need to keep it basic.
Overcrowding with too many symbols might result in an unappealing appearance.
In this way, name tattoos are comparable.
Even when coupled with items that might be complicated in presentation, such as the heart, they tend to seem simple.
A wrist tattoo may be made by drawing a line in the shape of a heart and weaving a name into it.
You may also pair it with a lifeline tattoo because the messages complement each other.
Heart tattoos with names for men
Because of the global appeal, it will not be difficult to locate an artist that can create a gorgeous heart tattoo for you.
In reality, the artist may have worked on many designs and may provide you with a portfolio if necessary.
When a man loves, he expresses his emotions openly.
And if he gets a tattoo, it will be more than simply a heart with his name on it.
There should be certain details that raise the amount of complication.
It may be drawn in red, with a flame to symbolize his desire, a wing, and changes to the form.
It may also be handled as a key and lock tattoo.
It may be portrayed as an actual organ rather than the adorable heart form we're used to seeing.
Heart tattoos with names for women
The heart as a symbol is unisex, which means it does not favor one gender over another.
Whether you are a man or a woman, anyone will look great in it.
That's why this tattoo is perfect if you are on the lookout for couple tattoo ideas.
It is the changes that will determine whether it looks manly or feminine.
Women like to have tattoos that are small and basic.
Of course, we can't speak for every lady because some are obsessed with small things.
Those who value simplicity are more inclined to approach a heart tattoo with few embellishments.
It might be an outline with a name within it, or it might be constructed alongside it.
Flowers, butterflies, and ribbons are examples of feminine elements that might be used.
Simply put your own twist on it since, after all, it's your tattoo.
FAQs
1. What does a heart tattoo on the shoulder mean?
The heart sign retains its symbolic value whether it is placed on the shoulder or somewhere else.
However, let's look at the history of shoulder tattoos.
We can see that they may represent power or passion in loving someone.
For the longest time, shoulder tattoos have been linked with power.
So, if you believe that he or she is the one and are prepared to make any sacrifice for the relationship, this place is ideal.
As for heart design, these tattoos may be pictured as anatomical heart, heartbeat line, winged heart, or even combined with infinity symbol.
2. What does crying heart tattoo mean?
It might imply sobbing uncontrollably over a breakup.
We understand that dedicating a tattoo to an ending relationship may appear pathetic, but everyone's road to healing is unique.
Some people may be able to get over it in a matter of weeks, while others may need to think about it for months before they are ready to move on.
Having said that, this sort of tattoo might be devoted to a loved one who has died.
Those tears streaming down the face of the heart may indicate the anguish you are experiencing.
3. How much is a mini heart tattoo?
A small heart tattoo may cost between $50 and $100.
If it's fairly small, the price may be reduced.
However, suppose a shop has a high minimum rate.
In that case, it will have a considerable impact on the cost of even a basic tattoo.
Final Thoughts
Hearts are traditional symbols, rich in history and tradition.
Thus we need to depict them with ink to show the world their entire breadth.
Tattoos of hearts with names are a timeless design steeped in history and tradition, a simple way to demonstrate that we harbor sentiments whose intensity is beyond us.
Therefore we must portray with ink to show the world the actual breadth of the exact same.
Need more ideas for heart tattoo designs? We've got you covered. Check out the designs below for some inspiration!