100+ Warrior Tattoo Designs and Ideas to Inspire You in 2023
Wearing a Warrior tattoo gives you a sense of pride.
These heroic knights are represented as daredevils who risk all to defeat their foes.
They take delight in overcoming what they perceive to be barriers.
They can teach us a lot of valuable things.
As a result, getting a warrior tattoo is an excellent option if you want to embody the tremendous energy they bring.
It's a means of reminding yourself that you have inner strength and confidence on which to rely when things get tough.
Warriors don't consider if they'll win or lose the battle.
That's because they're competitive by nature, and it runs in their blood.
Warrior tattoo designs and meanings
Warrior tattoo designs can be divided into two categories:
Those that show the warrior's whole body
And those that reveal the warrior's face for a few seconds.
It is critical to maintain a natural body position to the first group while also being filled with energy and transmitting force to the observer of design.
It pays close attention to features like hands and armor, which are sometimes overlooked in certain designs.
Within the second group, when just the warrior's face shows, we must work very hard on the look since people's feelings may recognize stories and tattoos.
The same is true when it comes to a design that clearly emphasizes.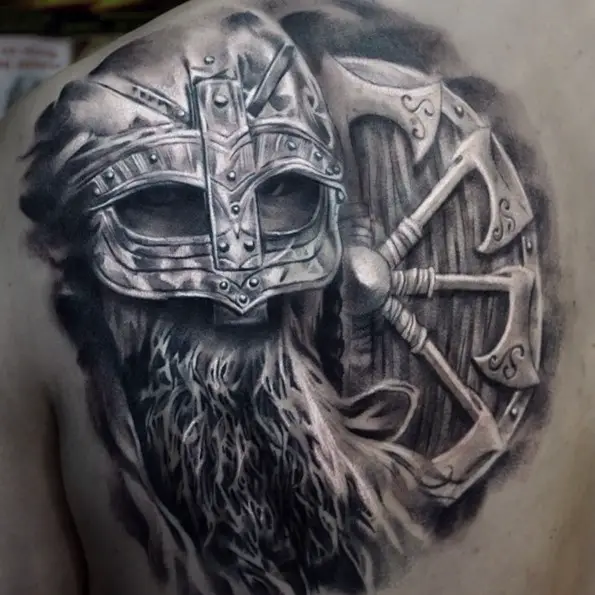 The message conveyed by a symbol is what motivates people to get a tattoo based on that symbol.
It also pertains to warrior tattoos.
These individuals are coached to acquire all of the excellent attributes that make them dependable defenders.
They are strategic, honorable, loyal, brave, and accountable.
Whatever sort of warrior you pick as a tattoo design, the initial impression is that it is fierce.
That is the energy that every fighter, no matter where they come from, exudes.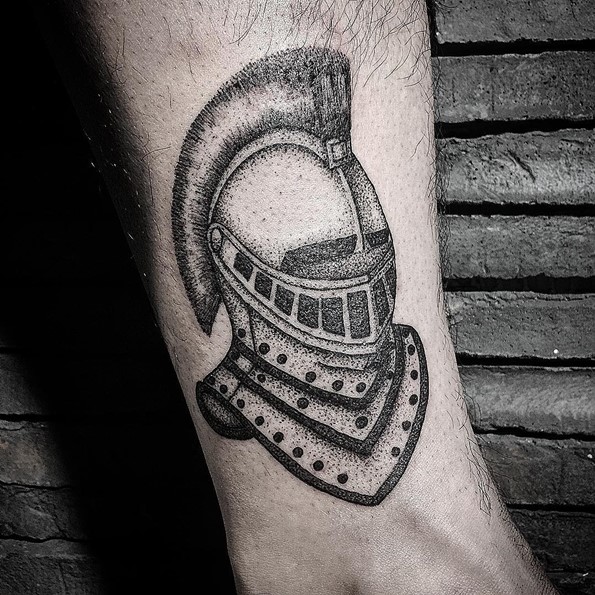 By the way, if you want a basic or simple tattoo, a Warrior tattoo design is probably not for you.
This tattoo art generally depicts a detailed Warrior figure that took a pretty long time to draw and create.
Aside from exuding boldness, the tattoo may also serve as a reminder to stay on track with future ambitions.
Warriors do not go into battle expecting to lose. They devise a plan to give them an advantage over their adversaries.
They're also not afraid to take a risk.
In life, these values can teach us that it's good to plan for something and step outside your comfort zone when needed.
Mayan warrior tattoo designs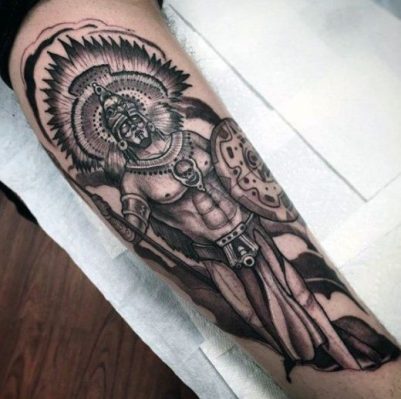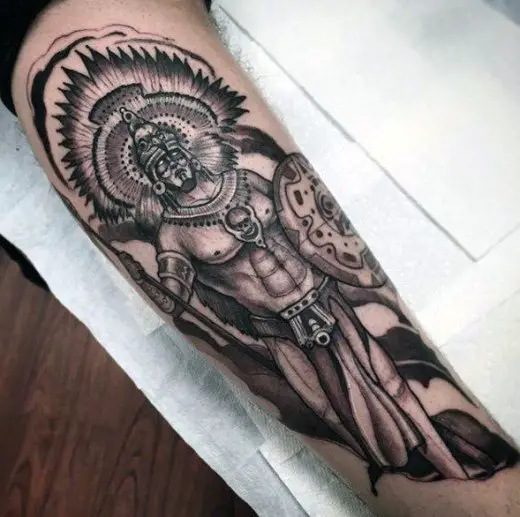 The distinctive attire worn by a warrior might reveal information about the civilization in which they lived.
In this scenario, Mayan warriors are distinguished by their unique plumed headdresses, among other things.
If you want to have this tattoo, make sure this ancient warrior is wearing his stunning headgear with a bird's plumage.
It's not only beautiful but also intricate.
For the record, the usage of bird feathers (feather tattoo) was widespread in ancient societies.
Thus these attractive head coverings may be seen in a variety of civilizations.
The shield they carry to protect themselves from assaults looks fantastic as well.
Consider incorporating it within the tattoo.
Aztec warrior tattoo designs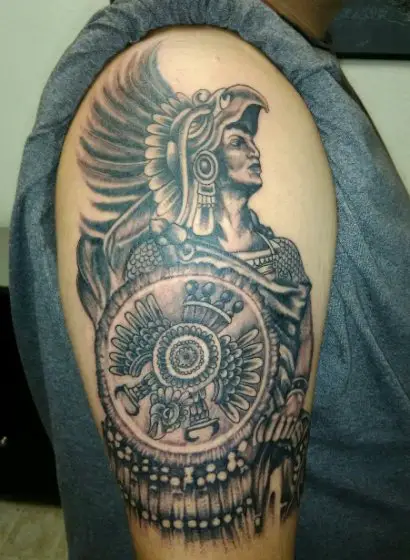 Aztec warriors were born with a natural talent to use weapons, as they began practicing with them at a young age.
Darts, spears, and arrows were among the weapons used.
They, like other warriors, donned protective gear to battle, like helmets and round shields.
As a result, to create a genuine picture of this hero (Aztec tattoo), you'd need to provide him with these items.
It should be the focal point of the ensemble.
Quilted cotton was also commonly used by soldiers.
It's also been specifically treated to increase stiffness and strength.
In the meanwhile, the swords were razor-sharp. While they appear flimsy, they can easily cut through the skin.
Viking warrior tattoo designs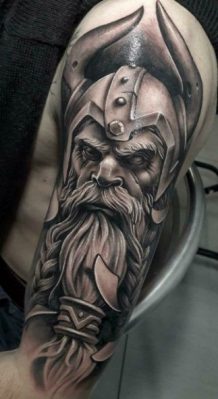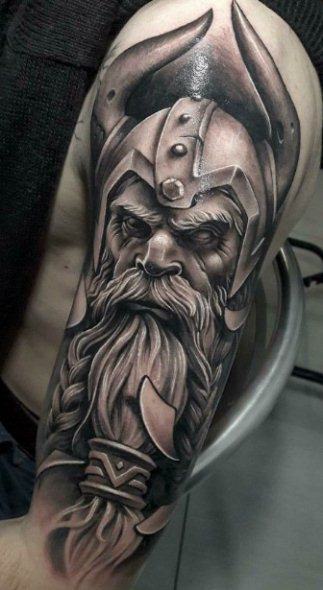 In Norse mythology, Viking warriors had a distinct look from head to toe.
A Viking tattoo can be designed in a variety of ways.
You may choose a close-up design that simply shows the head.
You may also select a full-body shot.
If it's the first, the headwear might serve as a focal point.
They're well-known for their horned helmets.
This is one of the most common portrayals of these soldiers.
Other accessories, such as leather belts, swords, and axes, can make the cuts for the second one.
The horns on the helmets add to the awesome element.
Furthermore, they make the warriors appear ferocious.
Of course, that's not meant to be interpreted negatively.
Celtic warrior tattoo designs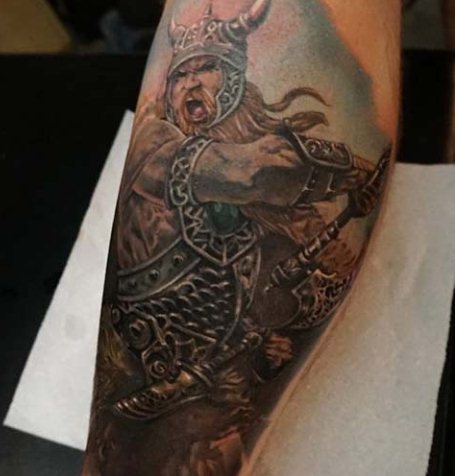 The complexity of Celtic symbols is what distinguishes them.
Take a draw from Celtic culture while creating a tattoo based on a Celtic warrior.
Its symbols (Celtic knot) are one-of-a-kind, frequently consisting of interlaced lines.
They not only have a superb presentation, but they also have a lot of meanings.
There's no need to include all of them on your Celtic tattoo design.
If there isn't enough room for a huge tattoo, just add one or two.
Use them to draw attention to the primary tattoo, making it appear more realistic.
Japanese geisha warrior tattoo designs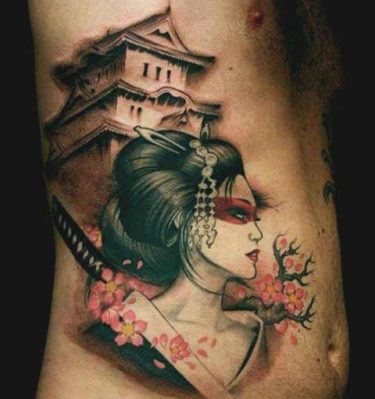 Aside from technology, Japan is renowned for its culture.
It's rich and one-of-a-kind, and it's absolutely worth fussing about.
Geishas are an intriguing aspect of Japanese culture.
It rose to notoriety after being featured in the film 'Memoirs of a Geisha.'
Geisha is a phrase used to describe ladies who work in Japanese traditional arts.
However, women in Japanese history have always wielded more influence than we give them credit for.
Onna-Bugeisha/Musha (warrior women) like Tomoe Gozen, Nakano Takeko, and Hagaku Gozen are some of these instances.
There are two types of Geisha warriors.
Defensive combat women fighters are referred to as Onna-Bugeisha, while offensive combat women warriors are referred to as Onna-Musha.

These female warriors were taught martial techniques and tactics and battled alongside the samurai to protect their homes, families, and honor.
That said, If you love Japan and searching for a Japanese tattoo idea, it'd be wonderful to have a Geisha Female Warrior as a tattoo.
African warrior tattoo designs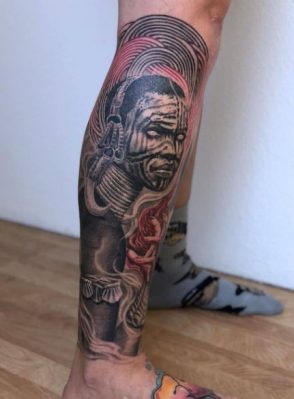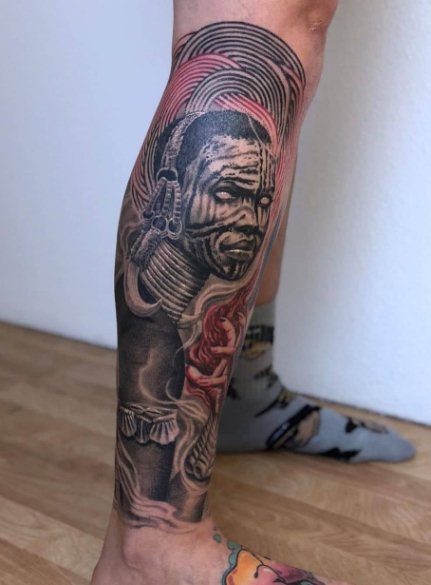 Like other warrior tattoos, an African tattoo might be centered on the outfit because that is what characterizes them.
This tattoo might benefit from the addition of a lengthy shield and an elaborate hat.
Something is also linked to their ankles.
Consider including a spear as well.
As we all know, it is a traditional hunting and combat weapon that has been employed throughout human history.
They were the most advanced technology they knew at the time.
If you're looking for inspiration to design a tattoo that genuinely portrays the culture, look into its history and legacy.
You can also talk to your tattoo artist about it.
For a design this specific, it's probable that even some artists haven't done it yet with their clients, allowing you to learn alongside them.