39 Cute Feather Tattoos to Make You Smile
To measure the popularity of a tattoo design, just look around you and see how many people include it in their tattoos.
Cute feather tattoos are among the most popular tattoo designs, which explains their appeal.
People adore them because of their deep meaning, sensitive nature, and beautiful beauty.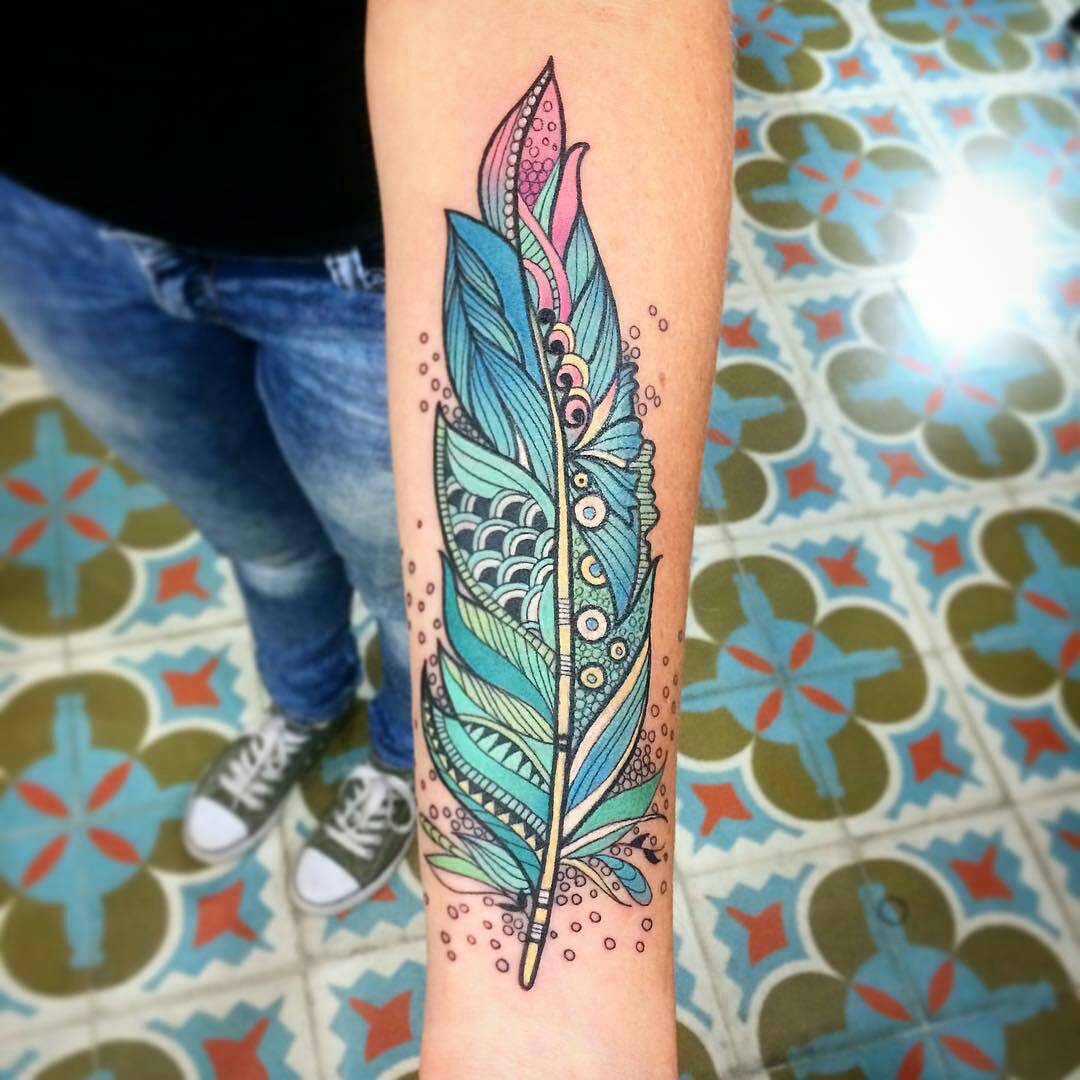 Furthermore, they come in a variety of forms and sizes.
As you know, our planet is home to various birds, each with distinct plumage features.
It's also worth noting that multiple birds have varied monetary values.
As a result, if you want to have a feather tattoo, choose a bird that represents your personality.
The meaning of feather tattoos
Feather tattoos create perfect imagery of absolute freedom because they're inspired by an important bird's appendage that they use to travel the earth.
Imagine having wings as birds do.
None is stopping you from traveling long distances across the world. Wings are designed efficiently to help propel birds in the air.
Suppose you dream of being a free spirit, not living in anyone's dominion.
In that case, a feather tattoo is perfect to describe that.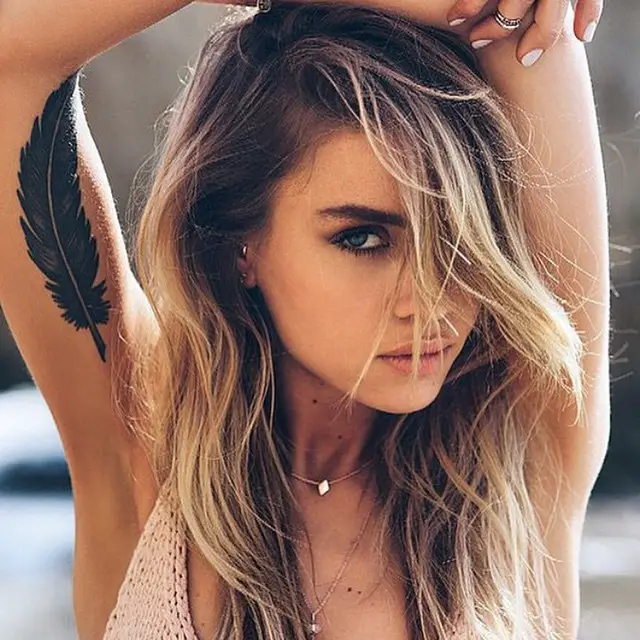 Feathers represent freedom in the same way that birds' feathers do. Feathers have spiritual significance as well.
The Indians thought that taking a feather indicated that a loved one had died.
They added eagle feathers to give it the appearance of a valiant warrior who had acted courageously and honorably.
When they had gathered enough feathers, they could construct a headdress, elevating their prestige within the tribe and beyond.
Simultaneously, they viewed the owl as a guardian against bad spirits.
There are other different meanings attached to them which depend on the bird species.
For example, eagles symbolize strength, pride, and honesty.
If these hit home for you, you can get a feather tattoo depicting the bird's plumage.
Meanwhile, doves signify love and peace.
Others widely referenced in tattoos are owls, swallows, and peacocks. They all carry different meanings.
Thus, it's good to learn about history and symbolism before inking one on your skin.
Angel feather tattoos
Angels are commonly portrayed with a pair of wings, but they are heavenly beings that are not confined to spaces.
Hence, they don't need them to traverse the higher realms.
In the winged form, these creatures look graceful with large wings on their backs.
Many believe them to be good spirits with greater power than all humans.
Aren't you familiar with the term 'guardian angel'?
The name is quite telling about the role of this celestial being. They aim to watch over a person and keep him out of danger.
Apparently, it's a bit more challenging to illustrate an angel's feather because we mostly see them in intact form.
That said, there's a display of elegance from every inch of an angel's majestic appearance, so it would be sensible to design the tattoo in a way that exudes sophistication.
Peacock feather tattoos
Peacocks have one of the most stunning plumages in the animal kingdom.
The males are known for spreading out their tail feathers to get the females' attention.
They're filled with attractive colors and recognizable eyespots throughout the surface.
Some cultures acknowledge them as a symbol of beauty, wisdom, and renewal.
The feathers not only have a great display but they're also used in religious practices to ward off evil spirits and neutralize negative energy.
With such powerful symbolism, this makes a good design for inspiring your tattoo.
The eyespots are especially distinctive, so anyone will automatically envision the bird whenever they see the tattoo.
Besides the magnificent pattern, the colors are another highlight of the plumage, so it's better to mimic the real thing by getting a color tattoo instead of a black one.
Delicate feather tattoos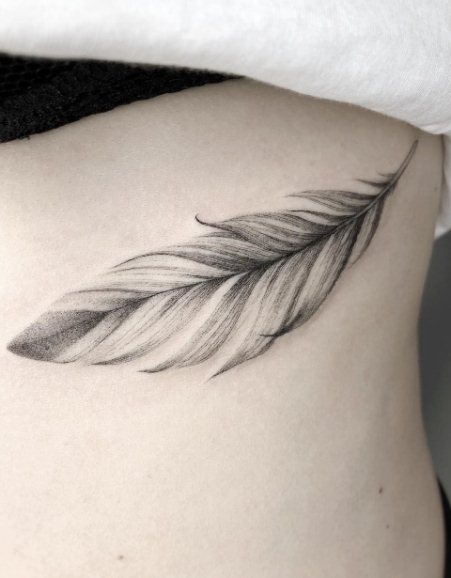 Feathers on a bird's body vary greatly in strength.
Some, especially on the wings, are stronger because they produce lift and enable birds to fly.
Others are more delicate and have rather soft textures. To add this quality to a tattoo, you can make it curvy with separated barbs.
The interlocked barbs are what make it appear solid. Note that feathers are not always symmetrical.
Sometimes one barb structure is longer than the other as it's necessary to generate downstroke.
Which one should you choose for the tattoo?
Well, there's no right or wrong in this because both types are actually present in birds. Besides, there are other ways to alter the appearance to make it look delicate.
Cute feather tattoo with a name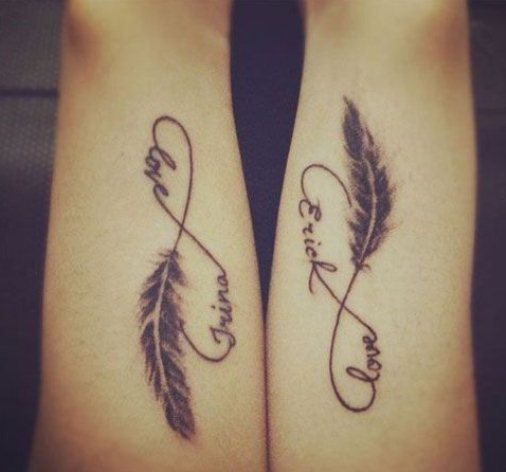 To emphasize the meaning of a feather tattoo, putting someone's name on it sounds wonderful.
The feather isn't the most vivid symbol of love or relationship, but it still conveys awesome messages.
It's strongly correlated with freedom and courage.
Birds have no fear of heights because they spend much time soaring across the sky.
Getting this tattoo could be a way of telling the world that you're not afraid of obstacles because you have the confidence to navigate through them.
It can be dedicated to yourself or somebody else you think shares these values, like your loved one, a friend, or a family member.
FAQs
1. What does a feather symbolize?
You'll find the answer after scanning through this article.
We've mentioned some, but in general, these tattoos symbolize freedom because feathers comprise wings.
They allow birds to take flight and reach stratospheric heights.
There are some other meanings, which are linked to various bird species.
2. What is the meaning of a black feather tattoo?
They can be messengers of encouragement to show support during difficult times.
Having this inked on your skin may indicate that you've been through a lot and still want to keep going because the show must go on.
3. Where do you put the feather tattoo?
Since it signifies freedom, you might as well apply it for tattoo placement.
In other words, don't hesitate to put it on any part of the body.
It can be the neck, arm, chest, ankle, or another location you find appropriate relative to the tattoo's design and size.