81 Arrowhead Tattoos: Extremely Cool Designs for the Bold [2023]
An arrowhead is the pointy part of an arrow aimed to inflict damage to the target.
It easily penetrates the skin and causes serious damage as it pierces through vital organs in the body.
Much like tattoos, early arrowheads were also crafted using materials found in nature.
Technological advances facilitate the discovery of more modern bows and arrows.
The tips are becoming more diverse now with regard to materials and the way they're produced.
What does an arrowhead tattoo represent? Let's find out.
The meaning of arrowhead tattoos
You may wonder why one should get an arrowhead tattoo instead of a complete archery tattoo.
Well, when a tattoo depicts a bow and an arrow, the focus is shared between the two. Let's not forget that an arrow is already complex, to begin with.
The arrowhead is only one part that makes up the structure.
There's also the shaft, fletchings, and nock. And each one can potentially overshadow the arrowhead if you're not careful.
To avoid it, it's a good idea to keep the tip only.
In terms of meaning, the arrowhead signifies focus and attention, which makes sense because it's easy to miss the target when you pay no mind to these things.
And considering bows have been used as warfare and hunting tools since the dawn of time, there's a masculine connotation attached to them.
Other than that, people also see them as a symbol of protection.
Carrying a weapon gives a sense of security in times of uncertainty.
With an arrowhead tattoo on your body, it feels like there's an intangible force enveloping you.
Simple arrowhead tattoo
It goes without saying that arrowhead tattoos are cool.
That said, they still vary in presentation.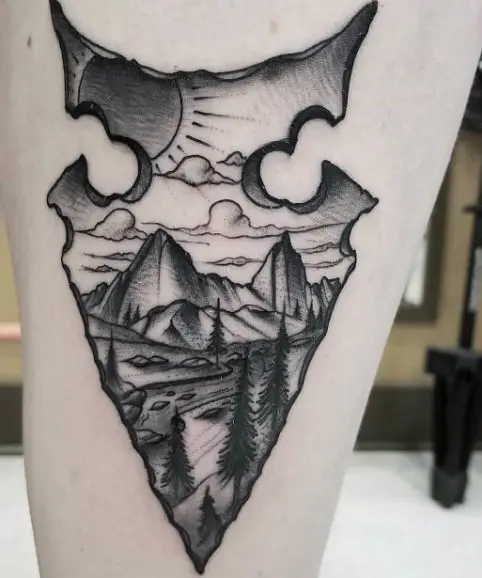 A simple arrowhead tattoo can come in the form of a 2D image resembling the object.
To spice it up, you can include another design to fill the space inside the enclosed boundary.
Imagine a photograph fitted inside a frame, only this time the frame takes an arrowhead shape.
That's how we visualize a simple tattoo. But since it's yours, feel free to add your own interpretation.
Traditional arrowhead tattoo
To illustrate an arrowhead tattoo this way, it's good to take elements of what makes them authentic.
Nowadays, arrowheads are made of a variety of materials.
But if we look back at the origin, they're made of naturally occurring stones like obsidian and flint.
They were processed to boost sharpness and reduce weight.
The latter ensures that the arrow can effortlessly glide through the air. If it's too heavy, it will struggle to counter the frictional force in the air.
Please note that stone isn't the only material used to make arrowheads.
People who live in certain regions craft their arrowheads using clams.
Both have one thing in common, which is toughness.
That's because these items are designed to pierce other hard textures.
Realistic arrowhead tattoo
To attain realism in a tattoo requires a perfect balance of contour lines.
The artist should know how to highlight and darken areas to create this impression, which is not easy especially on a 2D object like the skin.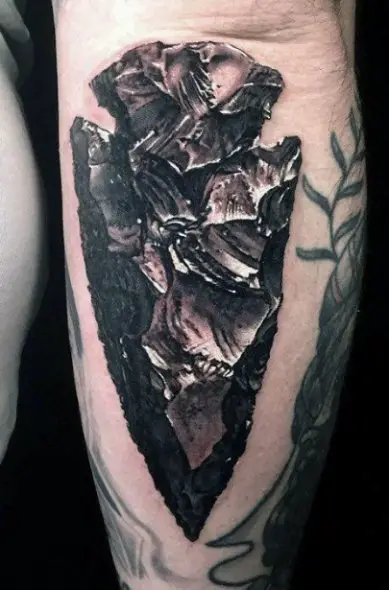 They also need to possess a great perception of depth.
A realistic arrowhead tattoo can depict rock, steel, wood, or another material commonly used in crafting these tools.
The next essential step is to apply a map of shadows.
Picking the right colors is just as important because our eyes are trained to measure depth through colors.
The tattoo needs to mimic the way we see things in real life to intensify the realness.
Native American arrowhead tattoo
It's nothing out of ordinary really because Native American arrowheads were also made of hard rocks, like chert, obsidian, and flint.
They go through a process called knapping in which a stone is cut to a smaller size by blowing the edges with another sharp stone.
It takes multiple repetitions until the desired sharpness is achieved.
Go browse images of these specific arrowheads if you want to know what they look like. And then use them as references for your tattoo.
Chiefs arrowhead tattoos
Are you a fan of the Kansas City Chiefs?
If so, show your support by getting a Chiefs tattoo.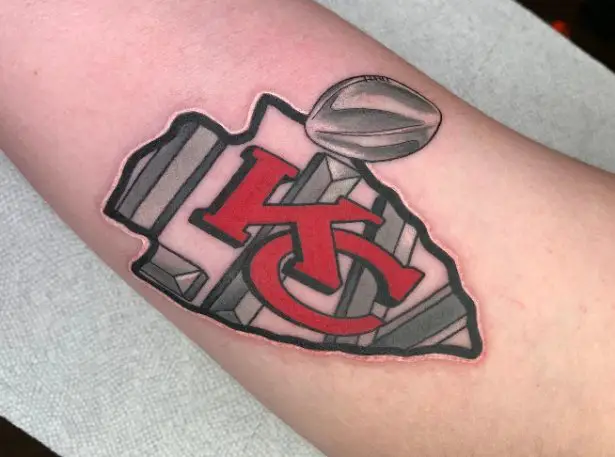 The team's logo is an arrowhead showcasing the word KC inside.
It's depicted with a wavy outline, which bears a close resemblance to an actual arrowhead.
Many arrowheads appear to have uneven surfaces especially those made traditionally.
Whether or not you want to add a 3D effect, it's best to keep the wavy texture intact, so that it looks like the team's logo.
FAQs
What goes with an arrow tattoo?
There are many. Starting with the arrowhead, you can replace it with any material, including those not commonly used to make these items.
Another good complementary element is a feather. It can occupy the fletching, which is a fin-shaped structure on the back of an arrow.
Ropes can also enrich the tattoo given their primary function to reinforce structural strength.
There are many more, such as compasses, beads, geometric shapes, lines, symbols, etc.
What is the most popular tattoo of all time?
It's hard to pick one because some are wildly popular, such as heart and flower tattoos.
The heart is a symbol of love and flowers are revered for their ornamental beauty, so it comes as no surprise that they're referenced heavily in culture.
Others that deserve to be on the list are animal, quote, and tribal tattoos.
What is the best tattoo for a man?
There's no definite answer to this. Someone who is comfortable in their own skin will have on problem rocking all kinds of tattoos.
But if you're looking for designs that ooze masculine energy, try carnivore tattoos (lions, wolves, bears, eagles, etc), skull, warrior, and tribal tattoos.