Incredible Semicolon Tattoo Designs with Surprising Meanings
Semicolon tattoos are simply tattoos of the semicolon punctuation mark or punctuation symbol "semicolon.".
They may appear simple, yet the message is deeper than meets the eye.
Those suffering from mental illnesses are frequently seen with these tattoos.
There's a story behind how this symbol became a worldwide symbol of solidarity.
Without it, we might not notice it as much more than a punctuation point in a phrase.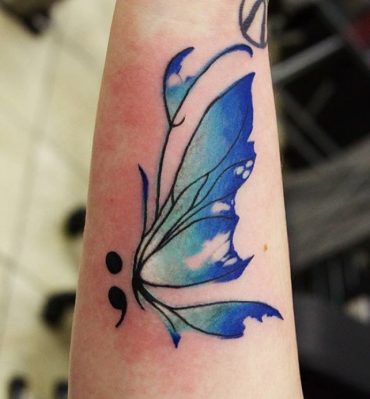 The semicolon tattoo is subject to interpretation, which means you may customize it to your liking.
It can serve as the basis for a more sophisticated design.
But despite that, the mark still needs to be the highlight because it signifies the message about protecting and loving yourself.
Due to the simplicity, a semicolon is easily overshadowed by more intricate designs, so please give it special attention, so that it's not relegated to the backseat.
The meaning of semicolon tattoos
We should thank Amy Bleuel for the growing popularity of this symbol as a messenger of solidarity.
She herself was a survivor of mental health struggles.
She had coped with addiction, depression, and at some point became the receiving end of sexual abuse.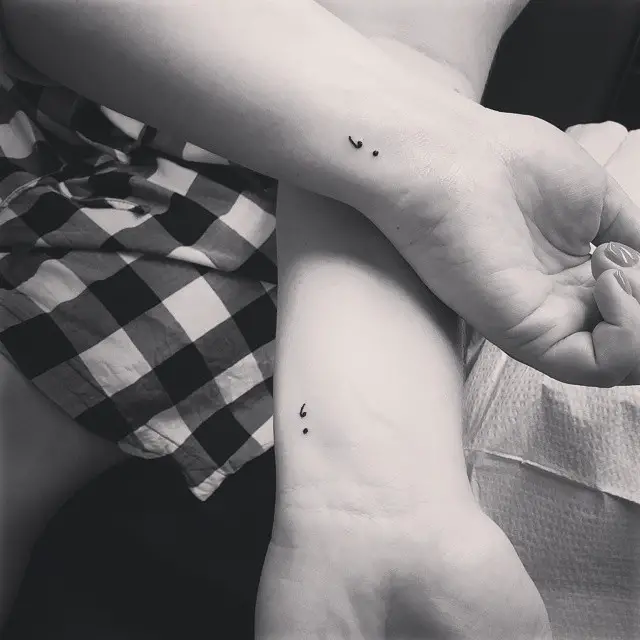 To celebrate her victory over the long-standing issues, she founded a nonprofit organization aimed to help those dealing with mental illness.
A semicolon was selected as a logo to represent them because it signifies the continuation of the good work.
When a period is placed at the end of a sentence, it stops right there.
With a semicolon, it signals that the writer has yet to finish their words. They may have other things to say in order to spread the important message.
If you want to take part in raising public awareness about suicide, consider getting a semicolon tattoo.
It's also an appropriate design to represent someone who has become a victim of self-injury, anxiety, and other psychological problems.
This tattoo can be a reminder to not hurt ourselves because we never know what the future holds.
Hope although frail is what helps us get through the hardships in life.
There could be brighter days ahead that we won't see if we put an end to our lives.
Semicolon butterfly tattoos
Expanding a semicolon into a butterfly is a good way to amp up the visuals. They're not necessarily coherent in meaning, but both designs flow well together.
The semicolon mark looks a lot like the thorax and abdomen of a butterfly.
With a pair of antennae and wings, you'll get the intact form of the stunning insect.
And although the depiction can be different, most tattoos that we see combining both assign the mark as the body.
Regarding complexity, you can go all out or tone it down a little. Some prefer the latter to give more room for the mark to shine.
As we know, the wings easily upstage it with their large size, which would be worse when they're too ornate.
So that people don't get distracted, the mark should be as bold as other elements in the tattoo.
You can either increase the size or keep details to a minimum like going for a silhouette given that the stripped-down version really helps the mark stand out more.
Semicolon tattoo behind ear
A semicolon tattoo is easy to fit in any location, including a secluded one like the area behind the ear.
But, are you sure to hide it over there?
It's a tattoo with a substantial message about suicide prevention, so we think it's great to say it loud and proud.
However, if you still wish to make it more subtle for any reason, we will not try to sway your decision.
A semicolon is a simple combination of a period and a comma.
Another reason to downsize is that this area is delicate, so a little tattoo will prevent you from excruciating discomfort.
On the other hand, the mark can convey the message without the addition of another sign, therefore there is no need to add another symbol to enhance it.
Semicolon tattoo on wrist
Don't be discouraged about getting a semicolon tattoo in a visible location like the wrist. More discussions and support will result in less stigma.
Even if you're not dealing with such issues yourself, getting this tattoo can be a way to honor those who are struggling with them.
Placing it on the wrist also constantly reminds you to always spread its importance to others.
FAQs
What does a semicolon tattoo stand for?
It's a show of solidarity for people dealing with mental illness, self-injury, and addiction. It's also aimed to bring awareness around suicide.
The reason behind the use of a semicolon is because it hits home for the survivors.
The semicolon is a punctuation mark that indicates a pause.
When put into context, it means there's more to share from these people.
Their stories mean a lot to those who are having similar issues.
Are semicolon tattoos cliche?
No, because most of us would wonder about its meaning in a tattoo.
Though we're familiar with the use of this mark in paragraphs, not all are aware of its association with mental health.
What does it mean to have a semicolon on your wrist?
It means you feel empathy for people whose lives have been impacted by addiction, self-harm, depression, and other mental disorders.
Why is a semicolon a symbol for depression?
It's Amy Bleuel who's responsible for the layers of meaning behind this symbol.
We've explained how she came up with the idea, so please scroll back up to read it again.
What is the ideal location for semicolon tattoos?
It depends on whether you want it to be visible or not. Since it's small, it can easily slip out of sight.
Therefore, consider putting it on the wrist or another location rarely covered in outfits.