61+ Brother Sister Tattoo Ideas [2023]
Having brothers and sisters can be a beautiful thing.
But sometimes, it's not easy to maintain a good relationship with your siblings.
Remember how you always fight with your brother or sister since childhood?
And yes, it could still happen today after you both have grown up as adults.
So, what would you do to make your friendship with your siblings better?
You must realize that a strong brother or sister must have patience, perseverance, and the ability to spend time together.
There are several ways to demonstrate the importance of sibling relationships.
Common ones include being in touch, being friendly, letting go of grudges, and most importantly, loving them as they are.
Okay, that may sound cliched, but it's not easy, is it?
In fact, there are a variety of things you can do in addition to that.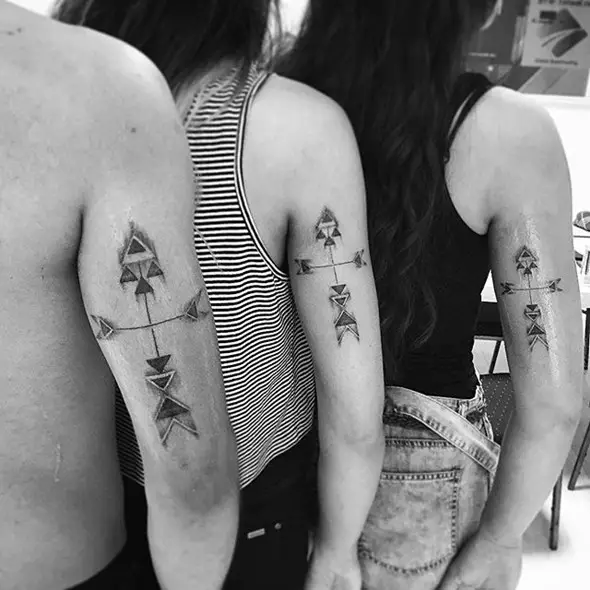 Are you willing to take on a challenge?
If you're looking for a new adventure, consider getting a brother-sister tattoo that symbolizes your relationship.
Tattoos maybe not for everyone, but tattoos can be a perfect way to display your personality.
Although you felt like you have been fighting numerously with your brother, It's no secret that siblings have a special bond.
In fact, the definition of a sibling is "a person born of the same parents."
In other words, siblings are almost always connected through blood, and blood is the one thing that can never be cut, broken, or forgotten.
That is why brother-sister tattoos are such a lovely way to express your affection and loyalty to each other.
Matching tattoos will tie you together.
They will strengthen your relationship with your sisters or brothers to the next level.
Here are a few tips to help you pick the right brother-sister tattoo if you like this idea.
How to Choose a Brother-Sister Tattoo Design
---
When you and your siblings have agreed to get tattoos, the next step is to choose the right tattoo type.
The tattoo you pick together with your brother or sister should be something they love.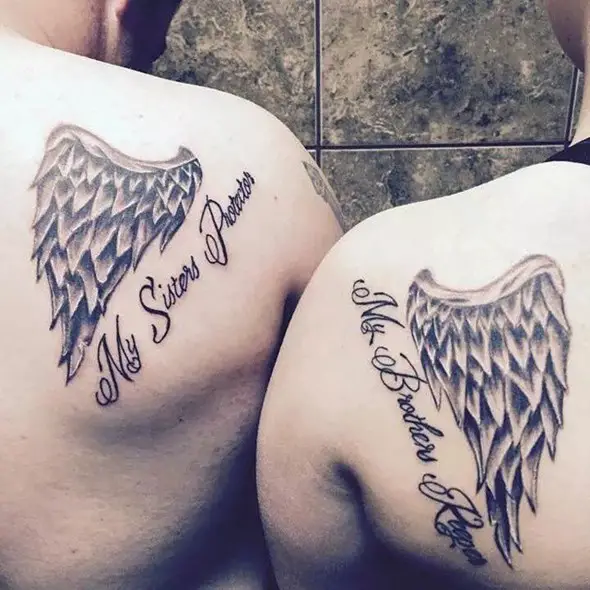 It needs to be something you like to have on your or your siblings' bodies for the remainder of your lives.
That said when planning or selecting tattoos, keep the following in mind:
What symbolizes you and your sibling?
How big of a tattoo do you want?
Do they share any interests?
Which tattoo placement are you comfortable with?
Discuss and design together.
What is a Bad Idea for a Sibling Tattoo?
---
First thing first, ask yourself why you want to do it in the first place.
If you think it'll just be cool or you just want to follow the trend, then you should probably reconsider it.
Why?
Tattoos are irreversible and should be approached with caution.
It can seem straightforward, but there are so many factors to consider when selecting a tattoo that can be difficult to know where to begin.
Before you commit yourself to a tattoo, make sure you know the Artist's style.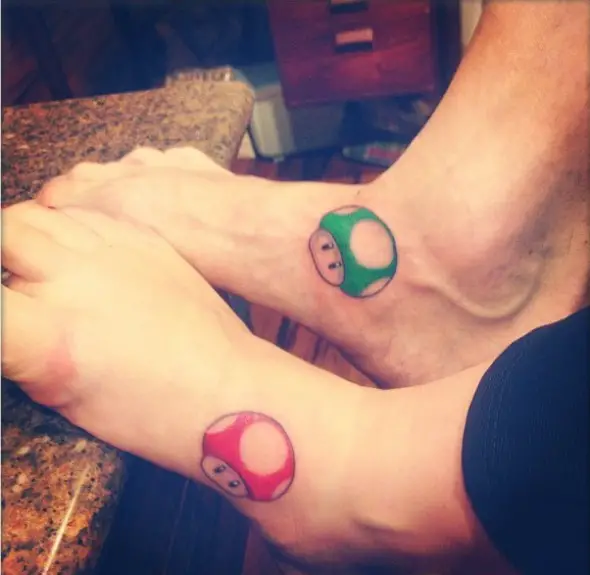 A bad idea for a brother-sister tattoo is a poorly drawn tattoo.
The tattoo needs to be something that both parties like.
The message may be fine, but the artwork is what will be on your skin forever.
So it's important to make sure that the Artist can deliver the kind of tattoo you're going for.
What else will there really be?
You should include the tattoo parlor, the aftercare, the discomfort, and the cost, in addition to the Artist and designs.
And don't neglect the most critical consideration: what would your family think?
As cool as it can sound at the moment, the wrong tattoo will sever family relations and trigger a slew of headaches, so it's worth taking the time to think about what's acceptable.
What is a Good Theme for a Brother-Sister Tattoo?
---
The number one rule to finding the right tattoo for a sibling is to sit down and talk about it.
Whether you are looking for a matching set that reflects your bond or a design that you both feel reflects your relationship, it is important to take the time to discuss your feelings with your sibling.
Once you are on the same page, you might consider considering what kind of tattoo you would want.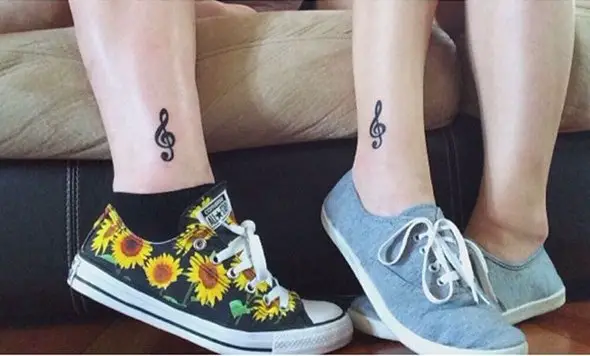 So, what kind of tattoo would work for a brother and sister?
The answer depends on the relationship you have with your sibling.
Think about your relationship:
Is it full of memories of you bickering or laughing together?
Perhaps you are close because you are both musically talented. What about your sibling's personality?
Is he or she adventurous or more reserved?
Here are three categories of tattoos that may work for you and your sibling, regardless of how close you are.
A symbol of the relationship – For example, birds, flowers, or tribal designs.
A personal message – For instance, your favorite quote from a certain book or movie, or it could be an odd design that only the two of you would understand the meaning to.
A representation of the family – For example, house, tree, or sun.
Whichever categories or characteristics you choose to represent, you may find that the design you come up with will be much better than a generic tattoo.
Choosing Colors for Your Brother-Sister Tattoos
---
With the right ink scheme, great color tattoos will turn into beautiful works of art.
However, picking the best tattoo color can be difficult, and not every color is suitable for all.
The color you chose should be meaningful while still perfectly complementing your skin tone.
Different skin tones take colored ink differently.
As a result, choosing the correct ink color schemes for your tattoo is critical to achieving the subtlety or contrast level you need.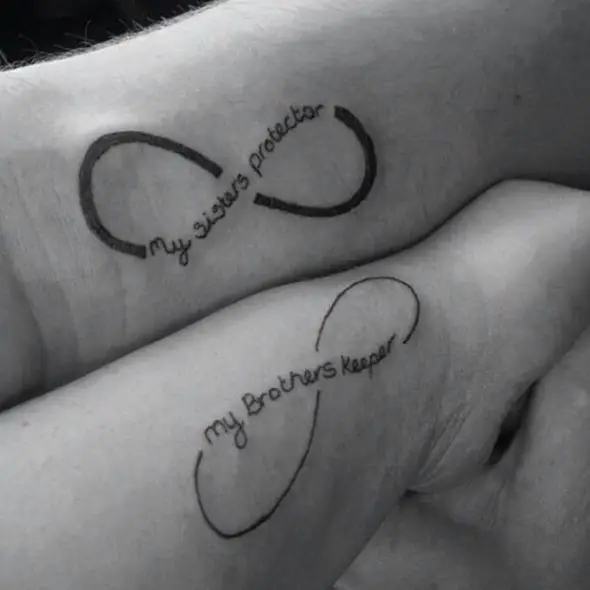 Do your homework, discuss with your tattoo artist, get to know the meaning of each color and how it looks on your or your sibling's skin tone.
But, wait, just to give you some food for thought…
For decades, yellow and orange were the standard colors for a brother-sister tattoo, and there is a good reason for that.
Yellow and orange are the colors of the sun, and the sun is the symbol of a family. 
The sun, like a family, is the center of life on Earth, and it is always there for you.
You can't get more symbolic than that.
Now, there you have it.
Best of luck in the quest for the ideal brother-sister tattoos!