60+ Phoenix Tattoo Designs, plus a Personal Reflection

Hey there! My name is Lauren. I was born and raised in the rugged beauty of Colorado, and I am a proud mom of a three-year-old daughter.
In this post, I just wanted to explain why getting a phoenix tattoo was the right decision for me.
And if you're thinking about getting a phoenix tattoo, I invite you to delve into the depths of my experiences, where motherhood and personal growth intersect, as symbolized by this remarkable tattoo.

But, first…
What exactly is The Mythical Phoenix?
If you haven't heard, In mythology, the phoenix represents resilience, rebirth, and the eternal flame of life. This legendary bird embodies strength and unwavering beauty, much like the mountains that surround my beloved Colorado.
The phoenix's spirit resonates within me as I navigate the ups and downs of motherhood, igniting my own flame of growth and transformation.
You can see it tattooed on my right hip below: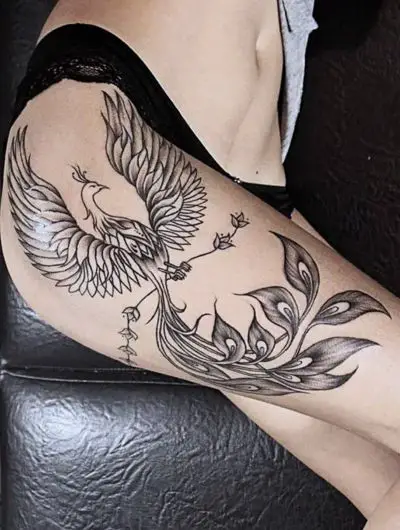 Every ink stroke on my skin tells a story—a visual symphony of symbols that represent my journey as a mother.

Why did I only use Black Ink?
I find solace in the inky darkness of the ink, a testament to the shadows that have danced across my path as a mother. It represents the challenges, sacrifices, and moments of self-discovery that have shaped my journey.
The black ink represents the inner strength that guides me through the ups and downs of motherhood, reminding me of my own power and resilience.

Why did I choose the placement on my right hip?
My black phoenix tattoo has found a home on the curves of my right hip—a testament to the transformative power of motherhood. It's a spot that bears the imprint of my daughter's touch, a reminder of the sacred bond we share.
As I cradle her in my arms, I am reminded that this tattoo represents not only my personal growth but also the growth and resilience that blossom within my child.
Related:

The Meaning of My Phoenix Tattoo
As a proud mother, my black phoenix tattoo symbolizes the journey of motherhood and the transformative power it possesses. It's a story about personal growth, strength, and the unwavering love I have for my daughter. I emerged like a phoenix from the crucible of parenting, stronger and wiser.
This tattoo bears the weight of countless sleepless nights, endless hugs, and the joy of witnessing my daughter's milestones. It serves as a reminder that even in the face of adversity, I can rise above and nurture the flames of love, resilience, and self-discovery.

How about you?
Before you get your personal phoenix tattoos, I recommend that you think about something important: what your tattoos mean to you.
You don't want it to create something completely random and meaningless because it will be on your body for the rest of your life.
Reflecting on my own tattoo journey and discussions with my tattoo artist, I'd like to share some design ideas that may resonate with you.

Here are some Phoenix Tattoo Design Ideas to consider
a. Traditional Phoenix
This tattoo captures the timeless allure of a traditional phoenix tattoo. The bold lines and classic color palette combine to create a striking and powerful design that will stand the test of time.

b. Realistic Phoenix
With realistic Phoenix, the intricate details and shading bring the mythical bird to life, making it appear as if it could soar off your skin. Choose this if you enjoy seeing something realistic.

c. Watercolor Phoenix
Feeling artistic? A watercolor-style phoenix tattoo lets you show off your artistic side. The combination of flowing colors and delicate brushstrokes creates a captivating and ethereal effect that celebrates individuality.

d. Geometric Phoenix
Love geomatric design? A geometric design can combine modern aesthetics with phoenix symbolism. Clean lines and intricate patterns combine to create a visually stunning tattoo that represents balance and harmony.
Now lets talk about its elements.

Elements of Phoenix Tattoos
When it comes to phoenix tattoos, certain elements beautifully capture the essence of this majestic creature. In general, these are the three elements of a phoenix tattoo. You can, however, choose whether or not to incorporate everything into your tattoo.
a. Feathered Wings
The wings of a phoenix are a prominent feature in its design. They represent liberation, spirituality, and grace. Wing designs range from intricate and detailed feathers to more abstract interpretations. A skilled tattoo artist can create wings that flow seamlessly with the contours of your body, enhancing the overall impact of your phoenix tattoo.

b. Fiery Flames
Flames are another important element in phoenix tattoos. They represent the transformative fire from which the phoenix emerges. The colors and intensity of the flames can be adjusted depending on the desired effect. Choose an artist who can collaborate with you to create flames that range from vibrant and energetic to subtle and ethereal, complementing the overall design of your phoenix tattoo.

c. Radiant Colors
I love black, so it was just a black phoenix tattoo. However, phoenix tattoos frequently incorporate a brilliant array of colors, symbolizing the phoenix's vibrant rebirth and renewal. The color palette is as diverse as the stories behind each phoenix tattoo, ranging from warm oranges and fiery reds to rich purples and vivid blues. An experienced artist skilled in creating captivating color combinations can bring your phoenix tattoo to life, transforming it into a true work of art.

The Phoenix Tattoo Placements
When choosing the placement for your phoenix tattoo, think about how it will complement your body and serve as a constant source of inspiration.
I chose my right hip for personal reasons (as I mentioned above), but you can consider areas such as the back, forearm, or shoulder where the tattoo can be prominently displayed and admired.
Also, don't copy other people's designs; you can use them as inspiration, but you must personalize your phoenix tattoo. Personalize your phoenix tattoo by adding elements or symbols that have special meaning to you. Work with a skilled tattoo artist to incorporate your personal story and experiences into the design.
Need some inspirations?
No worries, I've gathered a few phoenix tattoo images for both men and women below.
Get some ideas before meeting with your tattoo artist. Check it out and enjoy!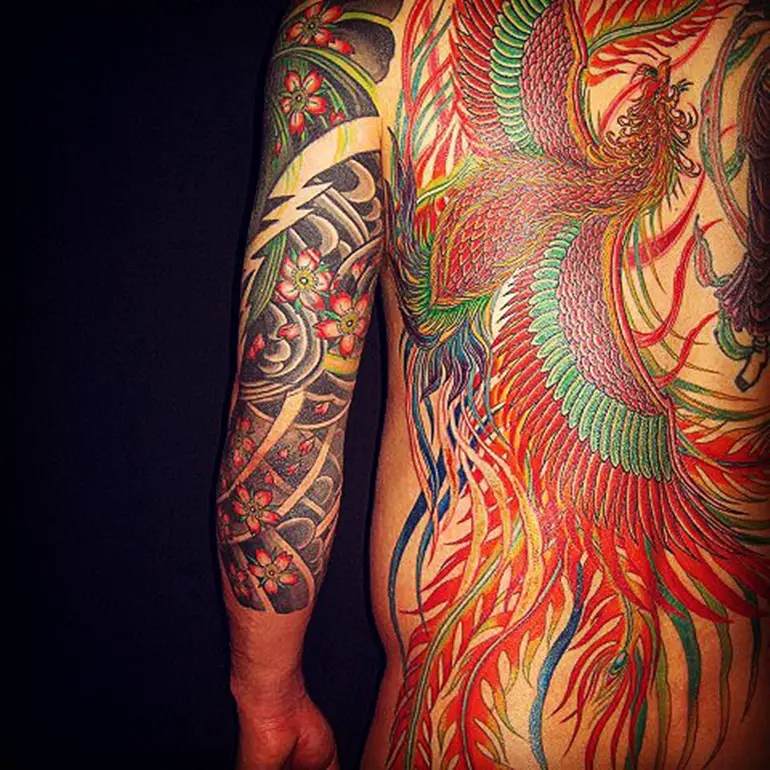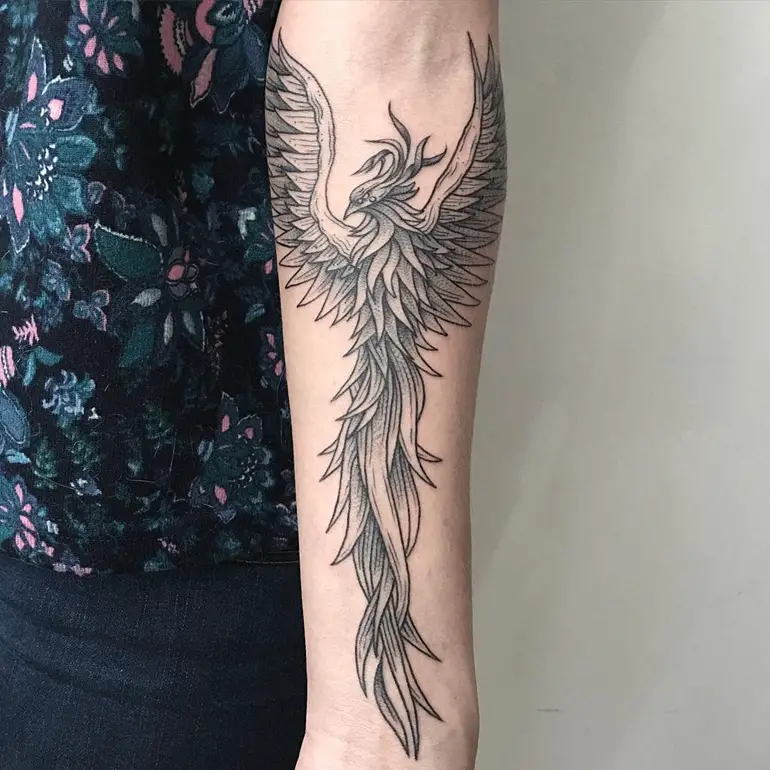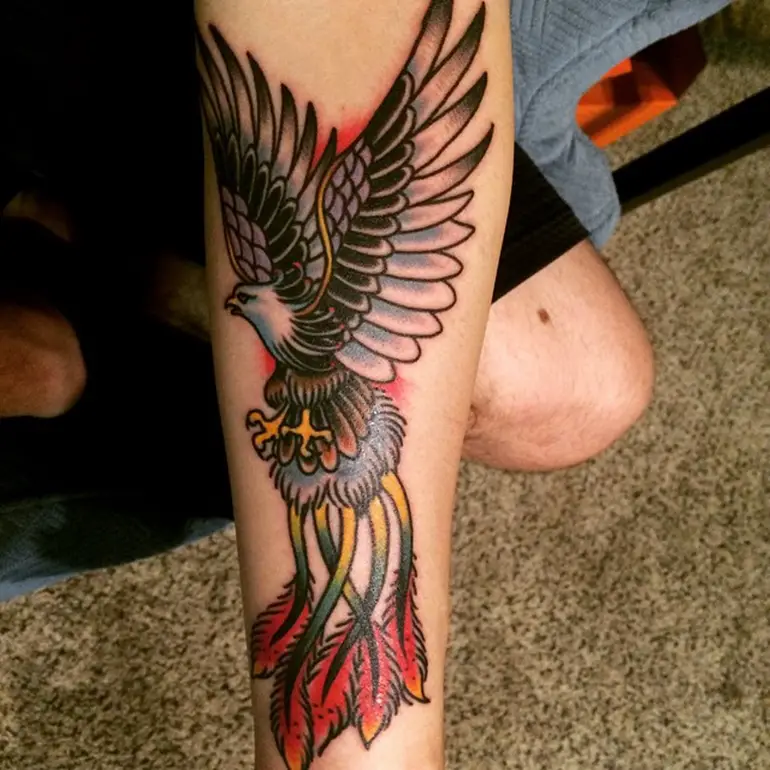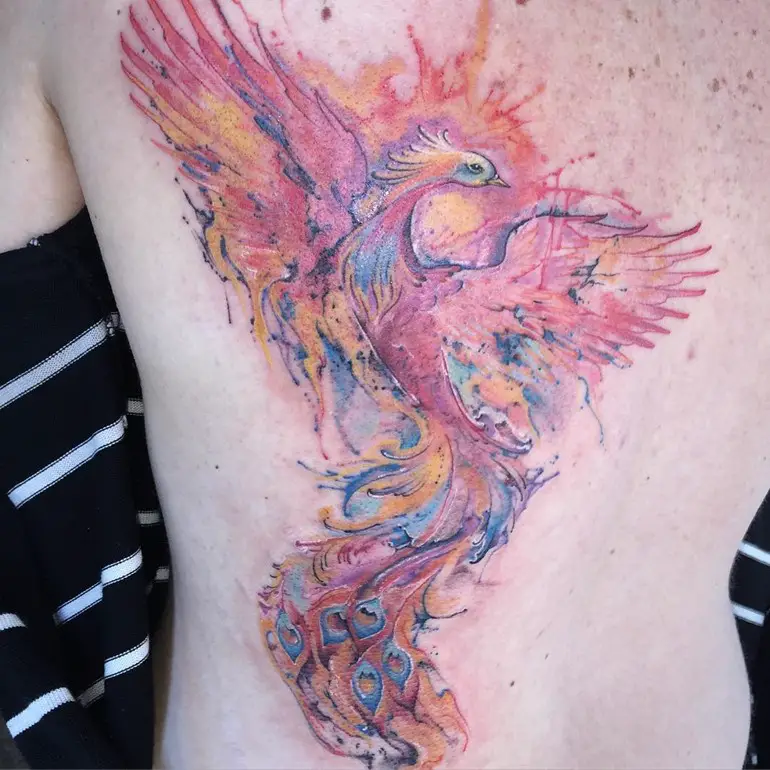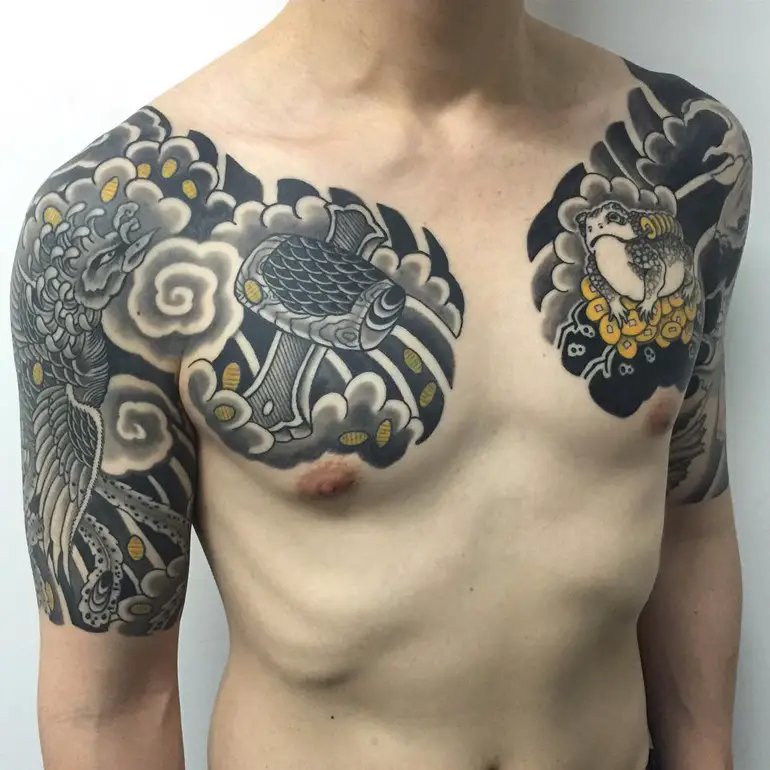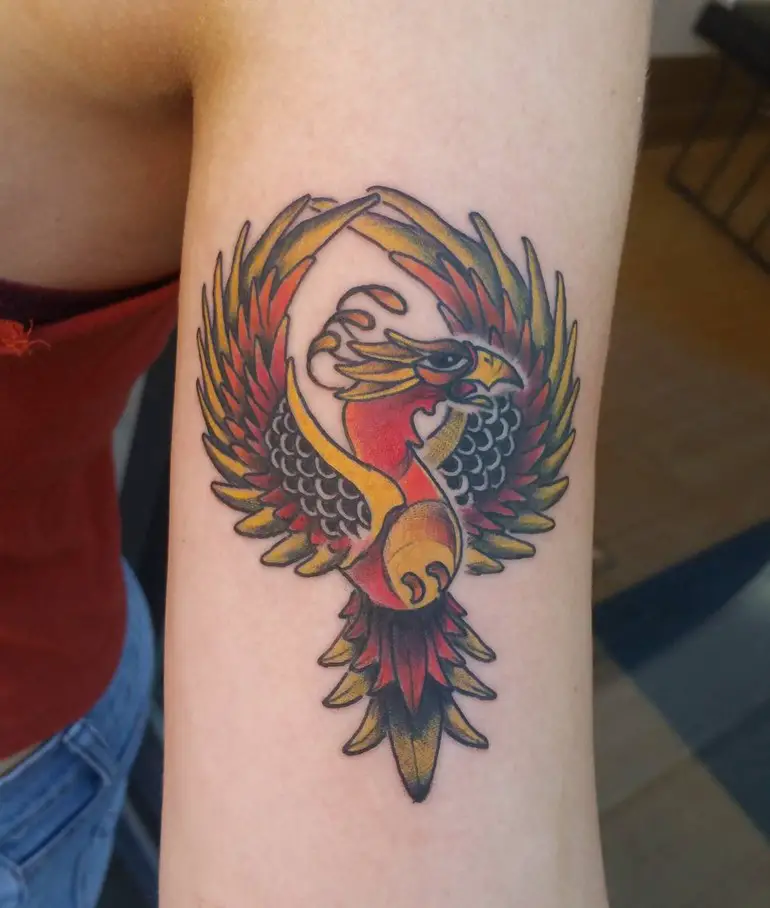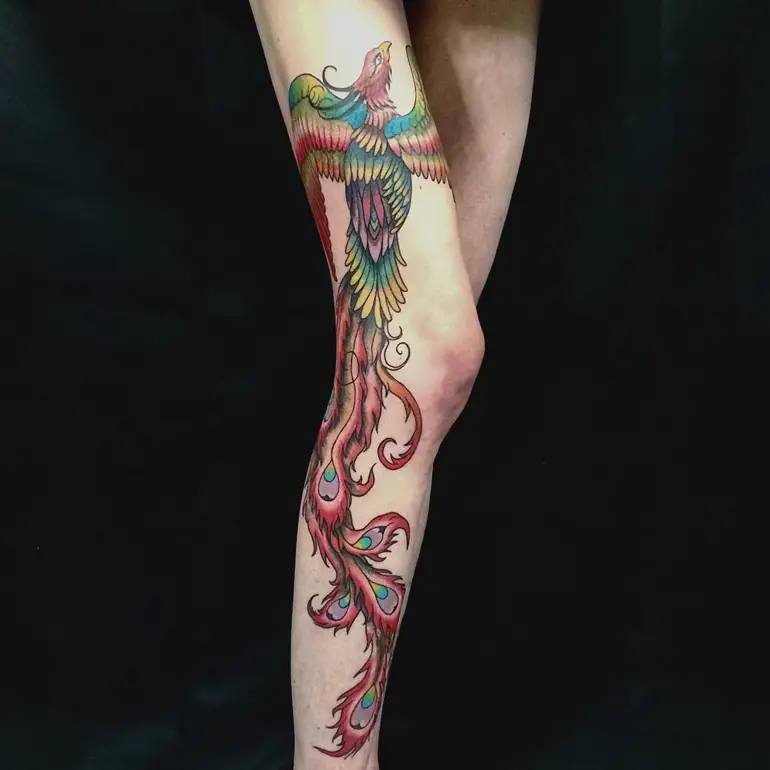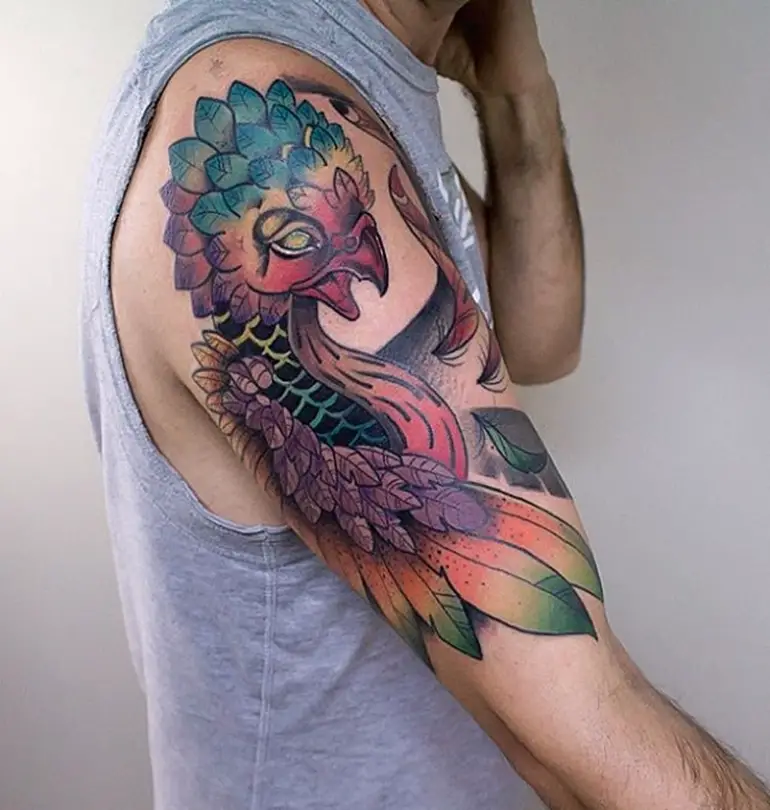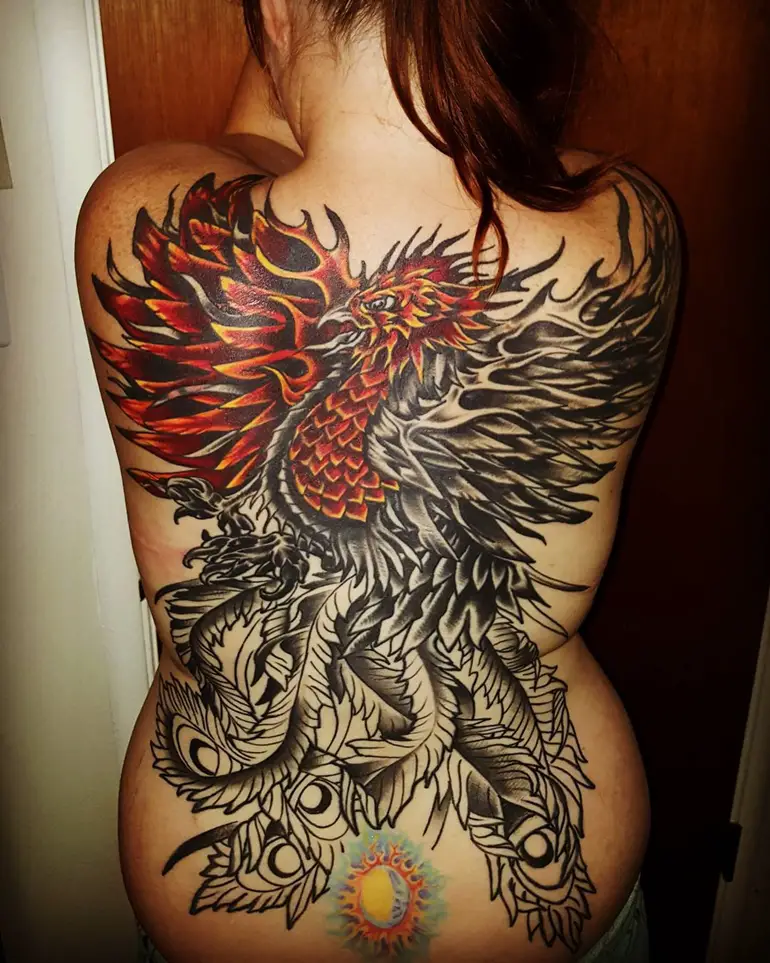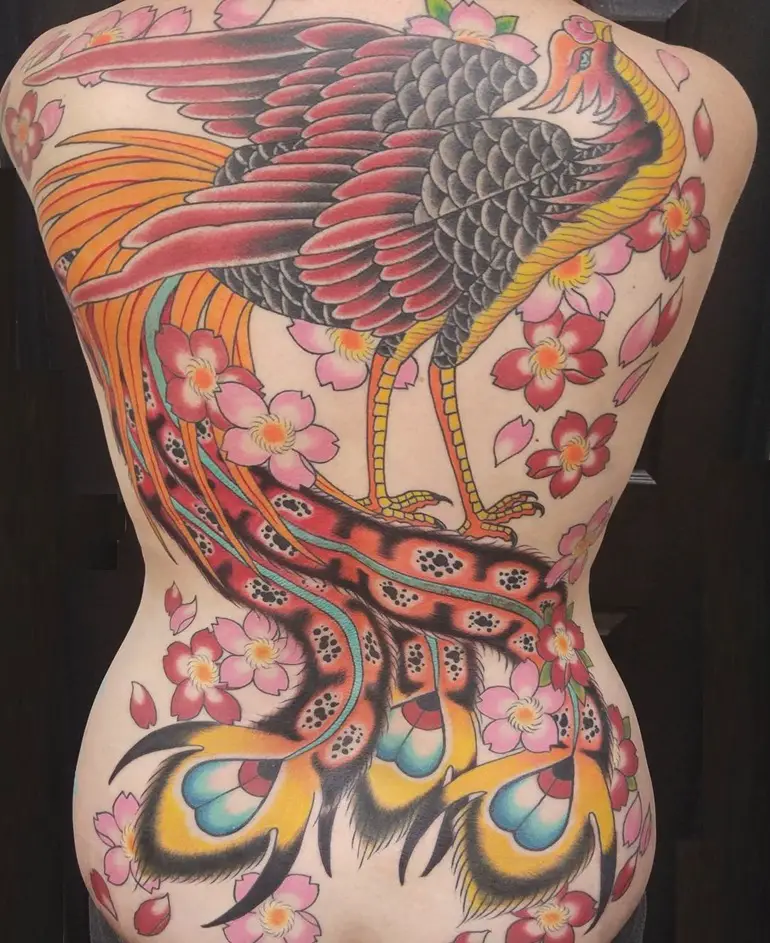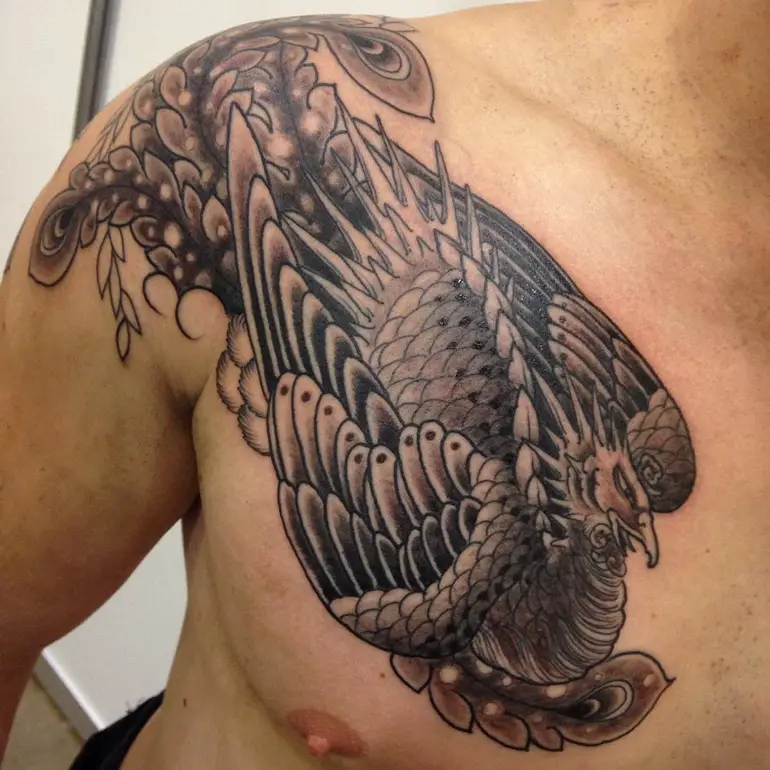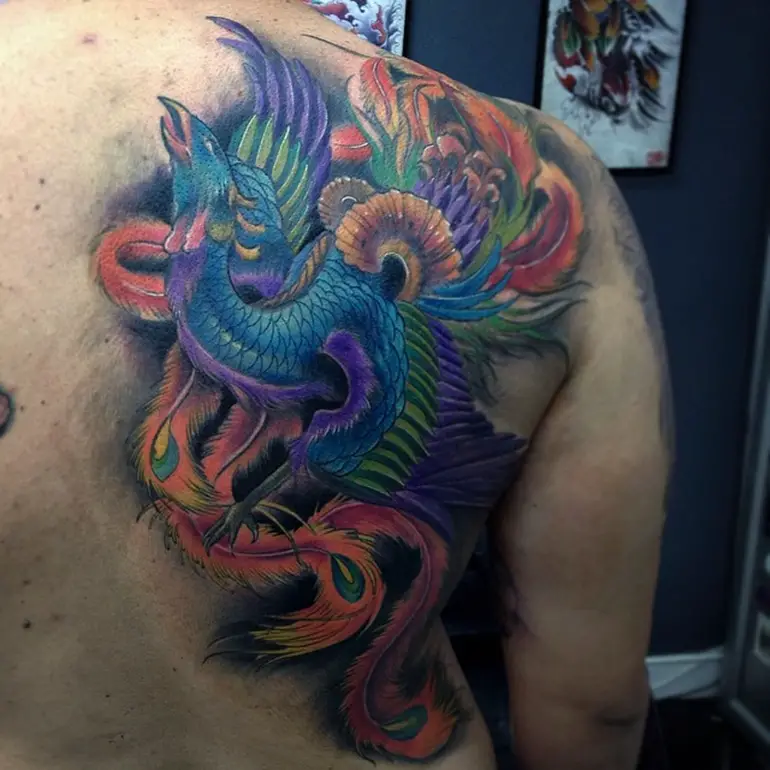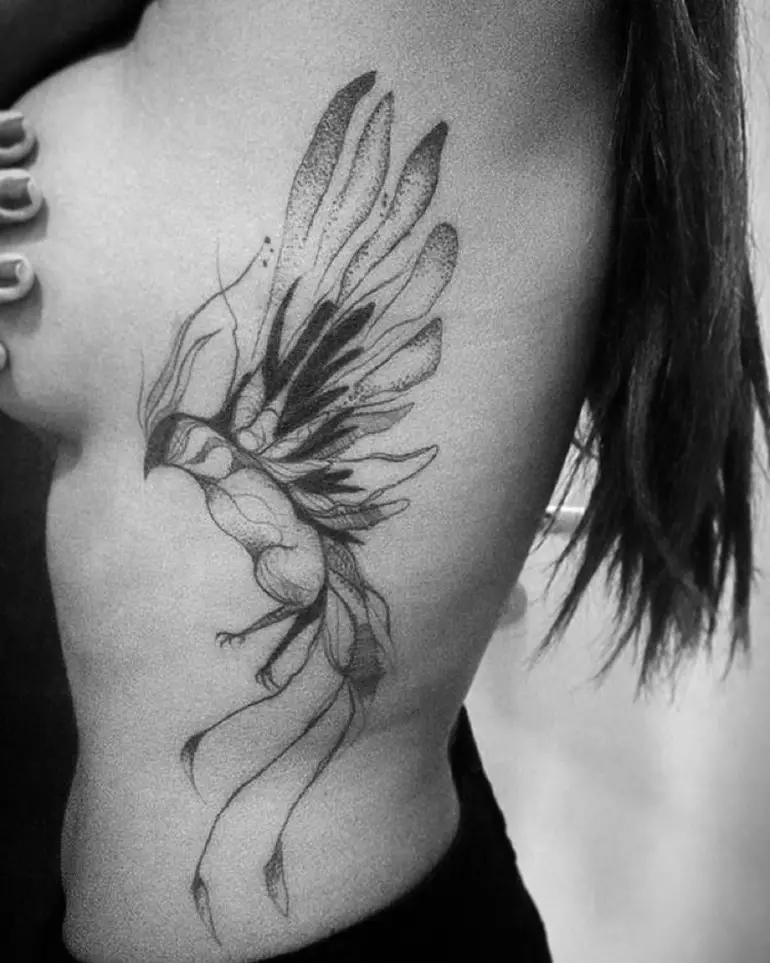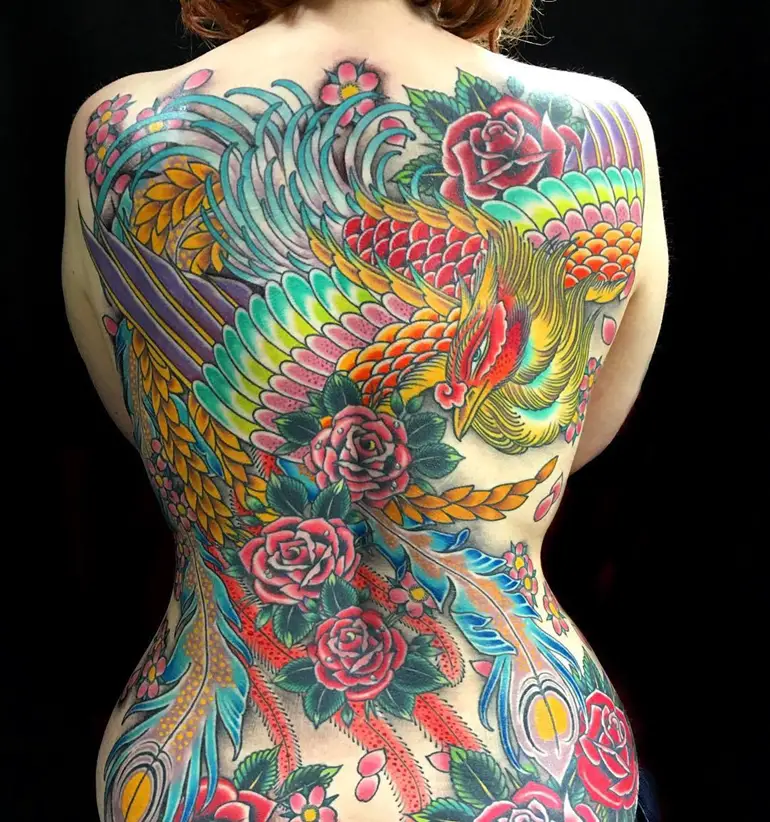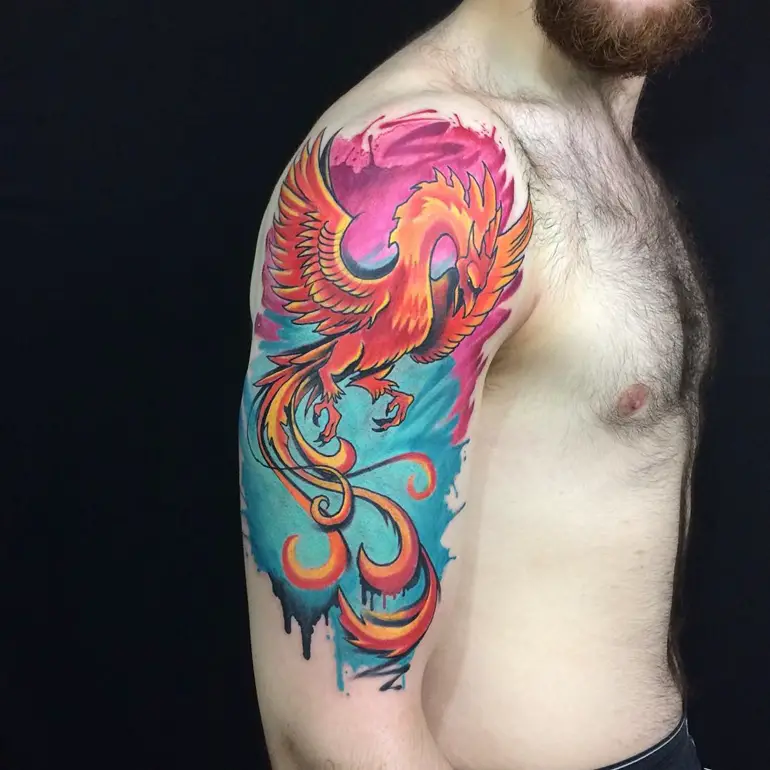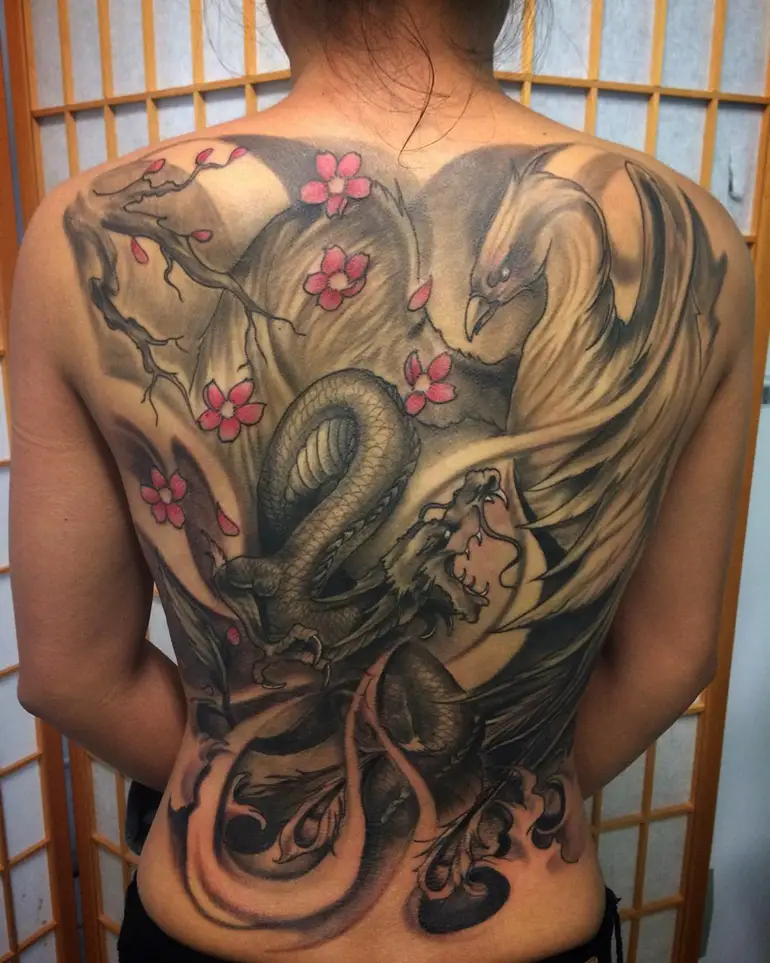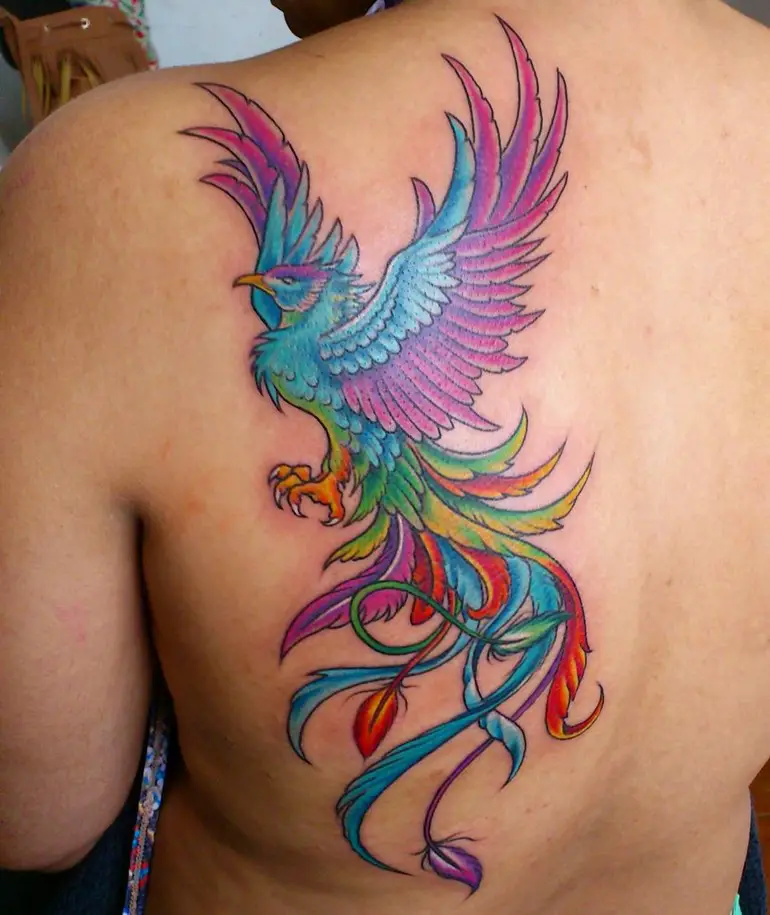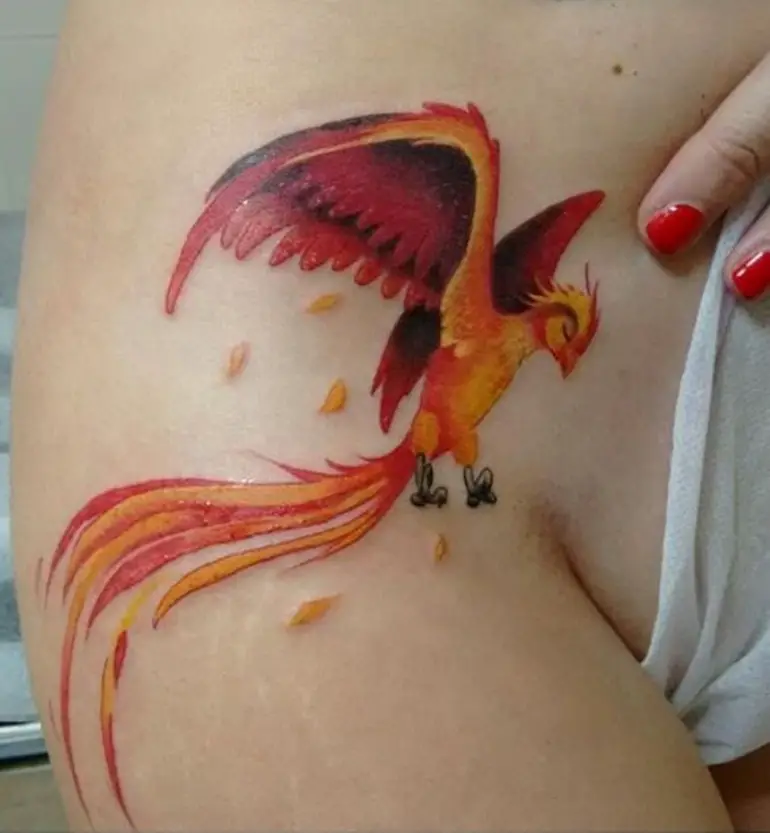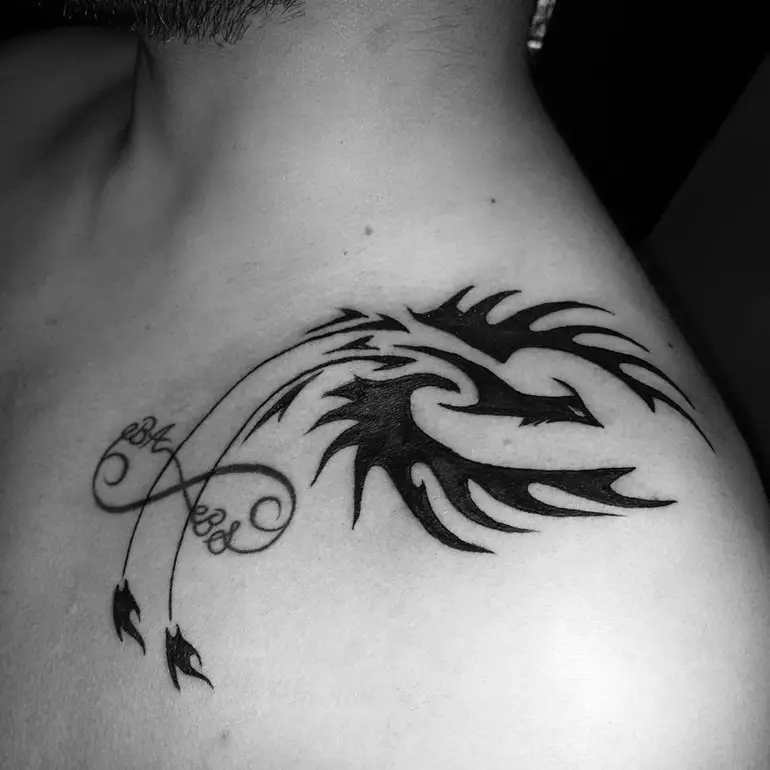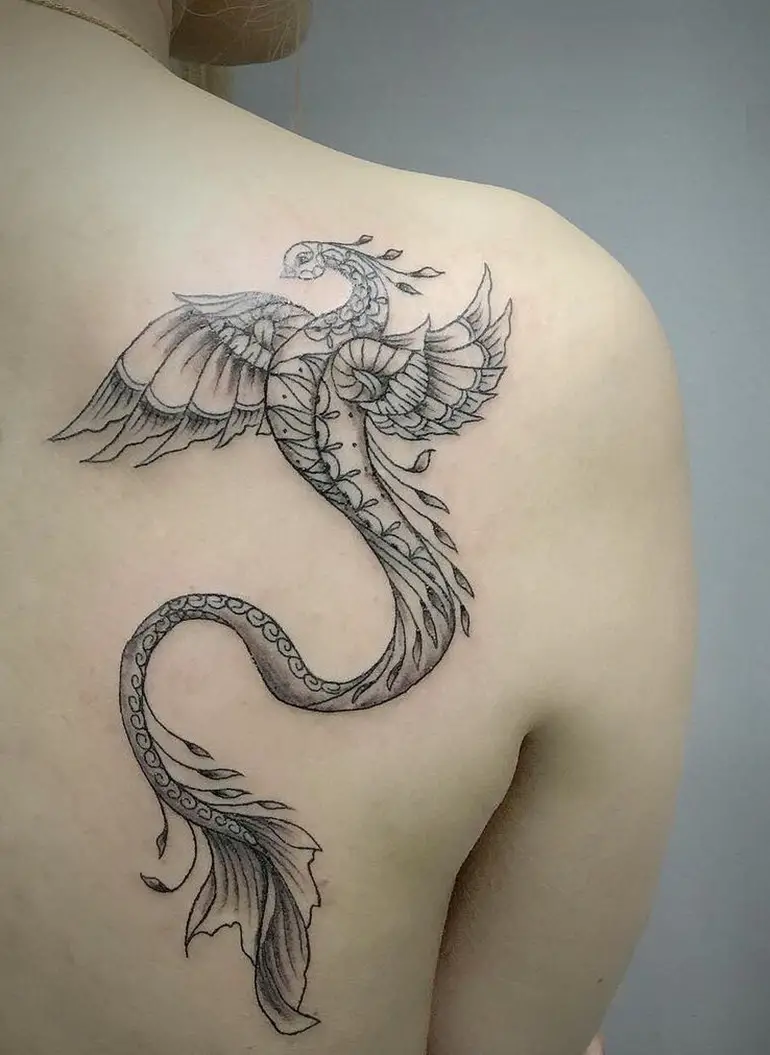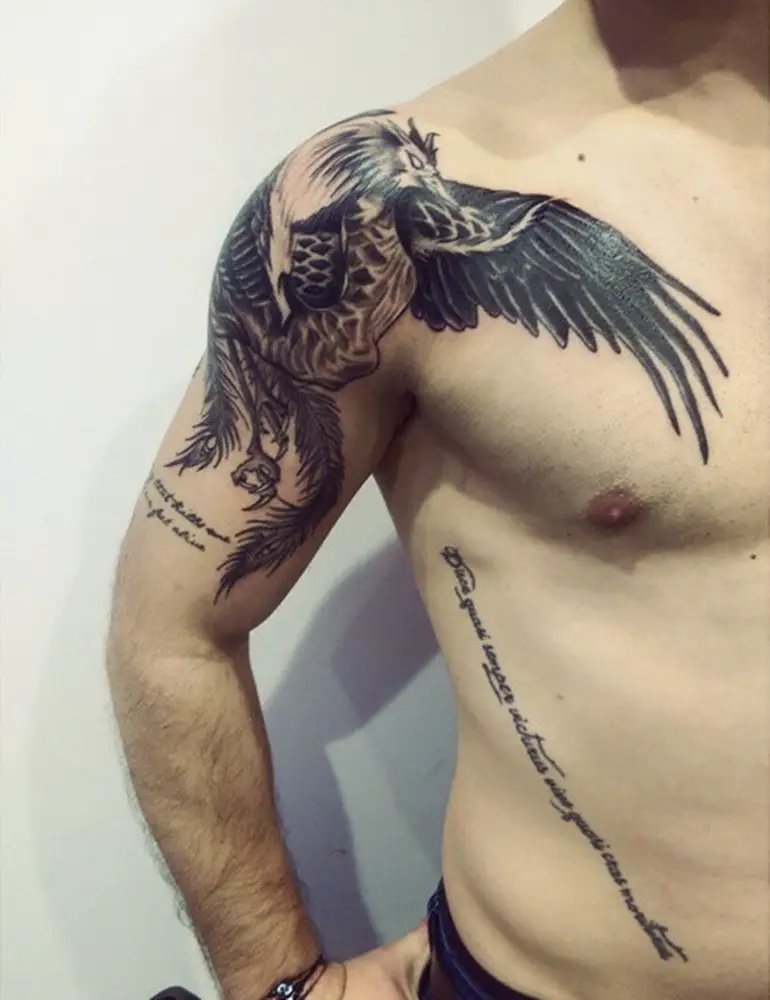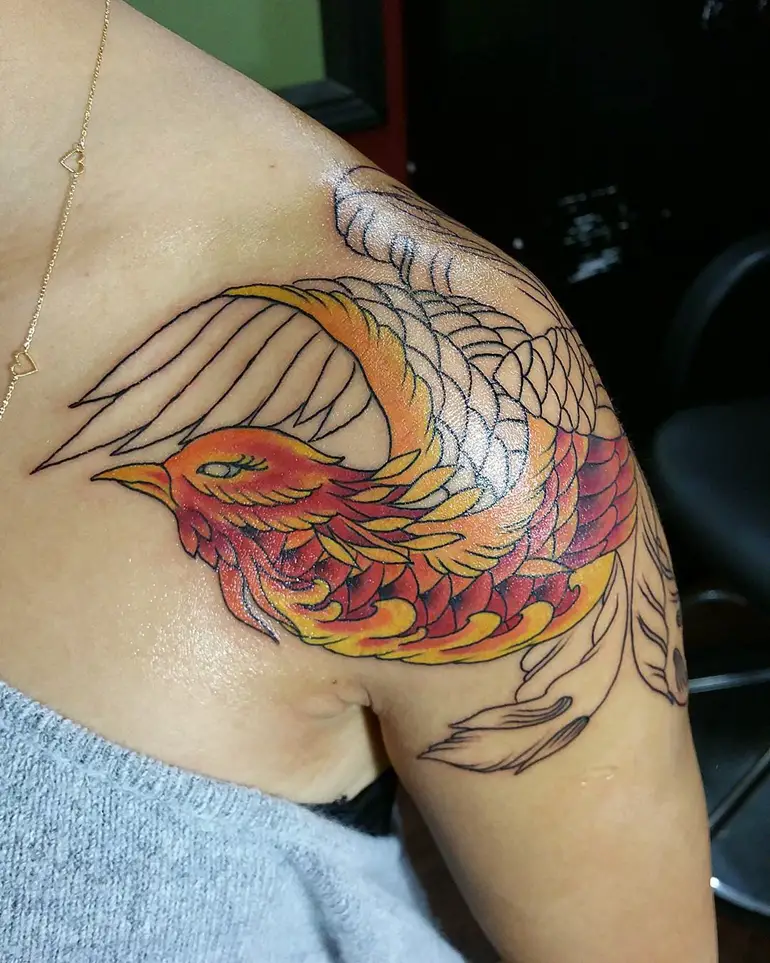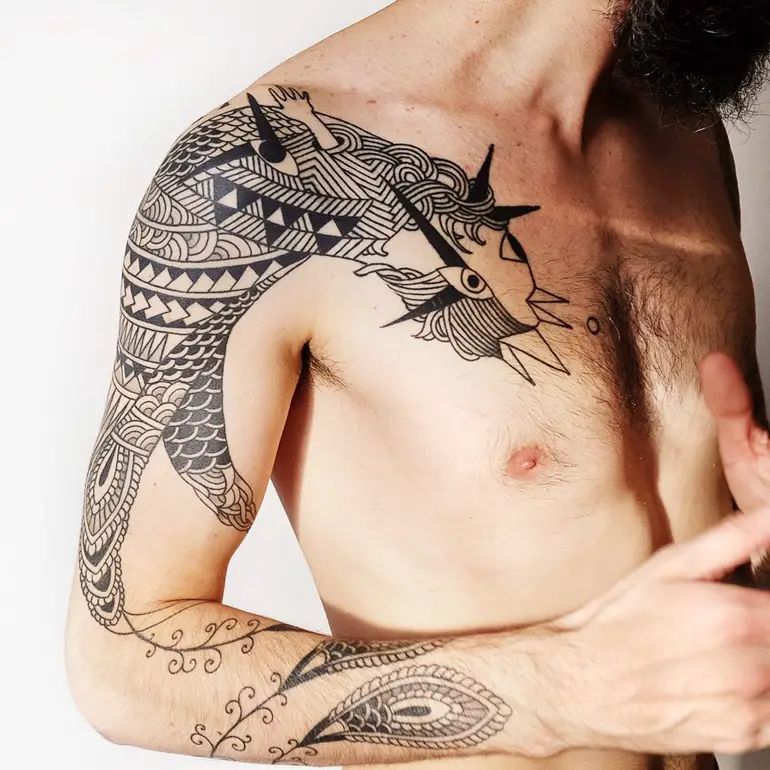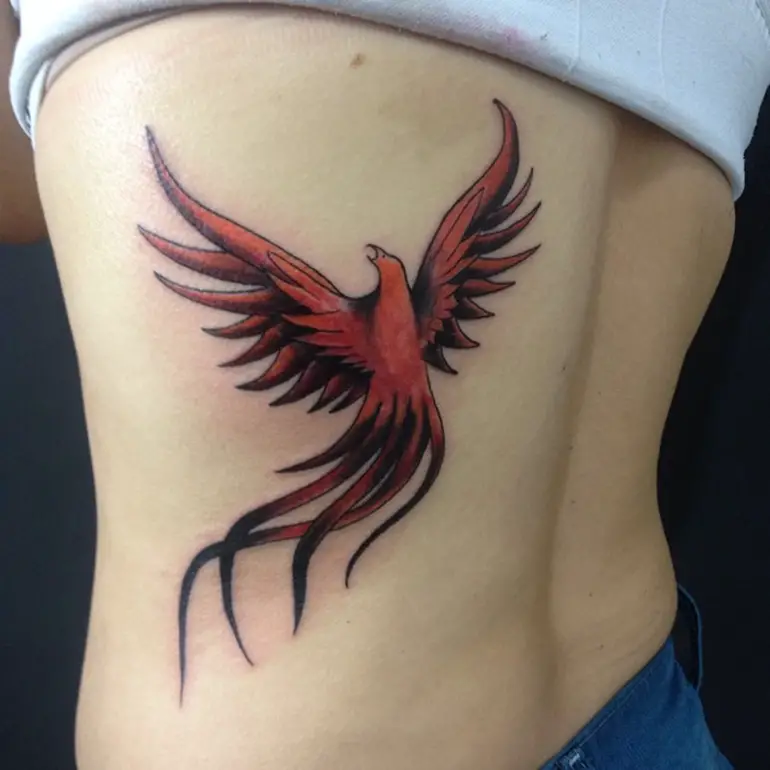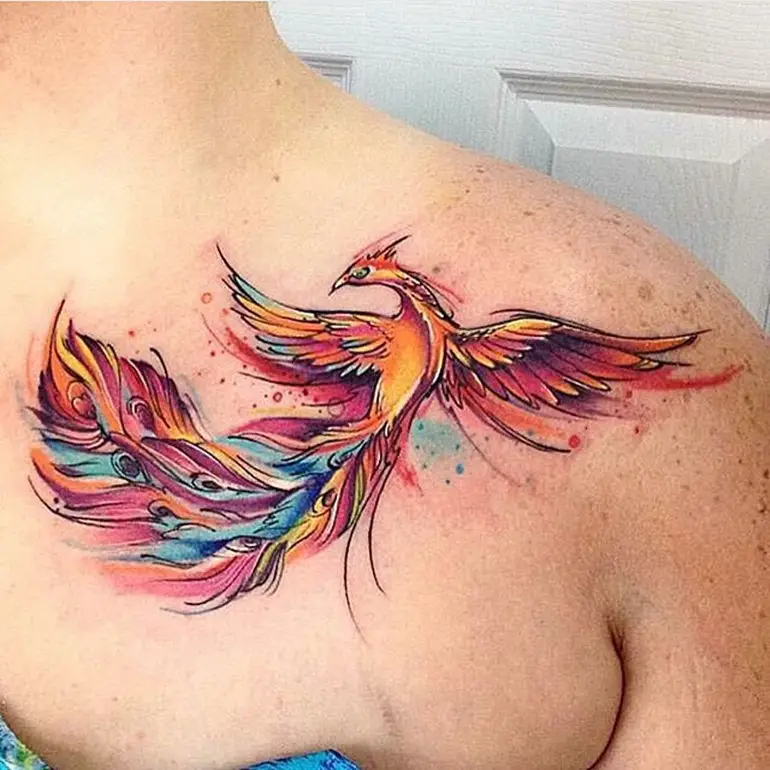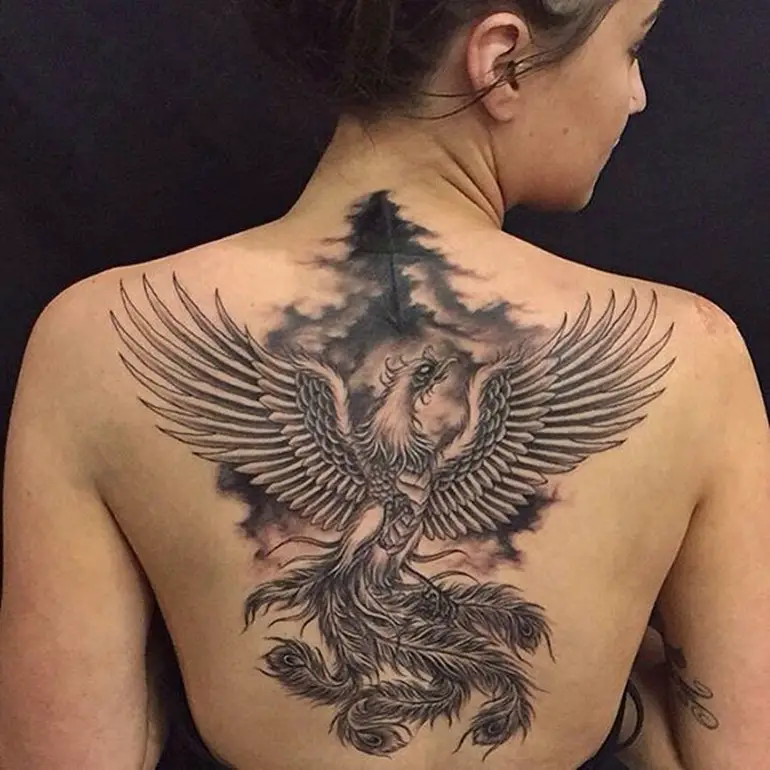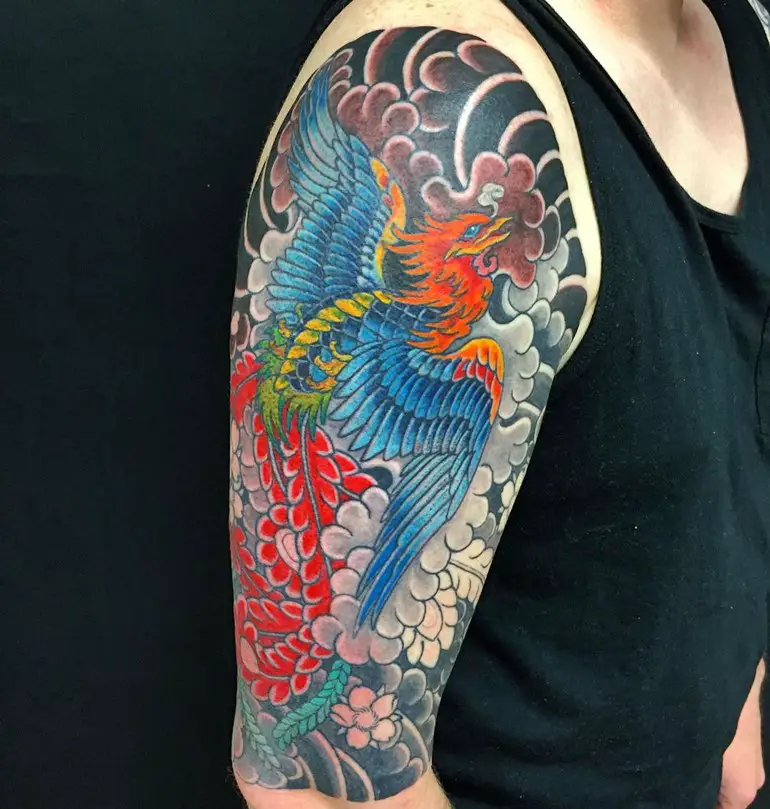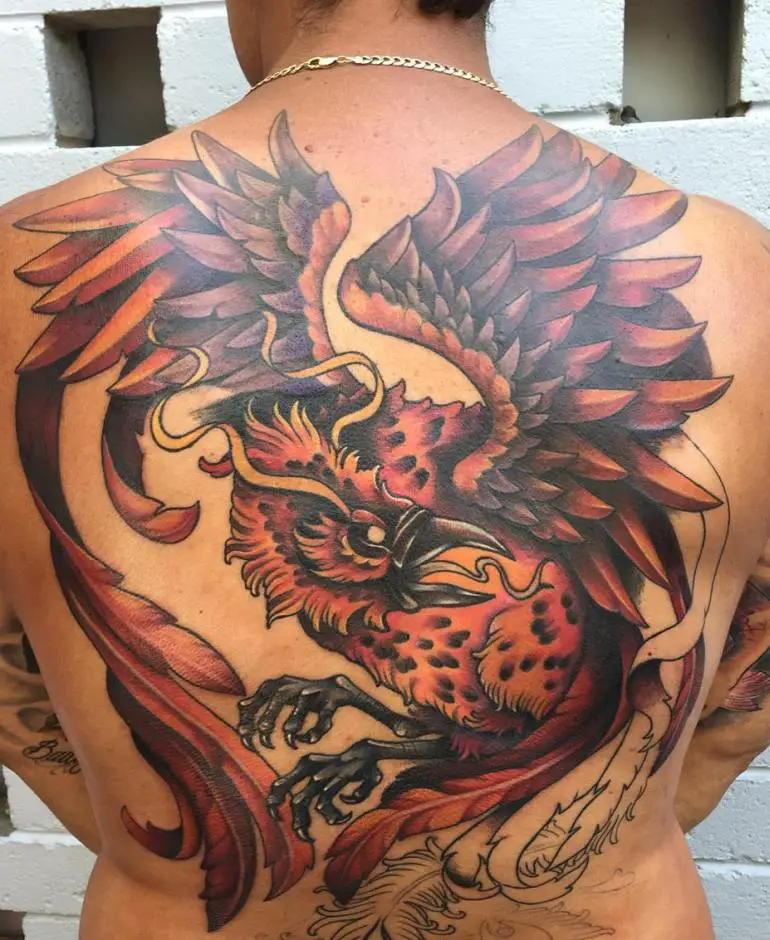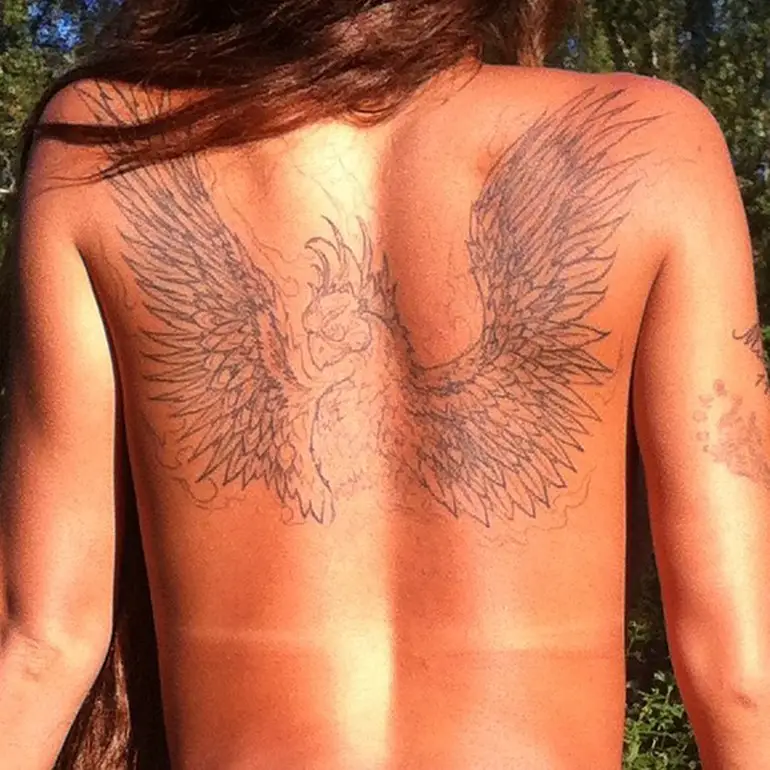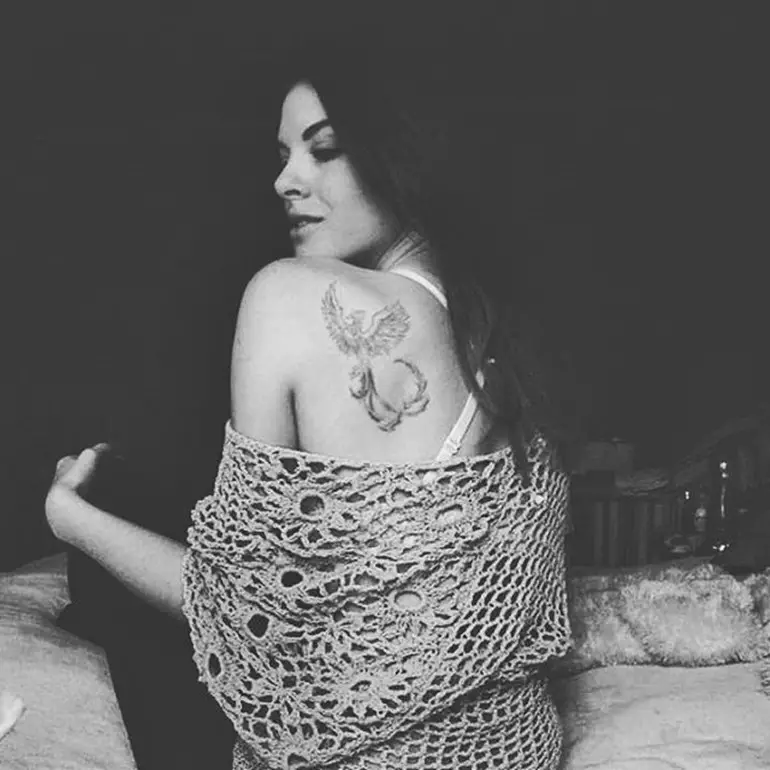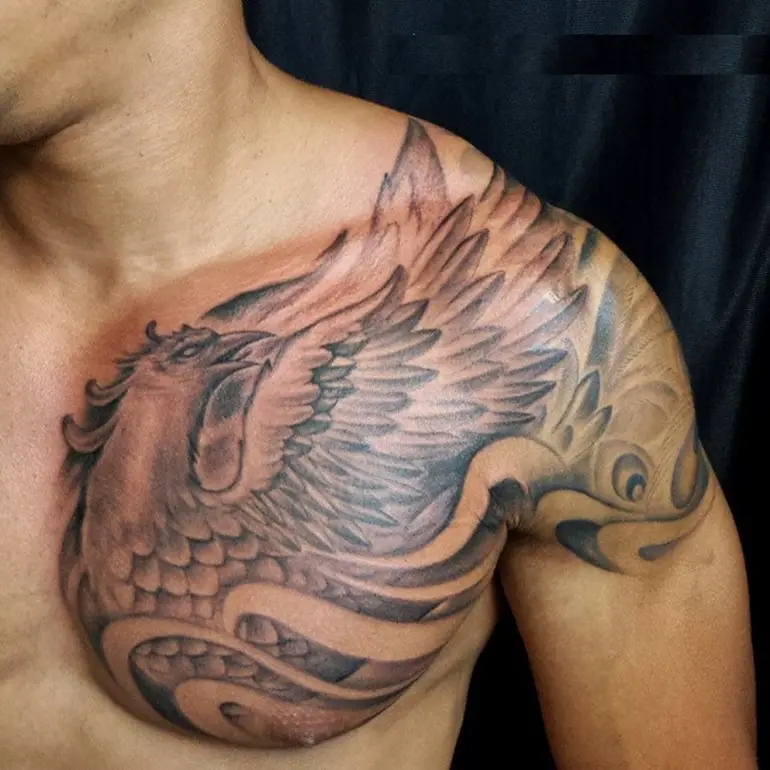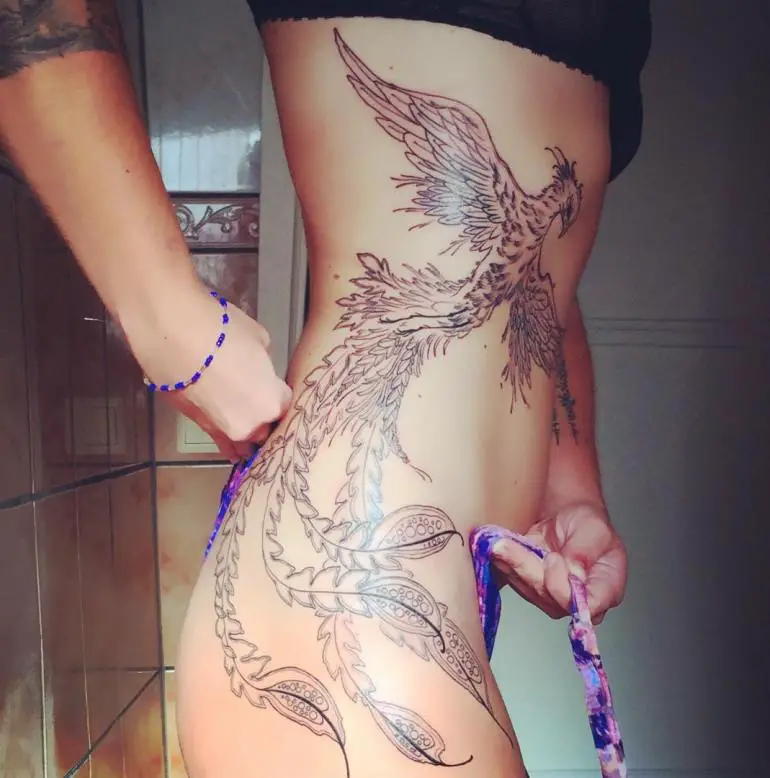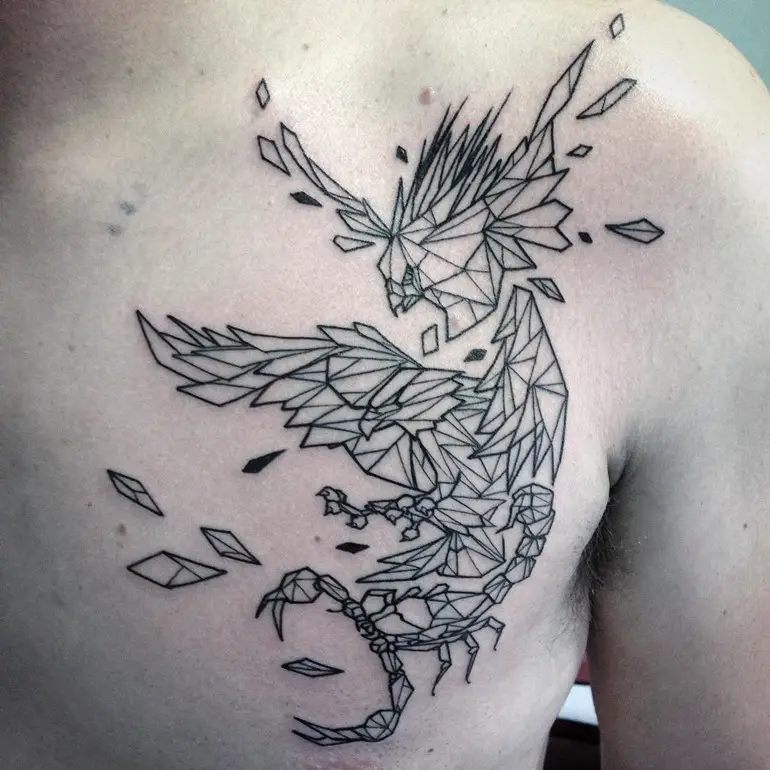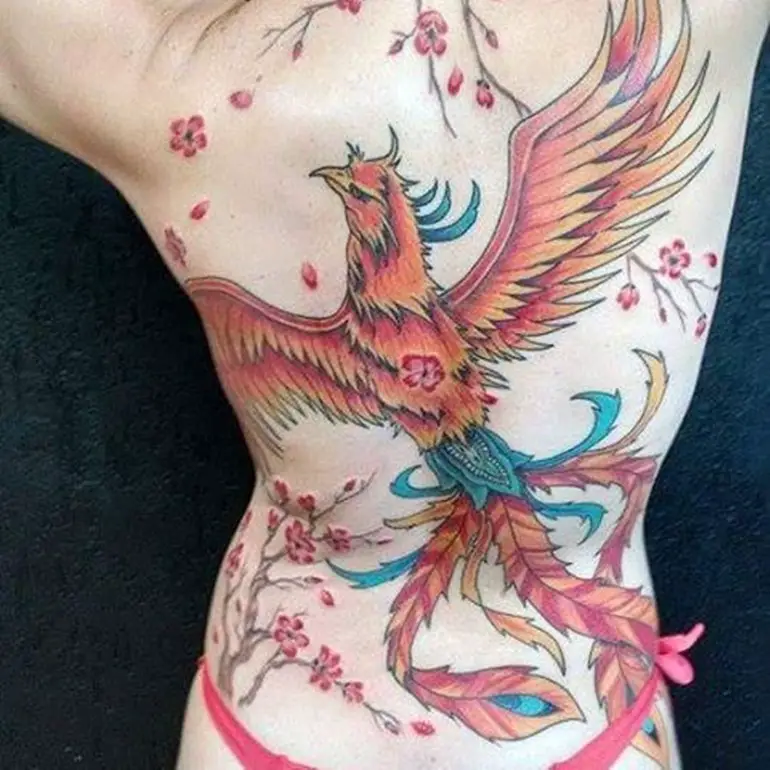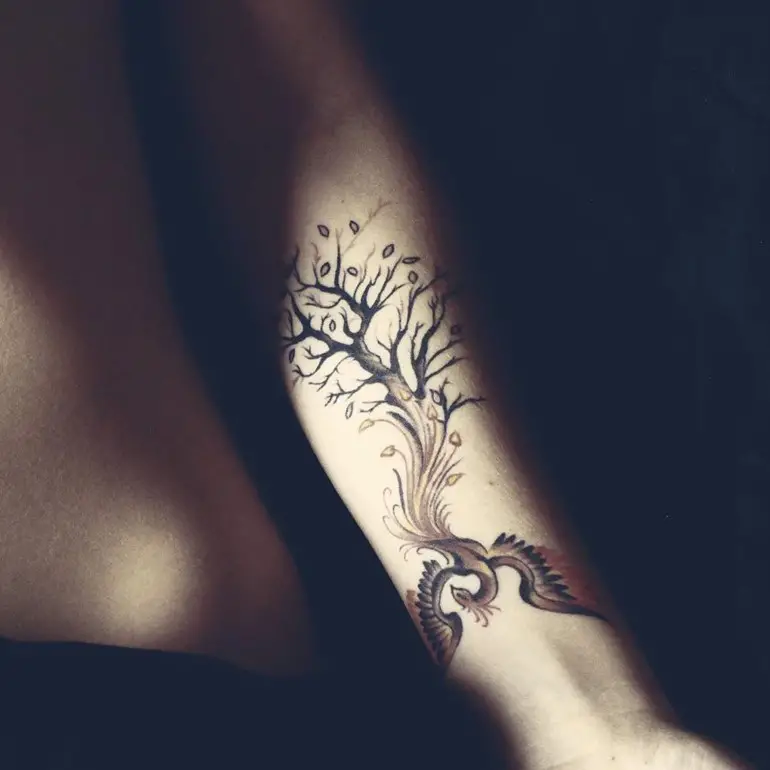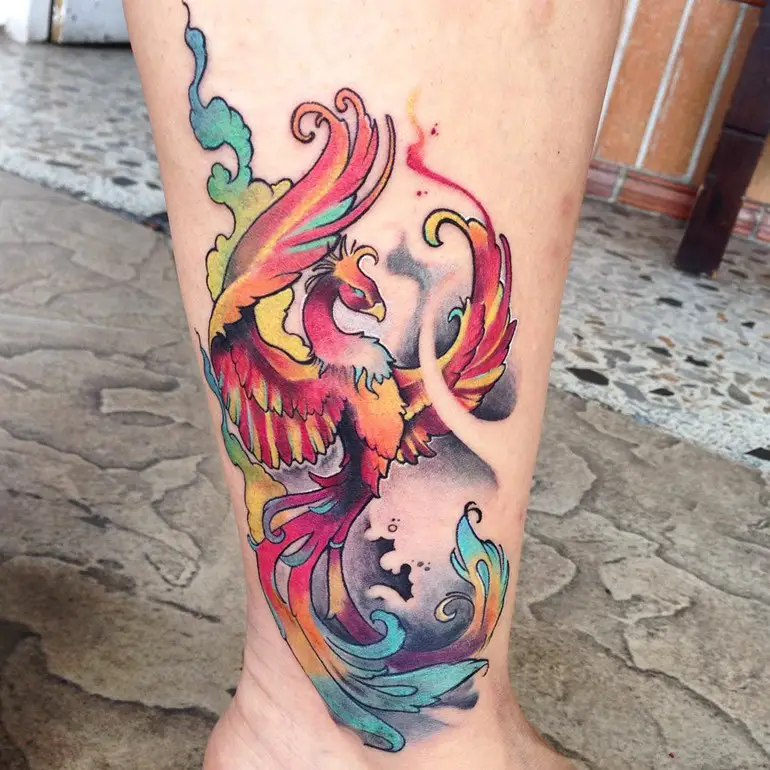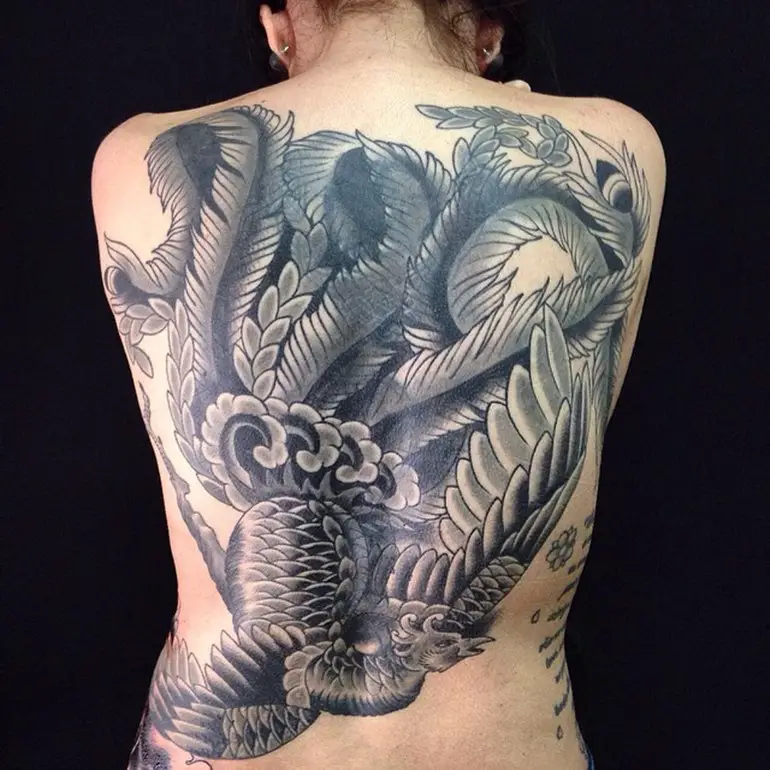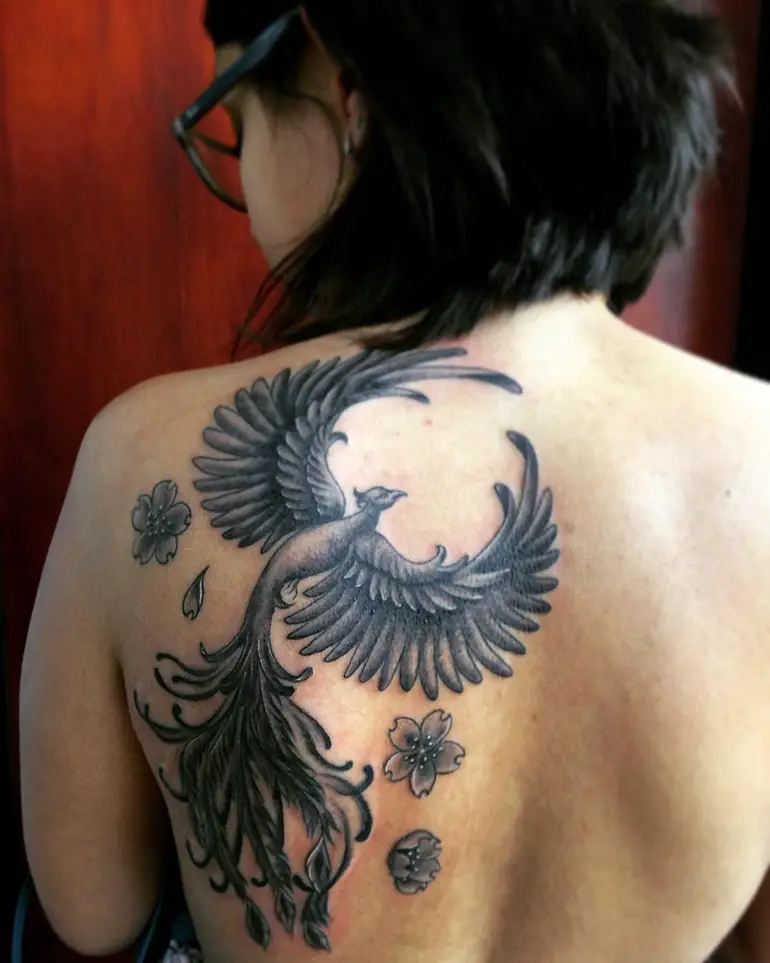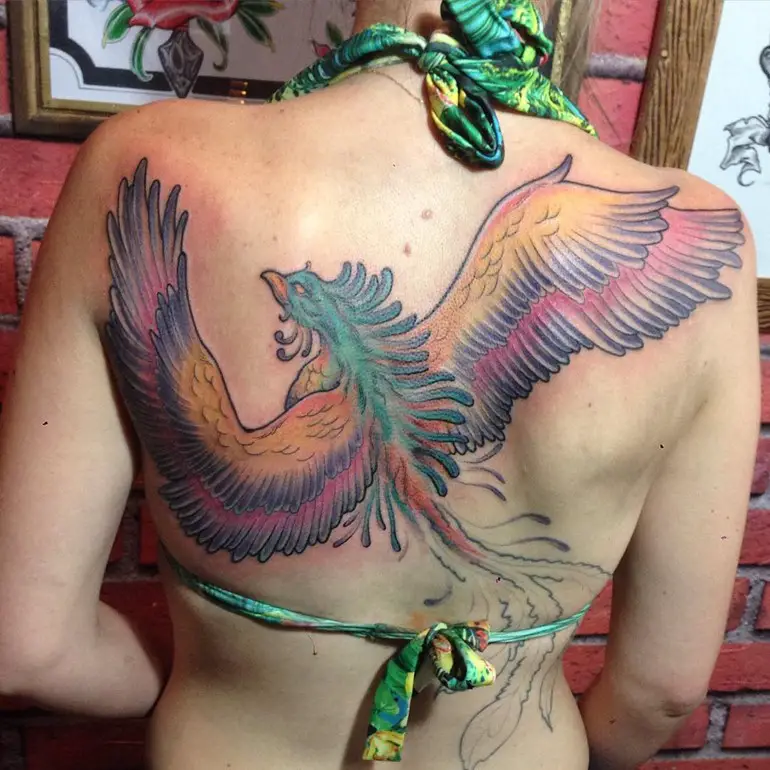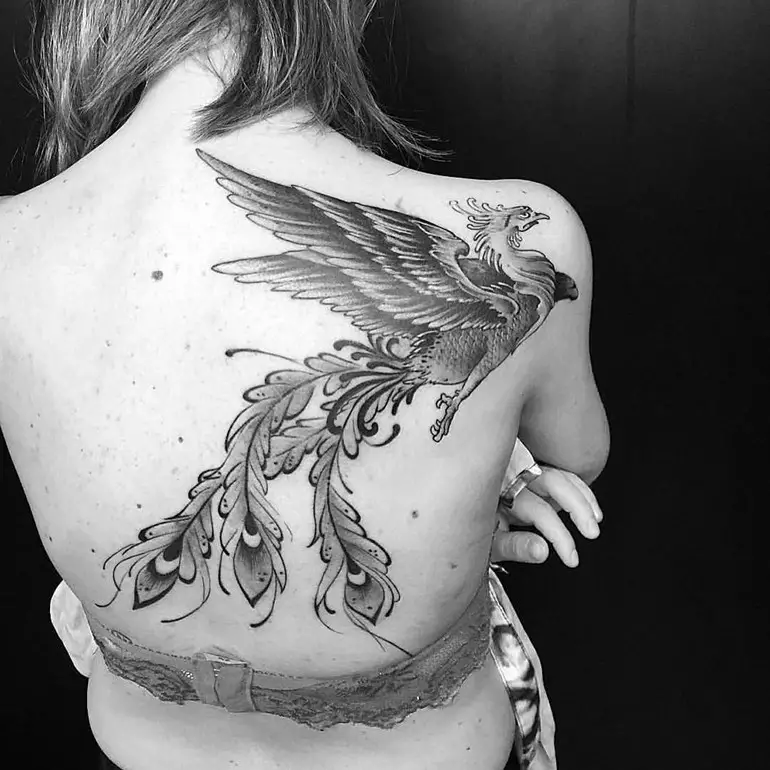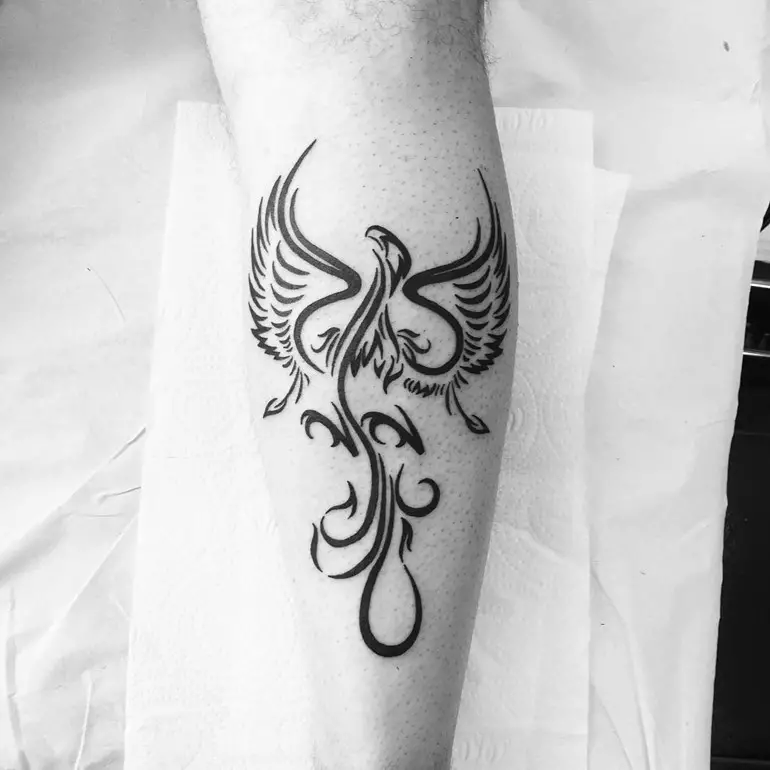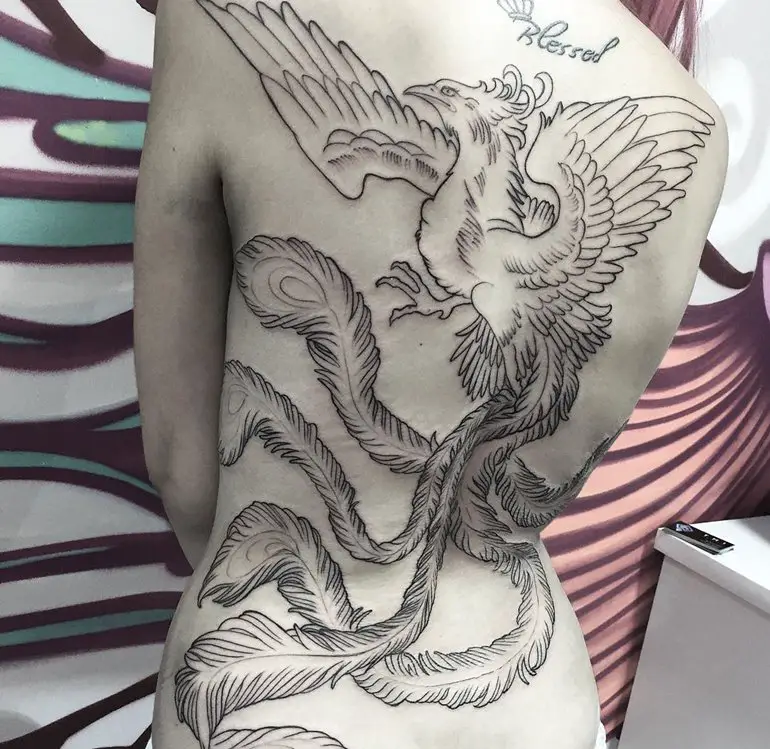 Final Words
So, what do you think? I hope you have some ideas for your next tattoo already.
If you are a man, your phoenix tattoo will most likely have a different meaning. If you are a mother just like me, I wish your phoenix tattoo illuminate the path of motherhood, reminding you of the strength and resilience that run through your veins.
With each step, may you rise above, embracing the flame within and basking in the extraordinary journey of motherhood.
However, whether it represents your motherhood journey or a personal milestone, let it be a testament to your inner strength and beauty.