33 Small Feather Tattoo Ideas
A small feather tattoo has elegance written all over it.
Apart from their impeccable beauty, the feathers also carry great symbolic significance, depending on which bird they come from.
Feather tattoos are an umbrella term that encompasses a class of vertebrates that comprise all the birds.
For this reason, the historical meaning of a bird feather tattoo is closely linked to the species it's derived from.
The peacock feather tattoo is a common example of a strong symbol and a pretty easy one to do in just a few minutes.
It is one of the oldest symbols of royalty.
A peacock feather is a great piece of tattoo art and can look different in different contexts.
Some people may choose to use it as an emblem of courage, and others may choose to use it differently in other circumstances.
When it comes to feather tattoo design, we can agree that this art is universal. It can be worn by anyone without looking out of place.
It comes as no surprise because birds are abundant.
Some are heavily associated with masculinity, which others ooze gracefulness.
Small feather tattoos meaning
---
If you may wonder why people choose to ink feather tattoos, you should understand the meaning of the feather symbol.
The meaning of a feather tattoo comes down to the bird the plumage comes from.
Different birds are viewed differently by other cultures.
A peacock tattoo, for instance, can be used to signify protection and grace.
In contrast, an eagle feather tattoo illustrates honor and respect.
The supreme winged bird has been synonymous with these messages since long ago.
An eagle feather also captures the concept of divinity due to its ability to fly at high altitudes.
There are more species you can use as a reference for your tattoo.
The turkey can be an option for those wanting to express wisdom and honor.
It's also acknowledged as a symbol of fertility.
And then, there is the owl feather, a bird with distinct characteristics like a pair of binocular eyes.
Throughout history, owls have been recognized as a symbol of knowledge and wisdom.
Interested to know more about it?
Well, keep reading.
Small feather tattoo on wrist
---
It's not hard to customize a feather tattoo to make it fit on the wrist.
All you have to do is go for a smaller design.
That said, the flexibility in placement may come at the cost of limited freedom to draw up an elaborate plan.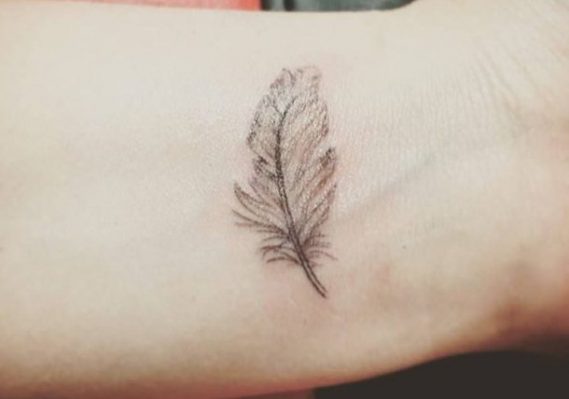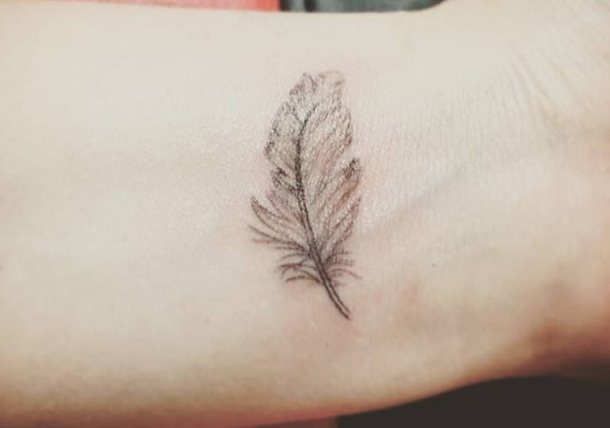 We're specifically talking about the wrist.
When it expands to the surrounding area, it's no longer considered a wrist tattoo.
As for the type of feather, pick any bird that best represents yourself.
Besides the ones above, you can also consider parrots, swans, and doves.
Small feather tattoo behind ear
---
To say the pain of a behind-the-ear tattoo unpleasant is an understatement.
It's by far one of the most sensitive areas for a tattoo, which means the pain inflicted is often excruciating.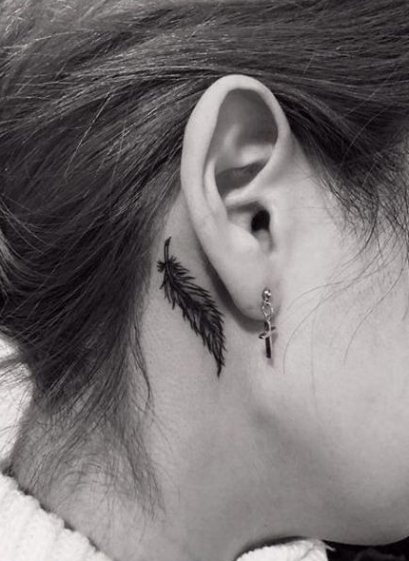 With that in mind, it's not so much about getting the design right.
You should be ready to bear the pain before even thinking of creating a design.
This location is interesting because it's hidden, so the tattoo is hard to notice unless someone stands right behind you.
But at the same time, it will benefit people who feel the need to conceal their tattoos.
Small feather tattoo on hand
---
A colorful feather tattoo is no doubt an example of a simple but beautiful tattoo.
It would look nice etched on the back of your hand.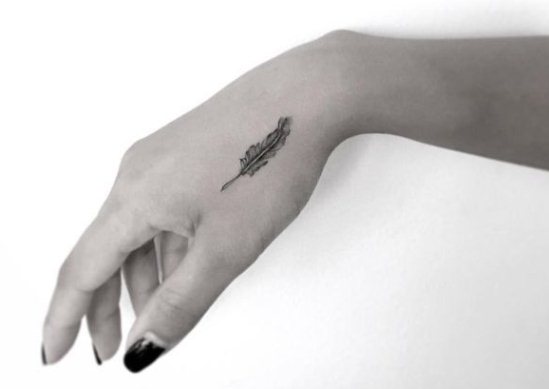 It can start from a finger, goes all the way towards the center.
Just like the wrist, this area is also not too broad to accommodate a large tattoo.
You can make up for it by adding extra details.
Artistic expression shouldn't be confined to a large space.
Even on a limited medium, this art can look deep and sublime.
Just see more splashes and images to get an idea of a sophisticated feather tattoo.
Small feather tattoo on foot
---
A small feather tattoo is versatile when it comes to placement.
You can use it to adorn your foot. Keep in mind that the lower extremity is like a big blank canvas.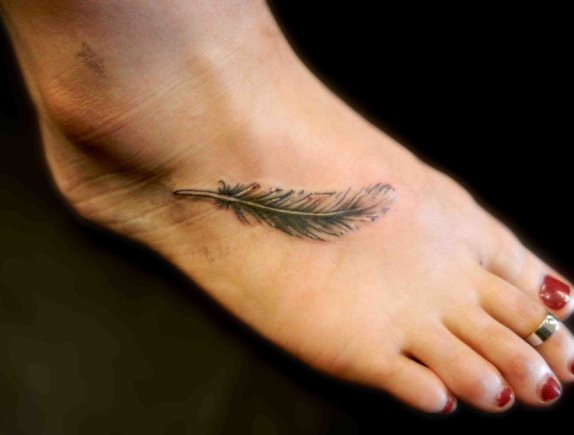 It could be placed on the ankle, below the knee, or somewhere around the ankle.
The last one would make stellar art because this small tattoo can transform into an ankle bracelet.
As we know, this body part is often accentuated with jewelry.
It has become the norm in many traditions, so it won't look strange to see a tattoo here at all.
Small feather tattoo on finger
---
Having a fascination with tattoos doesn't equal getting a large tattoo.
You can still show appreciation for this art with a small black ink tattoo.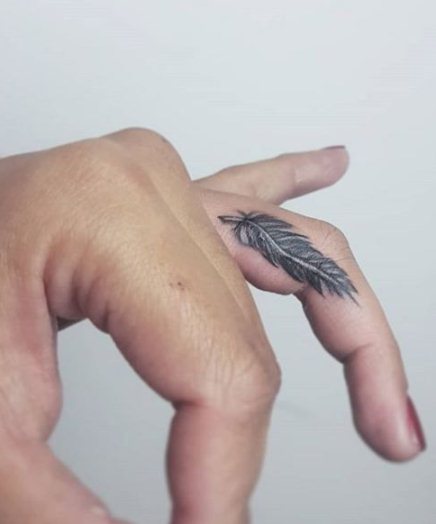 Your finger would make a nice place to fit a feather tattoo because it's among the highly decorated body parts.
It can stay on one finger or extended to cover the back of your hand.
FAQs
---
1. How much do small feather tattoos cost?
A small or tiny tattoo typically costs less than $100.
It could cost higher if the location is naturally difficult, or you do it with an established tattoo artist.
It's normal for a well-known artist to charge a higher fee because they have the portfolio to prove their expertise.
2. Are feather tattoos cliché?
Feather tattoos are indeed very popular, but whether or not they're considered cliché depends on your view on the term.
Cliché is a word people used to describe something that loses its substance after being widely used and referenced.
In this case, it applies to various tattoos as well.
Suppose you're newly introduced to this particular tattoo design.
In that case, the novelty may cloud your judgment to the point where you don't find it cliché.
3. Where do you put the feather tattoo?
There are no specific locations where these tattoos would particularly stand out.
What matters in choosing a location is whether you want a tattoo to be visible or not.
If not, you can get it on an area covered in your outfit.
If it's the opposite, the forearm or leg can be an option.
4. Are feather tattoos bad luck?
In general, no. But there are some instances where birds have negative stereotypes.
Sparrows, for example, are believed to be harbingers of death.
Seagulls also carry a similar message, especially when three of them are flying together above us.
5. What do Native American feathers symbolize?
They are a symbol of daring and bravery.
Native Americans commemorate their connections with ancestors and their place in the American family tree, which begins with the ancestors who founded their people on the Plains.
They planted the seeds when they planted the first seedling in the wild forest.
They are now the trees in which they all live.
In Native American culture, a feather symbol has long been an element of a warrior's look, particularly when dressed in war or battle garb.
Checkout more tattoo design/examples of feather tattoo ideas below.