83 Small Crown Tattoos: Awesome Designs to Get You Inspired in 2023
Crowns have always been associated with royalty because they're worn by rulers around the world.
However, getting a crown tattoo doesn't necessarily mean you dream of being related to a monarch.
It could simply mean you live for the meanings this symbol carries.
Crowns are usually given to new kings or queens on their coronation day, which marks the start of a new reign.
By the way, the king and queen crowns are different. The king crown has a dome-like structure on its top, while the queen crown has curves on it.
Which one should you pick for the tattoo? Let's delve deeper into it before making a decision.
The meaning of small crown tattoos
The crown tattoo symbolizes glory, power, and sovereignty. Instead of being a ruler of an empire, it signifies total control over your own life.
Remember that every decision you make has an impact on your future, so it's paramount to be the 'king' of your life.
For some reason, crowns are also strongly linked to prestige and luxury, which makes sense because they're given to people of the highest order.
The portrayal of this symbol in mainstream media helps reinforce its superior qualities.
Another thing it represents is victory. Why?
Because the day a new sovereign is inaugurated into office, they will get this to celebrate the process of handing overpower.
Some inherit the title, while others earn it by winning wars.
Furthermore, the symbol also holds significance in the Christian faith.
A crown full of thorns in particular signifies pain because that's what Jesus went through on his crucifixion day.
Small crown tattoos on wrist
For a small area like the wrist, you can opt for a crown silhouette in place of a 3D version of it. Save the latter for the chest or another ample area.
That said, the lack of details doesn't equate to the lack of aesthetics. Even when done pared-down, a crown tattoo can still look stunning.
Regarding the type, it's not hard to tell whether it's based on the king or queen crown because the difference is clear.
To make it resemble a king crown, don't be subtle with the hoops taking the dome shape.
Conversely, if it's supposed to be a queen crown, make sure to include a curvy top.
Small crown tattoos behind ear
Getting a tattoo in a sensitive area is probably not worth the suffering, but if it's small enough to warrant a short tattoo session, then just go for it.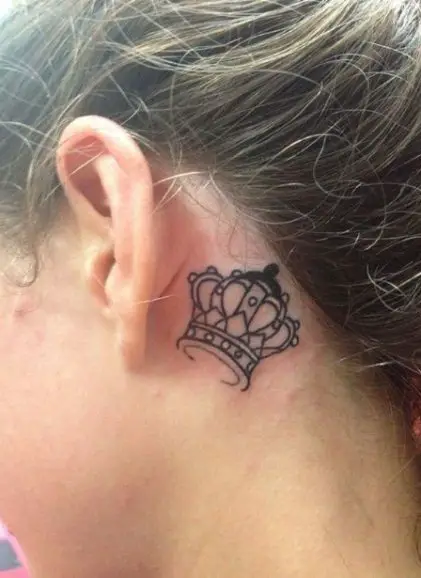 As long as there's no infection or serious allergic reactions occurring afterward, expect the pain to subside within days.
It's true that the area behind the ear is quite sensitive, but there are others that hurt more.
It's like a 5 on a 10-point scale in terms of pain levels, so you can consider it without hesitation.
Small crown tattoos for couples
Couples often get tattoos inspired by things that are meant together like lock and key or king and queen.
Regarding who wears which, the tattoo can correspond to the gender of the wearer or the opposite.
For instance, if you're a boy, you can get a queen crown tattoo to show how much you treasure her.
If you want to keep it conventional, a king crown tattoo would be awesome, too.
Small crown tattoos for guys
A crown tattoo can be depicted with elements commonly found in actual crowns.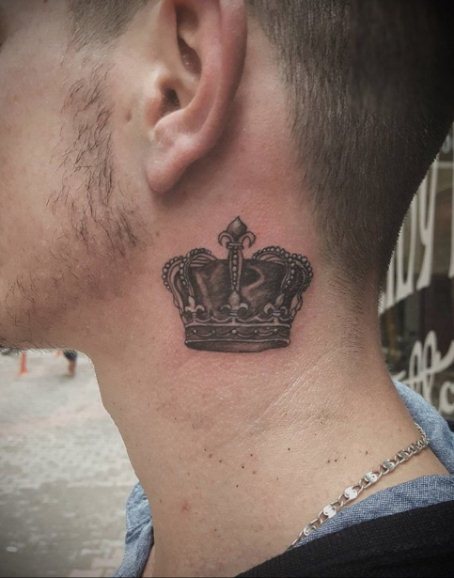 Let's start with hoops surrounding the ring.
They meet at the center of the top, can be embellished with pearls and a variety of other adornments, such as peridots, amethysts, and emeralds.
Another substantial part of a crown is the ring itself, which is typically made of metal.
To add a realistic flair, colors will work like a charm.
We never know if a crown tattoo is gold-based or not unless it's made in a way that creates that impression.
In this regard, colors will help with the presentation.
If it's doesn't bother you one bit, then it's okay to use black ink only.
Small crown tattoos for girls
Some people have a fascination with small tattoos. It could be because they adore the skin art, but aren't yet ready to commit to a large tattoo.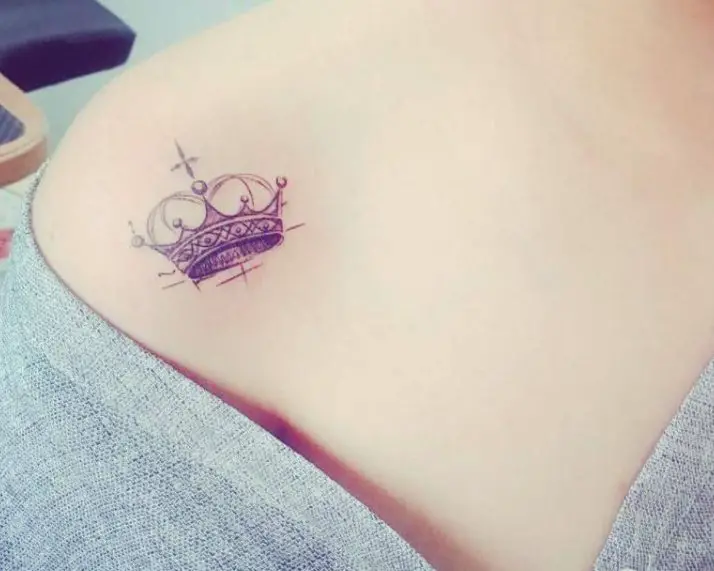 Don't worry, a small crown tattoo can be part of your collection. It can either be a standalone tattoo or mixed with others.
Well, a crown tattoo already makes a bold statement, so it doesn't need help to elevate the meaning.
Design-wise, it can take a cue from the queen crown as it probably resonates with you more.
The king crown would be wonderful as well.
They both represent authority and confidence, so it doesn't matter which design interests you more.
FAQs
What does a princess crown tattoo mean?
It doesn't deviate from the meaning of the crown tattoo in general.
Be it a guy or a girl, the tattoo represents the authority and sovereignty one has over their life.
It may also signify power and victory. So before getting a crown tattoo, find out if you relate to these messages.
What does a 5 point crown tattoo mean?
It symbolizes pride within the community of the Latin Kings gangs.
It often has the word ALKN on it, which is an abbreviation for Almighty Latin Kings Nation.
What does it mean if a girl has a crown tattoo on her shoulder?
Unfortunately, this specific location for a tattoo has a negative connotation as it's commonly associated with human trafficking.
In many cases, those who get this on their shoulders turn out to be victims of human rights abuse.
Ready to see more?
Here are some more tiny crown tattoos for women. We are confident that they will inspire you for your next tattoo.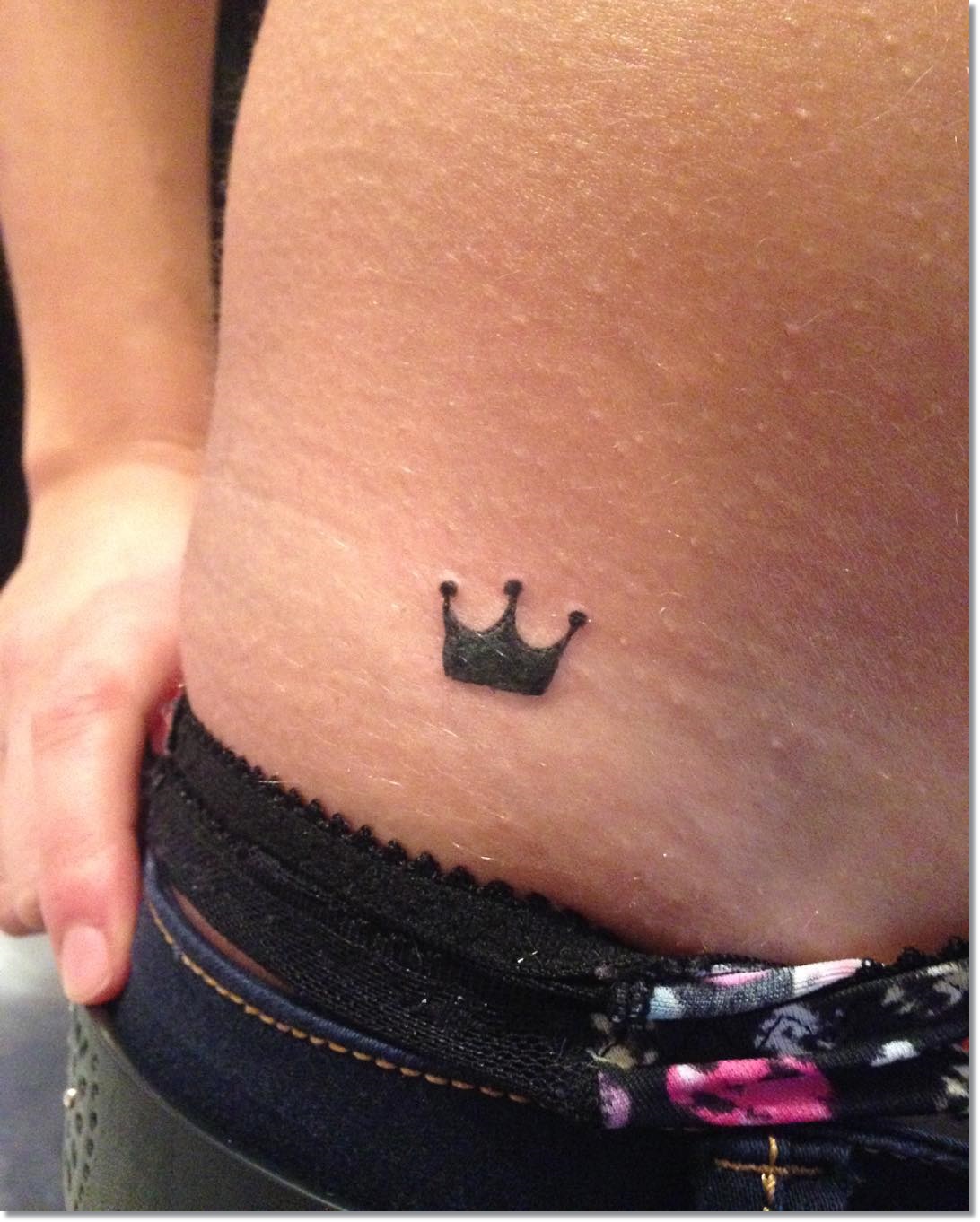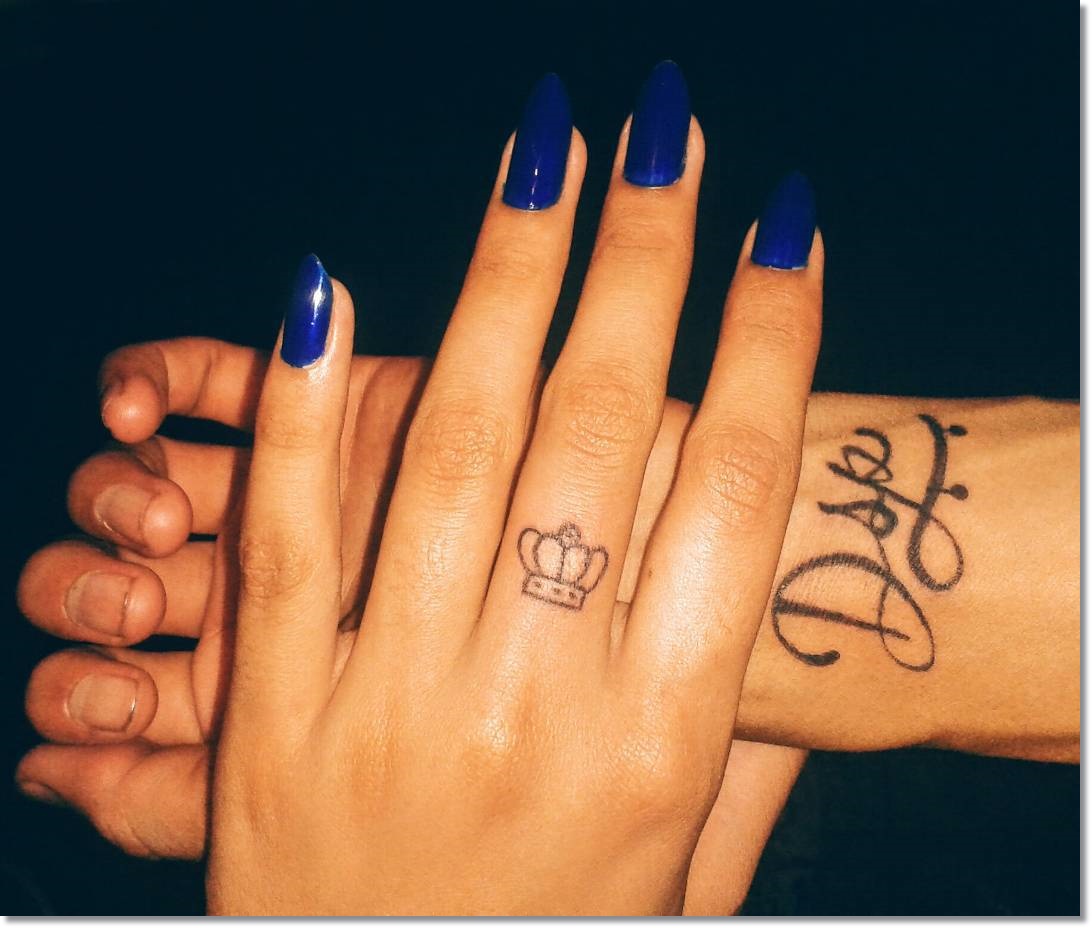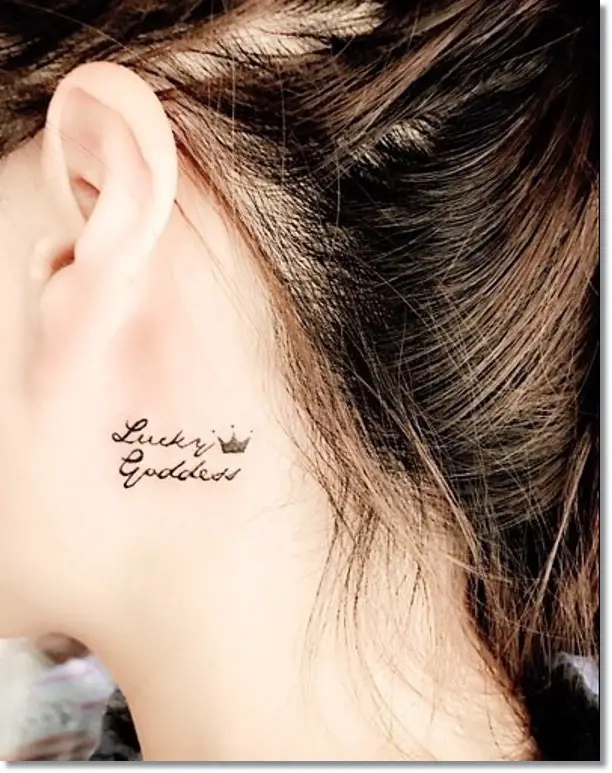 Small Crown Tattoo on Wrist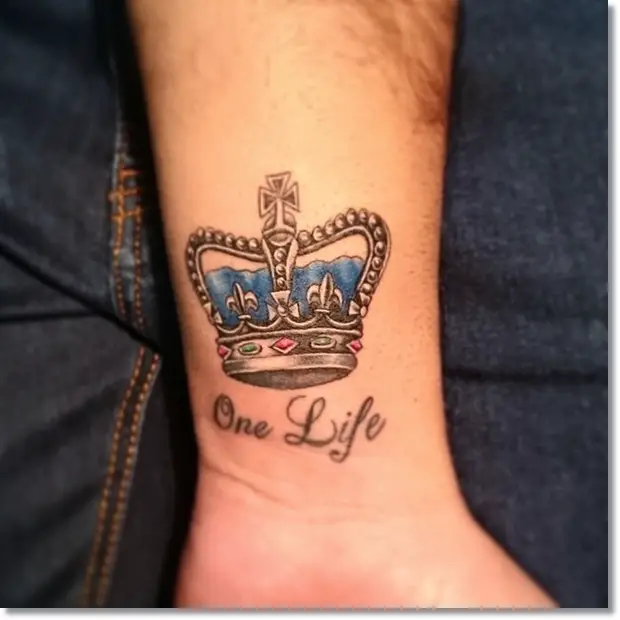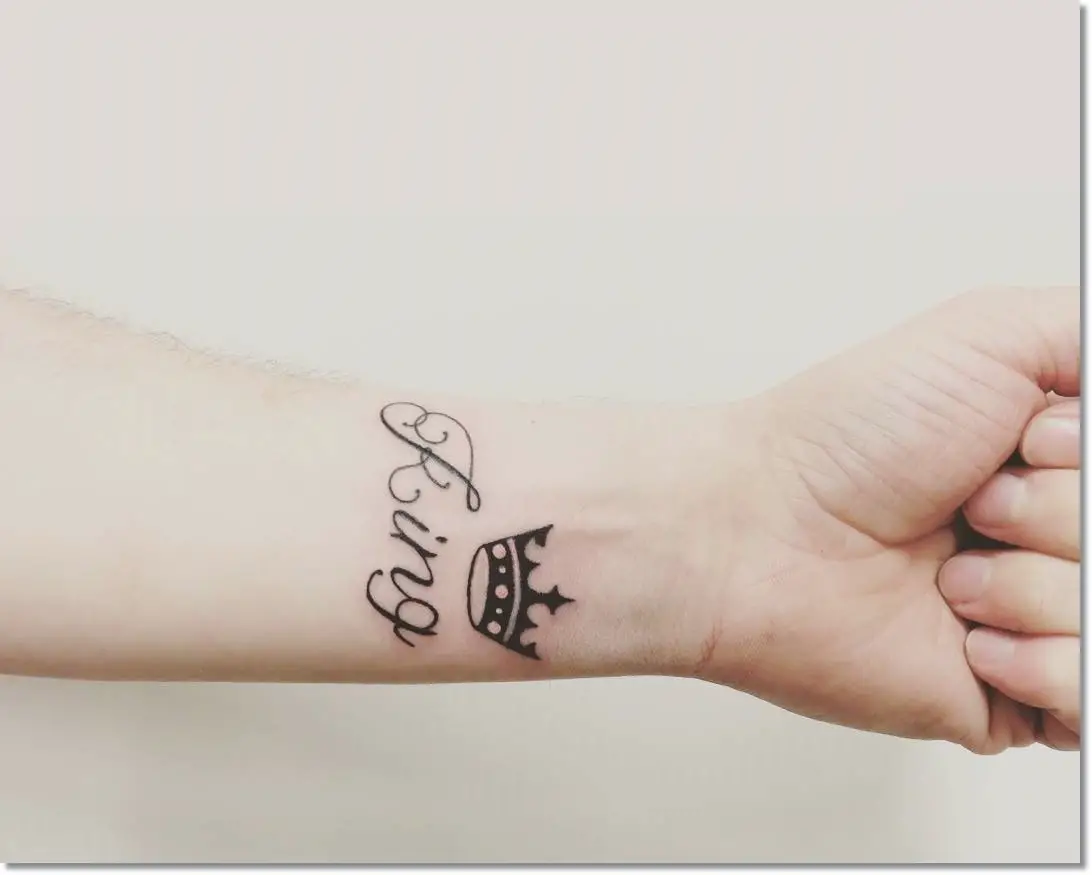 Small Crown Tattoos For Men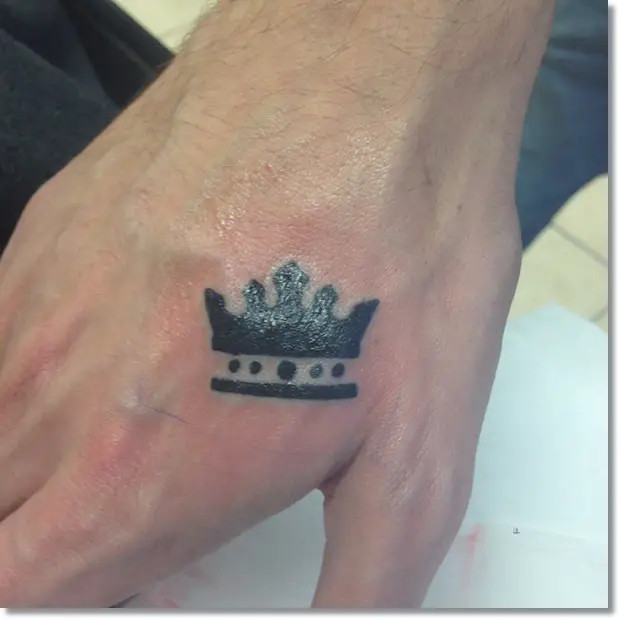 Small Crown Tattoos For Couples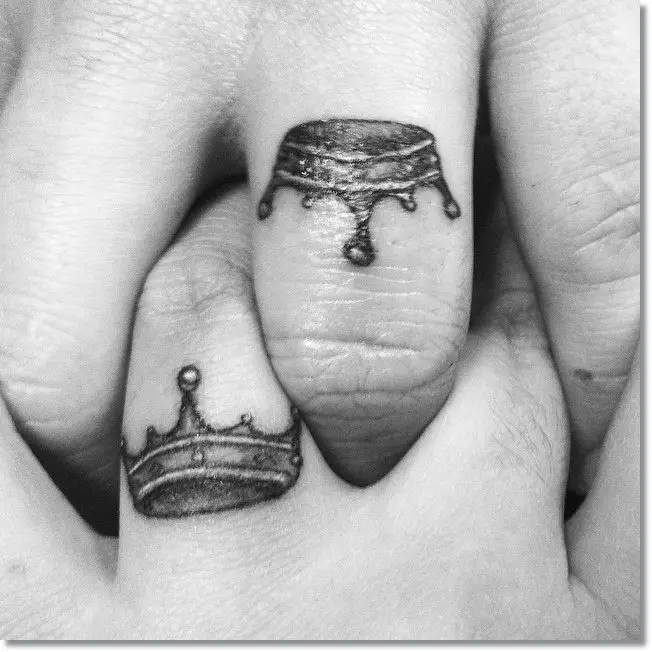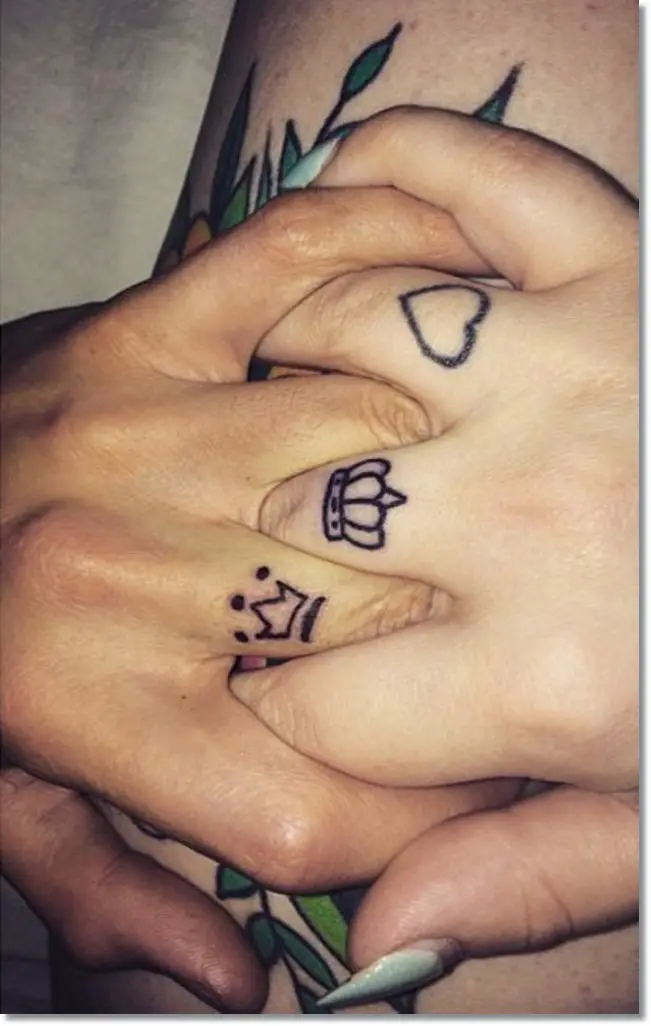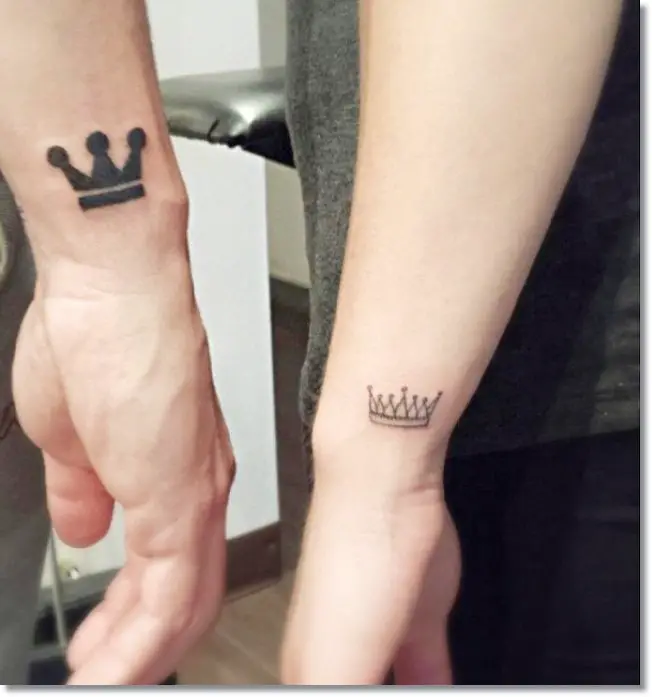 Small Crown Tattoos For Sisters