46 Totally Awesome Black Rose Tattoo That Will Inspire You To Get Inked
Roses make a wonderful tattoo design because they're the epitome of beauty and elegance.
It's not merely for the look, but also the meaning as we usually want our tattoo to represent something, be it implicitly or explicitly.
Not only do roses inspire tattoos heavily, but they have also become a very staple Valentine's Day gift.
Well, they symbolize love and admiration, so presenting it as a gift feels appropriate.
As we know, roses come in various colors.
We're gonna specifically talk about black rose tattoos as they have a different connotation.
The meaning of black rose tattoos
Black is often associated with mourning, spiritual forces, and other eerie messages, but does it apply to black roses?
Apparently, yes because one of the meanings is to express loss or tragic love. It can be dedicated to someone you love dearly who just passed away.
That said, sorrow isn't the only thing that they represent.
At the same time, black rose tattoos also signify strength given that it's not easy to cope up with a loss especially when it happens very suddenly.
They also hold a message of power in which getting one implies that you know how to stand up against oppression, hate, and other forms of injustice.
Basically, you tell the world that you're not someone to mess with. If others show you respect, you'll do the same. And you can retaliate when getting mistreated.
By the way, no roses have a natural black color. It's more of an illustrative thing.
Apart from the ones already mentioned, black roses also symbolize rebirth or a new beginning.
When you want to put a halt to bad habits and start new, a black rose tattoo can help strengthen your commitment.
Red and black rose tattoo
Red is a popular color for rose tattoos, and that's not without a reason. It's emotionally intense, making it perfect to manifest in a gift that expresses love and passion.
The same goes for tattoos. Although the message is conveyed precisely in this color, it can be mixed with another like black.
We know they're contrasting, but in terms of meaning, they are complimentary.
Perhaps, you want to point out that your admiration for someone still lives on even when they're no longer by your side.
Traditional black rose tattoo
There's no specific way to draw up a black rose tattoo.
The most striking difference is the color. Other than that, it's pretty much the same as the red rose.
Hence, if you want to approach the design traditionally, just create a regular rose tattoo and do the shading with black ink.
It's important to fill in the petals with ink considering they're the core element.
There are several parts that make up a rose, but those varying colors occupy the petals.
For this reason, the focus of attention should be shifted to this part.
And then, think of the orientation of the flower.
Do you want it to appear from an overhead view or the side?
Showing it from above, there should be a clear distinction between the petals and sepals as they can be confusing done in the same color.
Black rose tattoo on hand
To give an edgy feel, you can put the tattoo on the back of your hand.
It will make a bold statement as it's very prominent, not to mention that the design is enthralling in itself.
The bigger the tattoo, the louder it speaks unspoken words. You can even make it wear like a glove.
Now if that's not your thing, just downsize it.
The perk of rose tattoos is they can be scaled up or down with ease without losing any substance and aesthetics.
Only if you want a smaller design, better highlight the outlines. Adding too many details will make the tattoo unpleasant to look at.
Black rose tattoo cover-up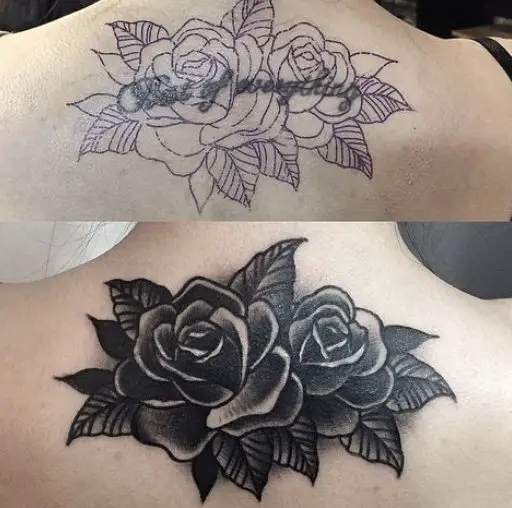 The meaning of a cover-up tattoo is self-explanatory.
It's when you're fed up with an old tattoo that you want to hide it without undergoing a laser removal process.
You then ask an artist to overlap it with a new design, that new tattoo is called a cover-up.
With high-quality rework, traces of the old tattoo will be unidentifiable.
Likewise, choosing a rose is a good idea because it's comprised of petals which provide a vast area for shading.
To make them mesh perfectly, work with a pro.
A skilled artist knows how to inject ink into the right layer of skin, so the old and new ink mix evenly, which further blur the line.
It's worth noting that darker colors tend to show up more in cover-up work, so going with black has been right all along.
Rose flower tattoo designs can also go in a number of styles and placements with respect to the message one would like to convey.
A black rose is sometimes related to death that is why it has been widely used like loving memory tattoos to commemorate the demise of a family member.
Extra things to consider before having rose tattoos
For everyone considering getting flower tattoos, there are many resources out there to utilize during your search.
It might seem you will want a black and grey rose tattoo by way of example, but it is vital that you discover how the black rose stands for death.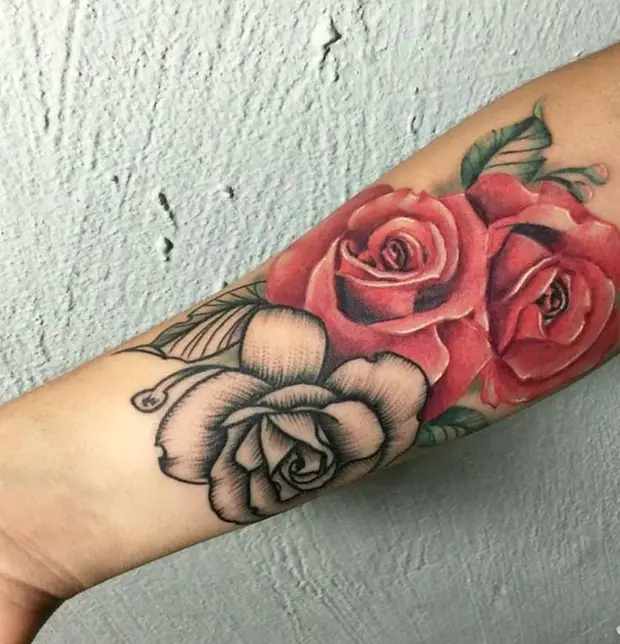 Among flower tattoos, the majority of women desire a rose.
Rose is believed to represent both inner and outer beauty.
Rose tattoo can also be associated with love.
A rose tattoo with a thorn indicates that love is quite delicate and may be handled very carefully in any other case it may be very painful.
Different colors from the roses are associated with different meanings.
Red rose implies true love, fervor pink rose is an indication of elegance, gentleness yellow rose depicts friendship, and black rose tattoo indicates death with the love relationship and sorrow. 
These are simply associated meanings. You may choose a color and never have to fasten an intending to it.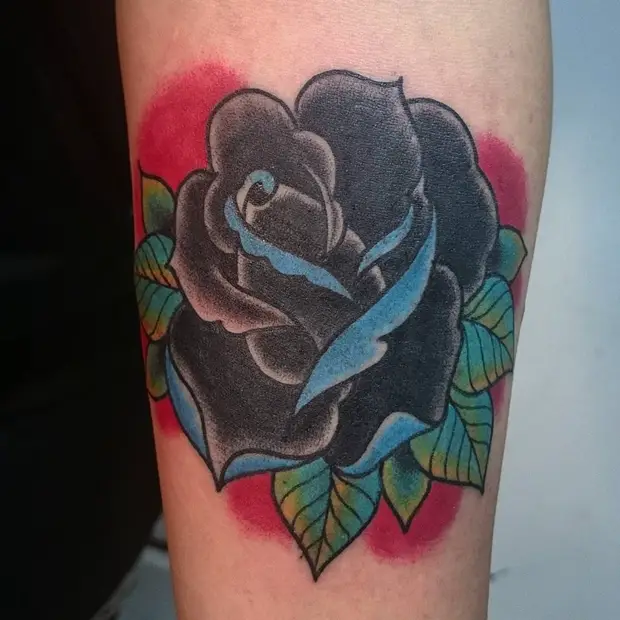 Other popular or custom designs are added with black rose tattoo designs to either add variety or expand upon a fundamental theme.
A few will add butterflies to present a sensible check out a nature theme that is easily achieved by way of a talented artist.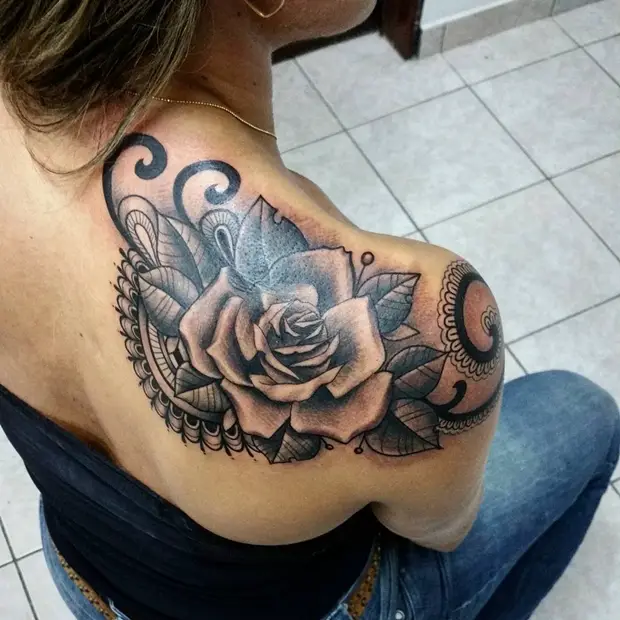 The rose originates to represent the epitome of beauty.
However, roses are not without their thorns, so you can communicate a double message using a rose tattoo. 
The location of the black rose tattoo is a crucial decision also.
You could have it anywhere in your body actually, some individuals even exaggerate make it for the most unexpected part of themselves.
Some individuals will have their tattoo on the neck, feet, and fingers along with other surprising places.
Women commonly placed their tattoos on the rear of the neck, upper back, back, and ankle.
Men, conversely, place theirs on their shoulders, upper arm, wrist, and back.
The shade of the rose tattoo design you ultimately choose will say something.
Red roses indicate passionate love white roses are a symbol of purity and yellow roses indicate friendship.  
Black rose tattoo is simply actually an exaggeration.
Usually, however, this term was used which represents many violent underground groups. It has become synonymous with resistance etc.
FAQs
What do rose tattoos mean?
They're a classic symbol of love although they also carry other meanings, such as hope, renewal, and strength.
The red rose is the one linked to the passion of love.
Meanwhile, black represents sadness especially related to the loss of someone, pink signifies gratitude, and white is emblematic of purity.
What do 3 roses mean?
It's commonly perceived as a way of saying 'I Love You', so it's a perfect gift to present to him or her.
What does a rose tattoo mean on a guy?
The delicate nature of the rose makes it look like it gravitates towards females, but in reality, men love it just as much.
There's no shift in meaning regardless of who wears it.
The flower could mean love, power, or a new beginning depending on how it's portrayed.
Are roses good for tattoo cover-ups?
Yes for reasons that have been explained before. Please scroll back up to read them again.