19 Shoulder Rose Tattoo Ideas, Designs, and Meanings in 2023
Roses are widely recognized as a symbol of romance and love.
They've been used as inspiration for presents, tattoos, and pretty much anything else meant to convey respect and affection.
They are extremely aromatic, which adds to their reputation as intense emotional communicators.
Many people, however, appear to be unaware that the rich symbolism is mostly connected with one hue, red.
A rose tattoo with a different hue would have a different meaning.
The black rose, for example, represents melancholy and is frequently associated with terrible events such as the death of a loved one.
Meanwhile, a yellow rose represents mature love that has withstood the test of time.
When the petals are pink, it represents innocence and healing.
Because of the rich implications, you should be aware of the tattoo's color.
What about the placement?
The shoulder is an excellent choice since it exudes refinement and elegance.
Let us now dig deeper into this topic.
The meaning of shoulder rose tattoos
For those wanting a broad space to get the tattoo, the shoulder fits the criteria.
By the way, the shoulder is a complex structure. It's a joint comprised of 3 bones.
The first one is the humerus, a long bone located in the upper arm.
The second one is the scapula, which takes a triangular shape and plays a major role in your arm movement.
And the last one is the clavicle or also known as the collarbone. It's located on the front, sits between the shoulder blade and sternum.
Does it make any difference when a rose tattoo is placed on the shoulder?
Well, no sources seem to allude that this alters how the flower is portrayed.
Most of the articles only talk about the different meanings of roses in relation to their colors.
That said, the shoulder, in general, represents strength, so it could imply that you feel strong emotions towards the person the tattoo is dedicated to.
Shoulder rose tattoo for men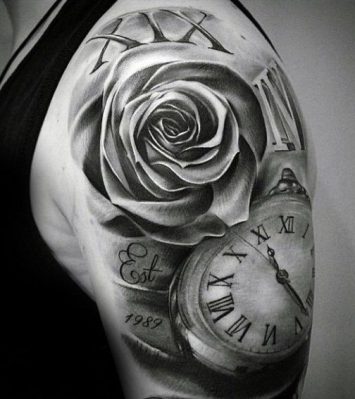 Men can rock rose tattoos in spite of the delicate nature of this flower.
It can be a standalone piece or accompanied by another design.
When it shares the space with another symbol, make sure to highlight the rose as it's supposed to be the focal point.
Also, it's a good idea to include symbols that are complementary.
A clock tattoo is a nice example because it symbolizes the passage of time.
Combining it with a rose tattoo could be a heartfelt reminder of your relationship with a significant other.
If there's a date you consider special, make the hands point to specific hours.
There are many objects that can show up alongside the rose tattoo, not just a clock.
But then again, the flower needs to be pushed to the front to emphasize its significance.
Shoulder rose tattoo for women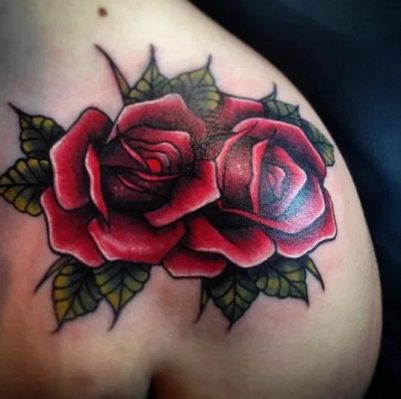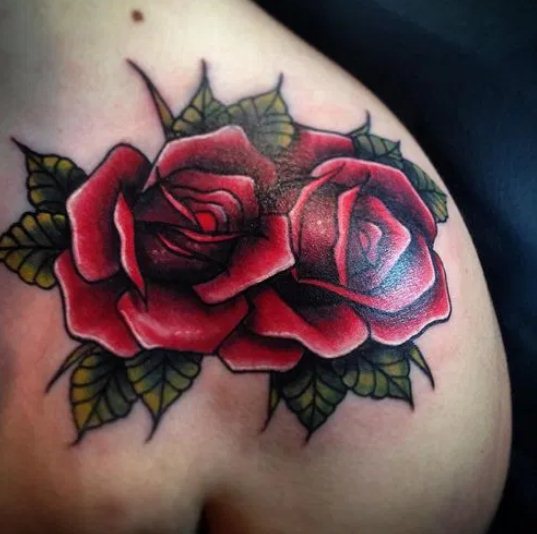 It's not out of character to see a woman with a rose tattoo because it aligns well with femininity.
To add a bit of feminine polish, all you have to do is focus on the enthralling beauty of the flower.
For the record, a rose is made up of several parts, but the petals are substantial as they lend the flower vivid colors and sometimes scent.
They need to stand out more in a tattoo relative to other parts.
As for the color, you can tailor it to the message you want to put out.
Back shoulder rose tattoos
The back shoulder refers to the area where the scapula is located.
Given that it's a bone, getting a tattoo in close proximity to it will undoubtedly trigger extra discomfort.
Heck, it could be more like intense pain if the needle gets anywhere near the blade.
Quite surprisingly, some people didn't seem too bothered getting a tattoo on this area.
It could be a combination of several factors.
First, their pain thresholds are higher. And second, the distribution of pain is not even across the shoulder.
As we all know, the shoulder is broad, so it's likely that some parts hurt less than others especially those with fewer nerve endings.
Contemporary shoulder rose tattoos
Rose tattoos are versatile as they can derive influence and adapt to any style.
Done in the contemporary style, they can be used as a way to enhance the exciting facets of you as an individual because they're bold and escape the limits of visual language.
If you're drawn to this particular style, we'd suggest you work with an artist that has the expertise and genuine interest in this art.
This way, the outcome would be stellar and satisfactory.
The immense popularity can't be separated from the effort of these talented artists who keep pushing boundaries to introduce wonderful art to the masses.
FAQs
How much is a shoulder rose tattoo?
It comes down to factors like size, complexity, the artist's reputation.
The bigger the size, the more you pay.
One can cost from less than $100 to more than $1,000.
The complexity also affects the cost as complex designs takes more time to finish.
Last but not least, the artist's reputation is another major factor because it directly influences the hourly rate.
Is a rose tattoo cliché?
It's kind of because it's like the most straightforward way of expressing your admiration for somebody.
There's nothing wrong with being cliché, though, as it means people are really invested in the trend and consider it timeless.
Roses are still meaningful despite their massive popularity, so don't worry about labels and keep using them when the circumstances feel right.
Why do people like rose tattoos?
Visually, they're one of the most stunning flowers ever.
They just exude positive energy. They're also full of symbolic meanings, like love, enthusiasm, purity, and innocence.
Final Thoughts
Shoulder rose tattoos are a great way to express yourself.
Tattoos make a statement about who you are and what you stand for.
Consider carefully what you want to put on your body, especially on areas that are commonly visible, such as the shoulder.
Choosing a tattoo that makes a statement about your pride in yourself and your artwork is a good idea.
We got a tattoo to make us joyful, therefore recall that sensation every time your shoulder is peered at.