Best Tattoo Gun Kit: Reviews and Buying Guide 2023
Tattoo art has been around for centuries. There have been changes in the way tattoos are applied on the skin.
Nowadays, doing a tattoo is much easier because we can use a machine instead of doing it manually like it was back then. This skin art was closely related to religions.
There are many tattoo designs that symbolize certain cultures and beliefs. However, tattoos can also be a form of self expression which has nothing to do with them. You can get a tattoo with any design, like your favorite artist, food, animal, etc.
Basically, there are no boundaries when it comes to designs. The best tattoo gun kits are created to help you do regular tattoo work.
Advanced machines allow the creation of more complex designs. Besides, the injection of color ink also becomes much easier. It's no longer difficult to create a tattoo with fine detailing.
As long as you work with the right artist, you can get a design that looks very intricate and detailed.
Spiritus Tattoo is reader-supported, and as an Amazon Associate, we earn commissions from qualifying purchases (at no extra cost to you). See our disclaimer page for more information.
Best Tattoo Gun Kits
---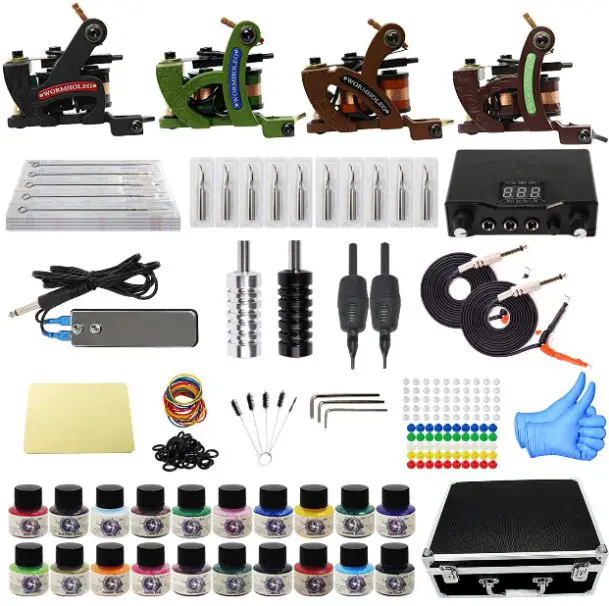 With a wide assortment of supplies, this kit can be an option for beginners and professions. Let's find out all the pieces in the package.
There are 4 machines with 2 liners and 2 shaders. All of them have 10 wrap coils. The machines can deliver detailed tattoo results with awesome and long-lasting colors.
Apart from the machines, you can also find needles, ink, a clip cord, rubber bands, and other essential supplies in the kit.
Don't worry about setup because it comes with an online tutorial. In case you have a hard time identifying the machines, just look the front springs. Those with shorter front springs are the liners, while the rest are shaders.
This makes a perfect kit for everyone. Whether you're new to this business or have had a long experience, this will always be a good pick.
Coming with the package is 4 tattoo machines with 10 coils. There is also a tutorial book in case you are very unfamiliar with tattoo equipment.
The best part is it includes a training DVD. Learning is much easier through visuals. There are also 7 bottles of different ink colors in the box. You can mix them to create new shades.
These items are packaged with a special carrying case. Besides the aforementioned items, you will also get grips, gloves, and needles.
For the record, this kit was made with great craftsmanship in mind, which is why it suits everyone, skilled or amateur. Tuning is one of the most important steps in preparing a tattoo machine.
The good news is the machines come in handy as they offer easy tuning. This is not the case with older machines which require a lot of work to get ready.
In terms of safety, this kit delivers. Some inks are still considered unsafe due to negligence in the manufacturing process, whereas this kit has color inks that are not just vibrant, but also safe for skin application.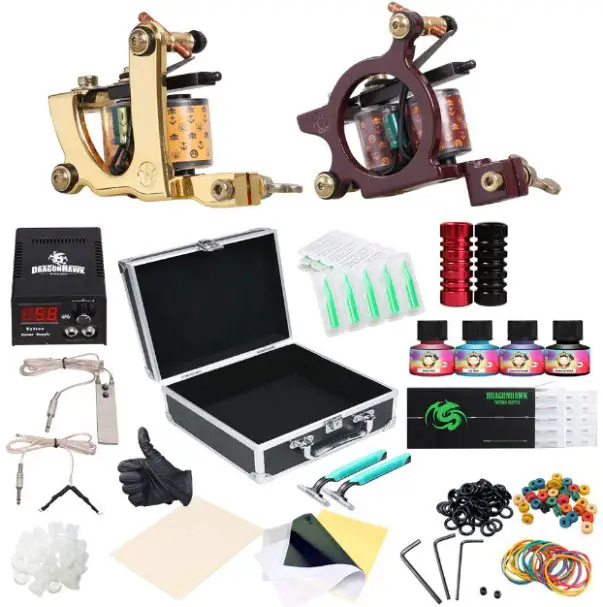 When you hear Dragonhawk, quality is the first thing that comes to mind. Its products receive good feedback from customers.
So, what's special about this kit?
Just look at the handsome machines. It's not just the design, but their performance is also outstanding.
There are 2 with different functions. One is meant for lining, while the other one is for shading. The frames are cast iron, a material known for its longevity and extreme toughness.
Meanwhile, the spring is based on a composite material which lends its flexibility and sturdiness. The package also includes immortal inks.
They are appropriate for professional tattoo work due to their rich and vibrant colors. Additionally, this kit already has sterile needles and other basic supplies in it.
There's just one machine included, but it's not a cause for concern because it can double as a liner and a shader.
It has adjustable voltage levels between 5.5V-8V, allowing it snap out of the liner into the shader mode easily.
It's very easy to use, too. If you just started becoming a tattoo artist, we really recommend this one.
Why?
It's reliable, lightweight, and comes with comprehensive supplies. The machine looks modern thanks to its premium iron construction.
In addition to the machine, the package also includes a power supply, a foot pedal, rubber bands to provide stability, aluminum grips, needles, etc.
Kits with multiple machines are suitable for professionals. That's because they come with heftier price tags.
Besides, they also have more things to support professional tattoo work. Of all the supplies, the 6pcs machines are hard to not notice.
They have straightforward and industrial looks to them. These machines are the coil type with each having 10 wraps of coils.
With iron covering the whole frame, none of these units feels heavy in the hand. Meanwhile, the tattoo inks are also superb quality.
They're vivid and stay consistent after the tattoo is healed. The supplies are arranged neatly in a case.
And then, there is also artificial skin in which we truly appreciate since practice should never be done on the real skin. Other items in the package include a clip cord, a foot pedal, grips, and needles.
This complete kit is a great start for anyone who wants to take tattooing more seriously. It has two machines with similar appearances, but one is a liner and the other one is a shader.
The easiest way to tell the difference is by looking at the front spring. The one with a longer front spring is the shader.
Please look at the picture on the product page to learn about the anatomy of this machine. The front spring, contact screw, armature bar, they all are connected to operate the machine.
Besides a pair of tattoo guns, you will also get a foot pedal, a power supply system, color inks, needles, grips, o-ring, etc.
How to choose the best tattoo gun kit
---
1. Design
A well-designed tattoo gun shows that the manufacturer put serious effort into creating it. It's visible right from the exterior.
A good machine should be made of a robust material. Although metals are generally strong, different types possess different levels of strength. You should look for a gun constructed using the most rugged and tough material although it may cost more.
2. Functionality
A good machine isn't necessarily one that can do everything. It's better to opt for a machine that can excel in one area than one that does multiple things but quite mediocre in all of them.
Have you heard about liners and shaders?
Both are special types of machines aimed to do different jobs. Liners are excellent for lining, while shaders are perfect for shading.
Some machines can do both, but they don't always turn out to be superior. I
f you want to buy a hybrid machine, look further into the performance. You'd want it to master the techniques you want to do.
3. Additional components
Since we're talking about the best tattoo gun kits, you'll find more than one piece in the package. A kit consists of at least 2 different items.
The more items contained, the pricier it will be. Therefore, you should think twice before purchasing a kit.
Bigger kits tend to suit professionals more as they have more supplies.
What's included in a kit?
It depends, but a machine is pretty much the standard. Heck, it can even have 2 or more with different capabilities.
Other basic components you may find include a power supply, a foot pedal, color inks, a pair of gloves, cartridges, and much more.
4. Setup tutorial
It's normal to have difficulty understanding how the components in a package work together. This is when a visual tutorial becomes necessary.
Some kits don't include a tutorial, let alone a visual one. The thing is, it's the utmost importance for newbies.
What's the point of buying a complex kit when you don't know what do with that?
To avoid trouble, we suggest you buy a kit that includes a visual tutorial. It can be in the form of a training DVD or an online course.
Conclusion
---
Hopefully, this review can guide you to pick the best tattoo gun kit that suits your needs and requirements.
It can be tough to choose one because kits come in varying numbers of supplies and prices. Your job isn't done after finding the right product.
The next step is to practice because to be a tattoo professional takes a lot of practice. Don't use human skin as a medium.
Remember that a tattoo is a permanent piece, so doing it directly on the skin could potentially damage it.
We're advised to practice using fake skin or fruit. Once you have mastered the skill, time to apply it onto the skin.
Tattoo Machines Related Posts
---