Don't overlook the safety of tattoo ink because this element will be stored permanently in the middle layer of your skin.
There are many ink products on the market, but not all of them are safe for skin application. Low quality ink may contain hazardous elements that could put potentially damage your health.
Anyone who wants to get a tattoo, they must want it to last as long as possible. The problem is not every product can provide that kind of longevity. Only those from trustworthy companies can give you this benefit because their products have been strictly tested for quality.
The worst that can happen is the compounds in an ink may trigger health issues. It's not uncommon for ink products to trigger allergic reactions. It's unfortunate when this happens because an allergic reaction can cause skin rashes and end up ruining the beautiful tattoo.
This is why you should test the best white tattoo ink before using it on a larger part of the skin. Even products touted as safe can trigger allergic reactions to those who can't tolerate the compounds in them.
Best White Tattoo Inks
This pre-dispersed ink is readily usable right out of the box. The heavy white is very bright and stays true to the original shade once the tattoo is completely healed. We can tell the quality of an ink after the tattoo is done.
A good ink should maintain color accuracy long after the completion of a tattoo. This product delivers awesome quality that we can see it directly from the appearance. Some cheaper white inks tend to have translucent looks, but this one is the exact opposite. It is white in its truest form.
As we know, there are different shades of white, but when one is marketed as a white ink, it shouldn't look like any other color. Meanwhile, the durability is terrific on this one. It can last for years after you get tatted up using this ink.
Another thing we like about this particular product is the consistency. It spreads out evenly on the skin. There are many tattoo designs you can create with this color and it's especially useful for adding highlights to black tattoos.
Millenium Moms is perfect for those who don't want to be overwhelmed by the countless choices. Any product from this company is reliable.
Color quality is accurate for every product in the lineup. If it's blue, it's totally blue. If it's red, it's red. And if it's white, expect the quality to match your idea of the perfect white. Buying ink isn't an easy task, rightfully so. Remember that the pigment will stay in your system for many years.
Choosing random ink can lead to skin problems, like rashes, itch, and even cancer if the substances happen to be carcinogenic. Mom's is a trustworthy brand. It has produced some of the best looking colors for tattoos.
The lasting effect, consistency, and color accuracy are some of the things that give the company a competitive edge over other brands.
This product was made in response to people's needs for cruelty-free products. This has become a big issue as of late. Many company puts emphasis on the friendliness of their products. They claim that their products are cruelty-free, meaning that they aren't tested on animals.
If you need ink that meets this requirement, then this product is a good pick. So, where did they get the pigments from?
They're extracted from natural ingredients. The good news is being all natural doesn't put them ad disadvantage. The colors are still very vibrant. Besides, they don't fade quickly.
For the record, Kuro Sumi is one of the best tattoo ink brands. It's recommended by a lot of tattoo professionals. If you need ink with guaranteed quality to draw a tattoo on your skin, you can trust this brand. Apart from the high color quality, the consistency is another big plus.
This white ink is also from a well-known brand. The pigment is sterile and produces a vivid color. The ink lasts a long time. It doesn't quickly decline in quality years after the first application.
Another benefit of using this product is it has great consistency, which is a significant factor because a consistent ink flow allows for an easier tattooing process.
As for hygiene, this is something that the company excels at. Not just for this particular product, but other inks have also been properly sterilized using the current cutting-edge technology.
As long as the seal is intact, you can be sure that there are no microorganisms thriving inside. This should be your primary concern because unsterile ink can cause infection and other problems.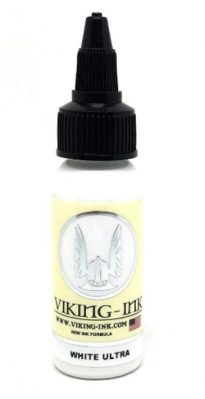 This authentic ink is for those who need a strong white for their tattoo work. It's highly versatile that you can use it to create highlights for other shades.
Speaking of quality, the ink maintains color quality from inside to box to after it's been applied on the skin. The bright hue looks pretty much the same after it's transferred over to the skin.
The thing with cheap inks is they tend to change in quality after application. They look somewhat distorted from the colors they're intended to be.
In terms of durability, this product delivers. It will last years after you first get the tattoo. It's made with vegetarian in mind. If you want to stay away from animal products, this is a good alternative. It utilizes molecular technology which contributes to its incredible longevity.
The technology helps it keep its shine for much longer. Furthermore, the company employs a team of experts who work hard to produce the best inks. Well, if you want to be another happy customer, give it a try.
This is another white ink we'd recommend for your tattoo. Whether you want to create a black tattoo or a colorful one, this ink will help you achieve that. White is one of the essential colors for tattooing.
For this reason, you need to make sure that the white you use is true white because you may need it to create highlight as well. Back to this product, the pigment is dispersed perfectly in a way that it absorbs into the skin with amazing consistency.
How to Get The Best White Tattoo Ink
1. Ask from a tattoo artist
If you're confused by the countless choices, you should just ask a local tattoo artist. Look for one who has been providing service for years. These people usually know quality inks and often recommend them to their clients.
New tattoo lovers often have trouble finding the difference between low and high quality inks since they can look strikingly similar. Luckily, tattoo artists usually know brands that sell the best inks.
2. True color
A good black ink is one that perfectly personifies the word black. It should appear dark with no hint of another color. The same goes for white. A quality white ink should look totally white especially in the concentrated liquid form.
White is one of the most important colors for tattooing because it can create other shades by mixing it with other colors. Regardless of the color, consistency is something you should expect from an ink as it affects flow and how even it looks on the skin.
Most high-end brands have no problem with consistency. That's why you should give them the highest priority.
3. FDA approved
Another way to measure the quality of an ink is by looking at FDA certification. However, you shouldn't quickly believe this label when you see one. You should also look at the history of the brand name.
If it's by a well-known supplier that many tattoo artists use, then the label should be legitimate. It confirms the effectiveness and safety of the product. It's not worth risking your health over some cheap ink.
Some inks are tempting to buy because they are more affordable, but it can come at the cost of your health. Ink is one of the tattoo elements that you should be willing to invest more in because it stays in the body for long.
Conclusion
To get the best white tattoo ink, please do extensive research. There are a lot of brands that make tattoo inks, but not all meet the specific criteria you're looking for.
In many cases, price is the best marker for quality. While it's not always true, it works that way in general. If you want quality ink, then don't be overly vigilant with your spending.
Tattoo ink sticks around longer than any other tattoo element. After you've put the machine back in the box and thrown the needles away, the ink will stay in your skin for years to come.
If harmful chemicals find a way into your body from let's say low quality ink, your health can be compromised. Harsh chemicals not only put your health at risk, but they might also trigger allergic reactions and ruin your tattoo.
Other Tattoo Supplies Posts