Best Tattoo Needles: Reviews and Buying Guide 2023
As an Amazon Associate, we earn commissions on qualifying purchases (at no extra cost to you).
While it seems that a machine is the most essential part of doing a tattoo, we can't rule out the importance of a tattoo needle.
Before we review some of the best tattoo needles on the market, you should know how to pick the right type for your work. There are a few things to take into account. The first one is the diameter of the needle, which directly affects its size.
Another important thing is configuration. There can be more than one needle in a single arrangement or grouping. This information is usually presented in codes. Another thing to not compromise is hygiene. High quality needles should be packaged in a way that ensures their cleanliness and safety.
Related: Types of Tattoo Machines | Tattoo Pen Machines | Rotary Tattoo Machines | Coil Tattoo Machines | Liner Tattoo Machines | Tattoo Power Supply
The Best Tattoo Needles
Every tattoo package offers a different count of needles. This one includes 100 of tattoo needles with specs as follows. The needles have been sterilized with ethylene oxide. The individual package for each needle further boosts their safety.
For the record, the needles are made of surgical stainless steel, a specific grade widely used in biomedical applications. Since the needles come in a wide variety of sizes, there's no need to buy another set because this is extensive enough to support your daily tattoo work.
3RL, 5RL, 5RS, 5M1, 7RL, 7RS, 7M1, and 9RL are all part of the package. Whether you want to do line work or shade, there's a lot to choose from.
Related:
If you want to downsize due to budgetary reasons, you can opt for this package. It has a smaller quantity of needles, half of the previous package to be exact. These needles are disposable. Please use a different needle for every client to ensure its safety.
As with many other products, the production also uses stainless steel for its incomparable durability and resistance to corrosion. Safety is not an issue because the needles had been sterilized even before they're inserted into their containers using E.O. Gas.
Anyway, you can see the information about the tip size and expiration date on the package. Is this worth buying?
Yes, Yuelong is not new to tattoo business. It sells more than just needles. If you need other supplies like tattoo guns, just head over to the online store.
As you search around for a quality tattoo needle set, you'll see many products made of surgical stainless steel. This is no different. The needles in this set are also built using the specific type of stainless steel. They come with lot identification numbers, allowing you to read the specs more easily.
They have something in common with other needle sets in terms of sterilization. Yep, they also use EO gas to boost their hygiene, not to mention that each unit has its own blister container.
In other words, safety isn't a problem as long as the package remains intact the moment you receive it. These needles also offer versatility as you can use them with different types of machines and tubes.
This is an assorted needle set containing multiple configurations. There are M1, RS, and RL groupings to add different effects on every tattoo you're working on. The package consists of 100 shader and 100 liner needles.
Here are some advantages of buying this set. The first one is guaranteed safety since all needles have been carefully sterilized and sealed. The second advantage is the professional design. While looking so straightforward, the needles are versatile at the same time.
They feature loop bars conditioned in such a way to fit different tattoo machines. Heck, you can even start your tattoo work with the machine you already have. There's no need to buy another if the existing one is still working and compatible.
In the meantime, quality is insanely good. It's One Tattoo World after all, one of the trustworthy tattoo suppliers across the globe.
There are 40 needles in this assorted set, which come in a few different sizes and configurations. They are round liner, round shader, and weaved magnum. We often see packages that include only needles. This set is slightly different because it includes tubes.
As we know, a tube is an inseparable part of a tattoo machine. It provides stability to the needle. If you want needles that come in a bundle with fitting tubes, this can be an option. The tubes are high quality because they're made of ABS.
Besides, they also don't feel slippery. It would be annoying to work with a tube that slips off the hand easily. In regard to hygiene, there's no problem because the needles come in individual blister packs.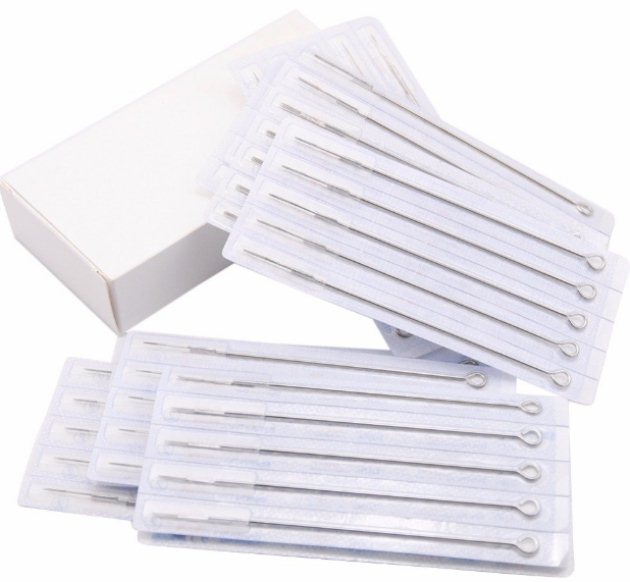 Some tattoo needle sets contain more than 50pcs, but we don't think you should start out with a large set if you don't have big projects to work on. Larger sets are more suitable for professionals with an established clientele.
This package includes 50 needles, but there's an option to upgrade if you will. These needles are disposable, meaning that they should be used for one time. Another thing we like about this set is the mixed sizes provided.
This is good news to those wanting to practice with different needle groupings knowing each configuration has a unique effect on a tattoo.
Let's move on to the aspect of quality, which to no surprise is excellent. Well, we wouldn't expect less from the stainless steel 316L. For those unaware, this is the standard grade of steel that has great resistance against certain types of corrosive attack.
Related: Tattoo Kits for Beginners | Tattoo Kits for Professional | Tattoo Pen vs Tattoo Gun | Top Tattoo Machine Brands | Tattoo Guns for Beginners
Tips for Choosing The Best Tattoo Needles
1. Choose the right sizes
You should start by choosing the right size because it will affect the looks of the tattoo. Tattoo needles come in 5 different sizes. They are 6, 8, 10, 12, 13, which represent diameter 0,20 mm, 0,25 mm, 0,30 mm, 0,35 mm, 0,40 mm respectively.
The most popular size from the lineup is size 12 for all tattoo techniques. Meanwhile, the most popular size for lining is size 10. Why does size matter?
The size of a needle greatly affects ink flow from the machine into the skin. If you want to create a very fine outline, then the needle should be very small in diameter. Larger sizes are more suitable for shading.
2. Choose the right configurations
If you think that tattoo needles are only single needles, then you're wrong. A few needles can be stacked together to create a cluster of needles. This allows a tattoo artist to do certain techniques like shading more efficiently.
Needle configurations are presented in codes. F or Flat is a grouping of needles arranged in a straight line. M1 or Weaved Magnum is a grouping of needles arranged in 2 weaved rows. M2 or Stacked Magnum is similar to M1, but the needles are placed much closer together. Both M1 and M2 are useful for shading due to their higher needle counts.
There are also RL and RS groupings. RL stands for Round Liner. This is when needles are placed in a circle formation. RS stands for Round Shader. RL and RS are nearly identical. The most notable difference is RL is arranged more tightly with the aim of creating finer lines.
3. Needle tapers
Needle codes don't usually list this information, but it may be included in product pages. Therefore, you must read thoroughly the specifications before making a purchase. Taper lengths are another important aspect of tattoo needle groupings.
There are a few different varieties, namely, short taper, long taper, and extra long taper. In a nutshell, the taper is the distance between the point where a needle starts tapering down and its sharpest part / the very end of the needle. Needles with longer taper lengths are usually sharper and better for filling, but this comes at the cost of finer line work.
Conclusion – Tattoo Needles
Needles have always been an integral part a tattoo machine. Even if you have a machine made of the most robust material, it means nothing when the used needle lacks in quality.
Finding the best tattoo needles can be time-consuming just like finding a machine does. There are many things to ponder, not just the price. Apart from size and configuration, safety is also a huge concern.
Remember that using unsterile needles can cause serious health issues like infections, so better safe than sorry. Thankfully, tattoo suppliers manage to overcome this issue by packing needles individually and sterilizing them with the most advanced technology.
Other Tattoo Supplies and Equipment Posts