Choosing the right tattoo machine can be challenging since these hand-held devices come in different types and sizes. They also have specific purposes. For this reason, make sure that you pick the right one to do the job.
The magnetic coil type comes with an armature bar in which the movement is controlled by alternating electric current. The current passes through the coils and eventually creates a hammer-like motion.
The force is what moves the needle up and down, creating space for the ink to penetrate through and get trapped in the skin. And then, there is also the rotary motor type, which utilizes electrical current to create a similar motion.
Best Coil Tattoo Machines
---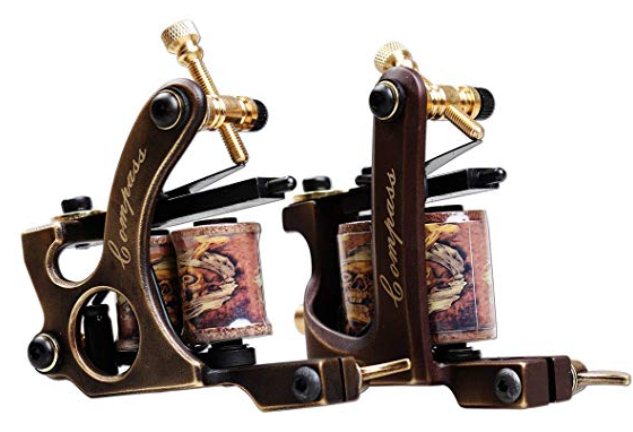 This is easily one of the best coil tattoo machines ever made. Not only does this have an affordable price, but most importantly, it also does a terrific job at creating magnificent tattoos. It's highly useful for lining and shading.
However, it works best for professionals. If you're new to tattooing, you might want a simpler device. You can get the 2-piece set for less than $50.
The liner has 8 wrap coils, while the shader has 10. Speaking of the design, it looks robust and professional. The performance is also top-notch, providing good consistency and reliability.
This device is made of cast iron, pretty typical for coil tattoo machines these days. Well, one doesn't have to look fancy to be a workhorse and this product proves that.
Thanks to the black material, it looks solid and provides a strong grip. In terms of functionality, the magnetic and electrical conductivity works great.
If you want to make smooth lines, this will help a lot. Apart from high accuracy, this product also offers stable working speed, not to mention that it can run for hours without any sign of overheat.
Another benefit it has to offer is lightweight. Heavier machines do look more solid, but if you need one to work with for longer, then a lighter one like the scorpion liner is the better option.
For those wanting a tattoo machine with a straightforward design, this is the way to go. Given the price point, this product is quite a stunner as it offers more than a high quality frame. While the steel design doesn't look anything special, it still has a beautiful appearance.
The best thing about this machine is it comes with adjustable voltage, which really helps for lining and shading. It's possible to do both jobs with a single device, but it would require additional setting changes.
This is why some artists prefer to work with two guns because each one could be adjusted to certain settings, so there is no need to change them regularly. This saves them time and hassle.
As for weight which has become a deal breaker for some, you shouldn't worry because the York Coil tattoo machine is surprisingly lightweight. Besides, it doesn't vibrate much, which prevents early hand fatigue.
In terms of design, this tattoo machine easily stands out. Just look at that meticulous design! Besides a high quality frame, it also boasts stable strong rear magnetic and working speed.
As with other top-of-the-line tattoo guns, this doesn't get hot easily even if it's used for long periods of time. Meanwhile, the smooth vibration allows you to create fine lines without a problem. Basically, the 1tattooworld is everything you'd expect from a premium tattoo machine.
The device brings a lot of bang for the buck, the reason being – it doubles as a shader and a liner. Many products can do just one despite carrying heftier price tags.
The handheld-device is constructed using low-carbon steel material. It looks pretty modern style-wise, has a working voltage of 4-12v. In the meantime, the size of the spring kind of puts it in the shader category.
Surprisingly, it's still useful as a liner. It can be tricky to pick a machine that can do both, but since it's low priced, we think it's a good bargain.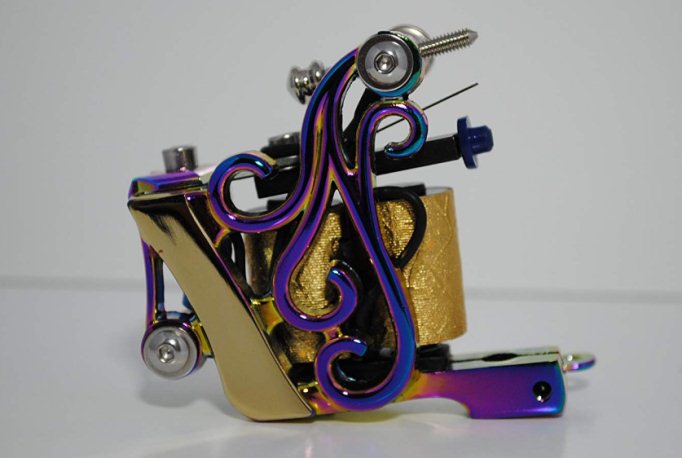 This is another offering from One Tattoo World. What sets it apart from the cast iron variety is the used material. This one uses zinc to build the whole thing. The appearance is also totally different. Unlike its sibling that appears solid black, this comes in a light metallic color.
As for functionality, this machine can shade and line at the same time. The armature bar is made of high-end iron for maximum magnetic conductivity.
As for the coils, according to the product information they're based on copper and comprised of 10 wrap coils. You can find more about the listing by visiting the provided Amazon link.
This tattoo machine has a brass frame. It can deliver smooth lines, which are important for a multi-purpose device. The liner consists of 8 wrap coils, slightly below the shader that has 10.
Choosing a hybrid machine isn't an easy thing to do. We're under the impression that specific machines do their job better, but it's not always the case. Some products can shade just as good as they do lining. This particular machine may fit the criteria since the spring is highly flexible so it doesn't break easily.
Other components that make up the unit also deliver awesome strength and robustness, including the armature bar and contact screw that's made of copper.
How to choose the right coil tattoo machine?
---
1. Weight
weight should be one of the primary considerations knowing that a tattoo machine can be very heavy and put a lot of strain on your hands.
Using one will make you fatigue quickly especially if you're new to this practice. Some products are heavier than others. For this reason, take time to compare different products before making a purchase.
2. Noise level
Are you familiar with the buzzing noise coming out of most tattoo shops? That's the kind of sound that the average coil tattoo machine generates.
Well, it's not necessarily bad because the loud noise also acts as an ambient sound to mask background noise. This helps the artist keep his focus while doing his job. Read the description and see just in case a product offers a lower noise level.
3. Shader or liner
Please get to know the difference between a shader and a liner since they are totally different. A liner works faster, but it doesn't penetrate the skin as deep as a shader does.
It makes sense because a liner serves to create outlines. Meanwhile, a shader is specifically designed for coloring. One of its main characteristics is longer armature. It also goes deeper into the skin than the liner type.
4. Versatility
Even the best coil tattoo machines can only line or shade. They can't do both all at once. Thankfully, some products are sold as 2-piece sets, meaning that you can get both types in one package.
Buying a set also allows you to save more because they're typically cheaper. If you want to become a professional tattoo artist, it's mandatory to have both units considering they serve different functions.
The rotary type has an edge in versatility as that they can do both. All in all, coil and rotary machines are great in their own way. You should get one that suits your needs and interest.
Conclusion – Best Tattoo Machines
---
Read the specs of a machine before buying it. Remember that every machine has unique specs that directly affect its performance. For example, some best coil tattoo machines have more magnet wire wraps. They can be seen through the height of the coils.
Shorter coils can hit faster due to having higher resistance. However, they also don't tap the skin hard like those with taller coils. When a machine has tall coils, the strong current makes it bounce with extra power. Another determining factor is the number of layers. Despite the height, coils with more layers tap more forcefully.
Design is another thing you might look for in a tattoo gun. It's a matter of taste, though, so you'd need to see each product more closely. Tattoo guns are made of a broad range of materials. While they're all metals, each one possesses distinct characteristics.
Additionally, you might need to learn about setup, tuning, and maintenance. Some say that rotary machines are easier to operate compared to the coil type. Well, you can only tell after having a hands-on experience with all of them.
If you find a coil tattoo machine fairly difficult to use, switching to the rotary style is a good idea. But at the end of the day, having the knowledge to use different machines is still important especially when you want to be a professional tattoo artist.
---
Related Posts – Tattoo Machines
---