What are the best rotary tattoo machines? There are many, we'll round them up for you. It's not hard to see the appeal despite the immense popularity of the traditional counterpart.
These machines are usually lighter than those with coils. If you feel hand fatigue quickly, choosing this type of gun is the right thing to do. One of the reasons why a coil machine weighs more is due to the presence of coils.
This part can't be omitted since coils are essential to generate electromagnetic fields. Without them, they may weigh less, but then again, they're called coil tattoo machines for a reason.
Apparently, coil machines are pretty much a standard. Tattoo artists use them a lot. But in case the noise is bothering you, changing to the rotary type would solve the problem. People say you'd get over the annoying noise over time.
While there's some truth to it, it's easier to focus when there's not much noise around. For those who need a quiet environment to get the job done, we really recommend using a rotary tattoo machine.
For your information, tattoo machines come in two types, shaders and liners. Liners are beneficial for creating outlines, while shaders are for coloring. Due to the unique construction, coil tattoo machines normally are able to do just one.
This is where rotary machines come in handy. They can work as shaders and liners.
Does that mean they're better? Not necessarily, many artists actually prefer to work with different types of machines because they give better detail.
Best Rotary Tattoo Machines
---
This is perfect for budget-conscious buyers. Some machines can cost hundreds of dollar. However, they are not always superior to cheaper alternatives like this one.
The Mast coreless motor promises over 3,000 hours of use. We also adore the simple and classic design. In terms of performance, this gun can be your company for entertaining tattoo sessions.
It does an excellent job of lining as well as coloring. A good machine is supposed to minimize skin trauma. This is a serious concern, which is directly linked to the quality of a device. Thankfully, this rotary machine has a mechanism to reduce trauma.
Weighing just 82g, it operates at working voltage of 4 V. The pen-shaped design makes it practical to carry around. Remember that a quality machine doesn't have to be heavy. This lightweight product can do tattoo work just fine despite being so compact.
Needless to say, price is a key factor that affects the uncertainty in purchasing. Higher prices are often associated with better quality.
Well, some products are able to break the myth, including this machine from Horiking. For just under $60, you'll get a unit that exerts strong force and doesn't produce much noise. Besides, it's highly functional for various tasks, such as grey shading and lining.
It's also said to withstand wear and tear better than other products in its price range. It sounds like a nice offering, right? The setup turns out to be easy, too.
It has stroke lengths ranging from 0 to 4mm. The starting voltage is 5 V, which could be raised for harder work.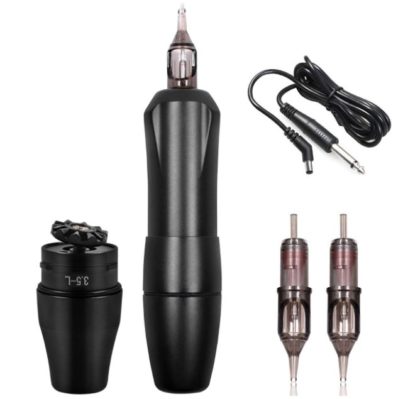 This rotary machine is designed not just for beginners, but also professionals. Have you struggled to choose between a liner and a shader? With the BMX Pen Rotary Machine, it's no longer an issue as it can give you the best of both worlds.
It seems that many people still underrate the power of a hybrid machine. In reality, some machines can do a variety of tattoo work effortlessly.
This one, for instance, comes with replaceable Swiss motors, which act as a liner and a shader. Meanwhile, the price is very reasonable. You can create artwork with great craftsmanship without burning a hole in your pocket.
Back to the motor, this part offers maximum endurance and performance. It doesn't end there. This machine is also very quiet during use.
You won't be bothered by loud noise which is typical for the coil type. On top of that, it doesn't produce much heat, so it feels comfortable in your grip for hours.
This dark-colored rotary machine has a space aluminum frame. It weighs about 115 grams, 300g if we include the box. As with other rotary machines, it can perform a wide range of techniques, but that's not the only thing it excels at.
It also delivers high accuracy and power. The design personifies simplicity, which is a good thing if you've never cared about designs in the first place.
It operates at a working voltage starting from 6V. There are a few items that come with the package. In addition to the tattoo pen, you'll also find a needle cartridge along with a connection line.
This product has plenty of happy customers. Just take a look at the reviews it has earned from buyers via the provided Amazon link.
This rotary machine sports an ergonomic design. It is available in 7.5 – 8.5 volts, which are useful especially for shading purposes. Higher volts would be suitable for lining.
To see a rotary machine doing multiple tasks isn't really surprising because these type of machines are known for having this unique ability. If you need one to do more than gray shading, we'd recommend this.
What does it have to offer? This handheld piece looks elegant with its metallic frame. It's also lightweight, but generates enough force to complete all kinds of tattoo work you want.
Apart from elegance, it also boasts a very reasonable price. Some products with similar functions are sold at exorbitant prices, so this one would be hard to resist. It has other advantages, including easy to use and quiet.
Now if you need a device that serves all the basic functions and suited for beginners, this is a great pick. Besides, it's extremely versatile since it can be paired with standard essentials.
What to look for in a rotary tattoo machine
---
High quality products can be found anywhere online and offline. It's easy to overwhelmed by the sea of choices, but let's narrow down the search by focusing on features that you'd expect from a rotary machine.
1. Durability
The first thing to take into account is durability. How long can machine operate continuously? Some products can work all day long non-stop.
Such machines usually have higher prices, but quality comes with a price. Don't hesitate to spend more on a product that can provide durability and good outcome.
2. Hard or soft work
Some of the best rotary tattoo machines have adjustable dampening, usually placed somewhere on top. The adjustable part gives extra flexibility for lining and shading.
All you need is turn the knob, either clockwise or counterclockwise, and then you'll see a change in the results.
This sounds like a hybrid machine. Well, a rotary machine is indeed a hybrid unit. It can do different tattoo techniques.
The best part is, some products can produce fine lines which are even more subtle than traditional coil machines. That says a lot about their versatility.
3. Robustness
Depending on the material, a tattoo machine can be strong or very strong. Not all materials are created equal. Some have more strength and better heat dissipation, while others are sturdy, but heavy at the same time.
This is a big concern especially if you don't like using heavy devices. Look for one made of aluminum alloy or another known for being lightweight. This way you can prevent hand fatigue while finishing your job.
4. Low vibration
Every tattoo machine regardless of the type vibrates during use. The difference is some machines produce very low vibration, so they don't torture the ears while you're using them.
There are many products that don't make much noise, so take time to find them.
Conclusion
---
Choosing one of the best rotary tattoo machines sounds like a lot of work. As you shop around, you will come across countless products with varying specs and prices.
For this reason, you must know your needs first. Use them to guide you to find the right machine for your tattoo work. One of the factors we're talking about is voltage levels.
They directly affect the power of a device, so make sure your device has adequate voltage support. Don't forget to learn about setup and maintenance.
A rotary tattoo machine needs to be constantly cleaned which usually requires components to be taken apart. This is to maintain hygiene since tattooing itself is not a sterile practice.
---
Related Posts – Tattoo Machines
---