Tattoo Shop Near Me? Let's Find The Nearest Tattoo Parlor Around You.
If you're a tattoo enthusiast planning to get inked, finding the right tattoo shop is crucial. Safety should be a top priority when it comes to choosing a shop, as not all establishments adhere to proper protocols to create a safe tattooing environment.
It's important to remember that a tattoo is essentially an open wound, and without proper treatment, it can become a breeding ground for harmful microorganisms.
Therefore, locating a reputable tattoo shop near you becomes imperative. Fortunately, in this digital age, a wealth of information is readily available at your fingertips.
By simply opening your favorite web browser and searching for "tattoo shops near me" using search engines or dedicated web platforms, you can access a variety of helpful resources.
In this article, we will break down these platforms and provide you with valuable insights on how to find a trustworthy tattoo shop that meets your needs.
Finding the Best Tattoo Shop Near You
---
Yelp
Anyone who has tried to search for a location online would probably have stumbled upon this site.
Yelp is an online directory that archives local businesses, such as gas stations, restaurants, clothing stores, beauty salons, tattoo parlors, etc.
You can start your research on this site because the library is huge. It can be accessed on various devices.
If you're on your computer or laptop, launch a browser and type something on a search engine. Relevant businesses should appear as you hit enter.
It also has official apps for Android and iOS, which means you can visit it on mobile. Install and it will be easy to get information about nearby locations.
There are many things that make it a great directory. Apart from the extensive listings, it also offers a bunch of features that let us sort places by price, geographical location, distance etc.
Besides, each type of business also comes with unique categories and features.
You can try by entering different keywords on the search box.
Pay attention to the left sidebar as the batch of results change with each keyword.
And if you're curious about the best tattoo shops, sort them by rating.
You'd know which stores have the most positive feedback from customers.
This helps greatly because a high rating indicates higher customer satisfaction.
The number of reviews are equally important. If a store is able to maintain a high rating after tons of reviews, then it means the quality and service are outstanding.
Each listing has contact information that allows you to contact the poster in case you're interested.
Besides a phone number, a listing typically includes an address and special features on offer.
For example, some listings include the following details:
Certified professionals
Free consultations
Available by appointment
Walk-ins welcome
Gift cards
Virtual estimates, etc.
These details vary from store to store, so don't miss them as they can give you an insight into a service.
Google Maps
Google Maps is another useful tool for discovering places you didn't know before, including tattoo shops.
It's as easy as typing in a location on Google. If there are relevant locations nearby, they should show up on the first page of search results.
The listings look a bit like ads because they stand out among the rest.
The search engine will automatically provide information based on the location you're searching from, which likely derives it from your ISP.
For example, if you enter 'nearby tattoo shops', the ones that appear will be those closest to you.
The results will also be suited to your language. Google Maps marketing isn't just useful for visitors, but it's also useful for the business owners.
Let's say you just started a business and don't know how to market it. Tagging it on Google Maps can help people discover it.
Yes, it's free promotion which means a lot for small businesses.
Much like Yelp, Google Maps can also provide detailed information about tattoo shops.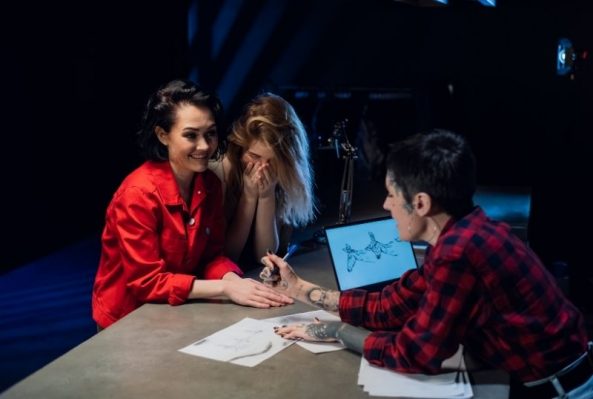 The name is at the top followed by other essential information such as address, opening hours, and rating.
To use it, first you have to open Google, and then type in the keyword you desire. Hit enter, all the stores in the vicinity will be listed on top.
You can click on one of the results, which will redirect you to a new page filled with specific info about it.
Right below the name, there's a rating, which may suggest how the public responds to the service.
If it has received mostly good reviews, then it says a lot about the quality.
On the contrary, if it has garnered mixed reviews, take time to examine what caused the negative feedback.
Another useful feature of this online directory is images.
Some shops have relevant images included which depict the inside of the building, staff, work samples, tools, etc.
In other words, you don't have to visit a tattoo shop to get an idea of what the service looks like.
You should also pay attention to the QnA section.
Questions often come from the general public, and some are directly answered by the owner.
Search Engines
Well, this one is obvious, right?
Search engines are your best friend for searching everything.
In fact, that's usually the first thing we visit before discovering all these hidden gems like Yelp and other directories.
Through Google or Bing, you can find websites that list out nearby tattoo parlors.
You're lucky if you live in a big city because many websites also publish articles mentioning the best local tattoo shops.
All you have to do is type in a keyword like 'tattoo shops in + city / location'. If there are relevant results, they will appear right on the first page.
This may also take you to other tattoo finders. It's worth-noting that each has a different list of shops in its library.
Though these sites may not be as comprehensive as Yelp, they are still helpful nonetheless.
Some sites are focused on the highest rated services, which is a good thing as you don't have to do the sorting yourself.
In addition to parlors, some sites also have information about top artists.
While finding a reputable shop is important, working with the right artist is also crucial.
You'd want to get assistance from someone who has expertise in this field because it will put your mind at ease especially when you face problems down the road.
Tattoo Conventions
There are many ways to find recommended tattoo shops near me besides looking them up online.
One of the conventional ways is by attending a tattoo convention.
For the record, a convention is a place of gathering for artists, collectors, and enthusiasts.
This event typically includes 2 or 3 days of in live tattooing. They are quite popular across the globe, so no matter where you live, you should be able to find one or two in your area.
The reason why attending a convention is a good idea is because you get to meet people with the same interest.
You can make friends with artists that you may consider working with in the future.
The most talented people come together here.
Not only do you have a chance to see local artists, but many of them may also fly from other countries.
Questions You Might Have While Searching Tattoo Parlor Near You
---
1. Can I just walk into a tattoo shop?
Normally, getting a tattoo requires you to make an appointment first. But on some occasions, it's not needed.
There's a unique term called walk-in tattoo, which basically refers to getting a tattoo in a single session.
Some people have to wait for several months until their artist is ready to take on a tattoo, but it's a commonplace for intricate designs.
If you want a simple one, a walk-in tattoo is available, anyway. While it's true that it takes shorter to finish, it's not necessarily spontaneous.
Yes, you can get tatted up on your first meet-up with the artist, but deciding upon the design and preparation can be done months before.
2. What is tattoo etiquette?
There are a few things to keep in mind if you want to get a tattoo.
First, don't bring too many people. Overcrowding the space with an entourage is not okay because it's supposed to be a space for carrying out tattoo work.
If you want to ask someone to go with you, tell him or her to wait outside.
Next, don't negotiate price especially when it's already cheap. Keep in mind that a tattoo artist comes up with an estimate after he has assessed many things.
Besides, he probably has worked with numerous clients that he knows how to charge a reasonable price.
Another important etiquette is when the session starts, don't interrupt him abruptly.
Let him focus on the work to avoid mistakes.
3. What do tattoo artists hate?
They hate noise while doing their job.
Therefore, don't watch videos on your Smartphone especially with loudspeaker on because the sound can be distracting.
Next, they also hate haggling, which makes sense because a lot of effort is put into creating a tattoo.
You should appreciate the work by not negotiating price.
To avoid misunderstanding, ask for a quote during appointment.
This way, you can decide if you will keep going or back out but not in the last minute.
4. Why are tattoos cash only?
Let's get it straight, not all shops take cash only though it seems to be a favorite form of payment.
There are some possible explanations.
First, some tattoo shops do that to avoid fees charged by credit companies. Basically, cash is seen as more hassle-free to them.
Second, it probably has to do with the paper trail. From a legal standpoint, all income should be reported.
By taking cash, it's possible that a transaction goes unreported, so no tax is paid in the end.
Having said that, we should judge it on a case-by-case basis.
5. How much should you tip a tattoo artist?
Any artist would appreciate a generous tip, but if you want to go with the general rule, 20% sounds about right.
Just make sure to not dip below 15% unless the service is disappointing.
The longer it takes to get the tattoo done, the more you can consider leaving for the artist.
6. How do I find piercing shops near me?
We suggest the same methods as finding tattoo shops near me above.
The truth is, no matter what businesses you search for, odds are they have been archived by major directories like Yelp and Google Maps.
Just type in the desired keyword on the search bar, and you'll get the relevant results in the blink of an eye.
7. Does getting your ears pierced at a tattoo shop hurt?
Everyone has a different experience with piercing, so it has more to do with the anatomy of your body.
But we wouldn't rule out the importance of working with a qualified person.
For your information, some tattoo parlors offer piercings. If you want to get one from this shop, ask the artist if such service is available.
But if you want to get it in a clinic, then it's great, too.
At the end of the day, your pain tolerance and piercing location play a huge part.
8. Why is it better to get ears pierced at a tattoo shop?
That's because some tattoo artists have been certified to do the job.
They know how to perform it correctly, so that it doesn't cause much pain.
For example, they would make sure to use a sharp needle instead of a dull one. Besides, the tools will also be sterilized prior to use.
Final Thoughts
---
Once tattoo ink is injected into the skin, the pigment stays there for a long time.
That's why it's important to find a tattoo artist to work with because the result really depends on how skilled he is and how well he captures your intent.
Are there any tattoo shops near me?
If you have this question in mind, just do some research to find out. There should be some especially if you live in a bustling city.
Even if you couldn't find one after a while, it doesn't mean they don't exist.
Business owners are becoming more aware of means of promotion to get their stores noticed, which is why they use platforms like Yelp, Google Maps, etc.
It's easy to keep tabs on new shops by visiting these directories. You can also count on your friends especially those interested in tattoos.
By the way, good luck on the hunt.
Take time to find the right shop to get the tat done.