What constitutes a good tattoo chair?
There are a few factors that define a quality chair, like the degree of adjustability, base material, padding material, etc.
There should be at least two chairs in your shop, one for you and one for clients. You can't do a tattoo sitting on the floor because it can turn chaotic real fast.
Remember that you need to keep ink and other stuff close by. These things need to be placed neatly in the room. Thankfully, there is furniture made for this purpose. You can buy some for sitting and another one to arrange your supplies.
When it comes to the best tatto artist chairs, your clients' comfort is not the only thing that matters. Your comfort is equally important because a tattoo session can take hours to finish.
Without a comfy chair, it will be hard to focus on the job. What do you expect from a tattoo artist chair?
It doesn't need the flexibility that the average client chair has to offer, but the cushioning should be comfortable at the very least. It can also come with adjustable settings, like height and reclining positions.
Make sure it's made of high quality leather that's resistance to spills. Keep in mind that you will work with ink that can spill all over the place if you're not careful.
But with quality leather, you wouldn't worry about ink leaving stains on the fabric. Furthermore, it will create a protective barrier for the cushion below it.
Best Tattoo Artist Chairs
---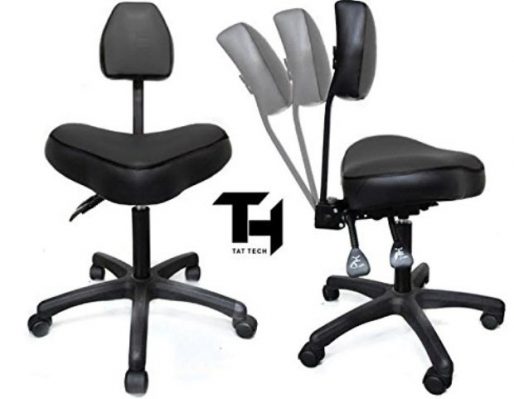 For those looking for a versatile chair for their tattoo studios, this product is the epitome of comfort. The thick cushion provides good support to your bottom.
The stool stands at 20 inches tall and can still be expanded up to 27 inches through the adjustable setting. Meanwhile, the backrest measures 1 to 10 inches. The chair is designed in a way to help improve blood circulation especially in the lower part of the body.
This is a concern as a tattoo session normally takes hours. Without a good circulation, you will easily feel fatigue.
Another part that boosts its comfort is the backrest. It can be tilted to the back in case you need to stretch your body a little bit. People with back problems will also benefit from such a construction. With this chair, you can lean backwards every once in a while for relaxation.
This is what you need to correct your posture. The saddle stool has a design to help you change posture when needed. This is important to reduce stress especially around the neck area. You can even sit on it for hours comfortably.
The height of this chair is adjustable from 20 to 29.5 inches, making it one of the tallest stools ever. This is especially beneficial for taller people. In the meantime, the wheels roll smoothly. They don't create annoying noise as you move the chair across the room.
The loading capacity is 350lbs, pretty typical for this kind of construction. It's made possible by the strong aluminum base. The extraordinary height is not the only appeal of this seat. It's also thick in the pad, so it's very comfy to rest your butt on it.
InkBed has an array of tattoo chairs for both clients and artists. This is one of the products in its complete lineup. In terms of looks, it's far from sophisticated, but it makes sense because this chair is aimed at the artist.
As we know, an artist needs to move a lot while tattooing because he has to constantly tune the machine, power supply, and dip his gun in ink. To accommodate that level of mobility, a simple chair is probably the best option.
This one looks very simple, but it's still a good piece all things considered. The thick cushion provides the ultimate comfort. The welded steel base offers better durability and it allows the stool to support more weight.
Like the majority of tattoo chairs, the height is adjustable on this one.
And how can someone not stare at the premium pvc leather covering the saddle?
Not only does it look sleek, but it also comes with low maintenance. For those wondering about maximum weight this unit can handle, the upper weight limit is 400 lbs, very fascinating indeed given its compact size.
This product lives up to its name. It tries to provide us maximum comfort thanks to the full rotation design. It's also covered with high quality leather that not only offers longevity, but also easy maintenance.
There are 5 castors attached to its legs to ensure free movement. As for the height, it's adjustable through the hydraulic system.
If you're looking for a chair for your tattoo shop, this makes a perfect addition. It's versatile enough that you can also use it for other commercial establishments. One of the requirements of a quality stool is a strong metal base and this product has that.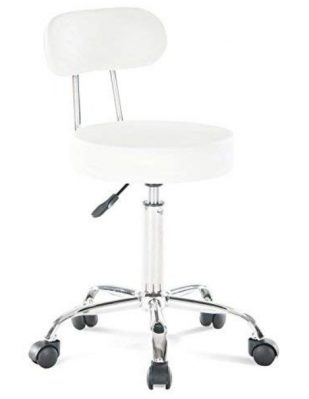 This chair comes with an adjustable height of up to 25.19 inches. Add this to the fact that the frame is built using superior metal, you will get a very solid product with incredible durability.
The top padding has a round shape covered in high-end pu leather. There is also a backrest that you need to give necessary support to the spine. The stool has 5 wheel castors for the best stability.
Well, this kind of design has become a standard in portable chairs. Less wheels result in less stability, so it's good that the company pays attention to this little detail.
When it comes to tattoo chairs, many of them look quite identical especially those meant for artists. It's not surprising since artists do a lot of movement while doing their job. As a result, their chairs are also designed clean and simple. This is no different.
Apart from the regular no-armrest no-back support design, it also has 5 wheels for extra stability. Actually, it still has a backrest albeit a small one. This chair comes in individual parts.
You need to put them together to form the whole chair, but it's not difficult since screws and necessary tools have been included in the package.
How to choose the best tattoo artist chairs
---
1. Padding
Good padding doesn't have to be thick, but should be thick enough to support your bottom. If it's too thin, you will feel fatigue quickly.
Too thick isn't good, either, because it may feel like sponge. You would want the foam to conform to your contour. That would be better if it returns to the original shape when you no longer sit on it.
Please touch the pad to find out how it responds to pressure. If the padding feels comfortable enough, you can consider buying the chair.
2. Adjustability
It's not wrong to dedicate the most comfy chair to your clients, but it's hard to work when your focus is distracted between many things. Imagine you have to constantly fidget in your seat just because it feels hard.
Tattooing requires a lot of focus. You can't let trivial matters ruin everything. If you get distracted a lot by the hard pad, you must switch to a softer pad. The same goes with height. Not all stools come with adjustable heights.
Choosing a chair that doesn't properly support your frame will also cause a lot of discomfort. To overcome this issue, you should opt for a chair with adjustable height and a nice backrest.
3. Portability
Do you need to move freely across the room?
If so, then you must pick a chair with wheels. Some chairs especially for clients don't offer much portability, but they make up for it with advanced features like reclined backrest and extra legrests.
You know your needs as an artist. If you need unrestricted movement while doing a tattoo, then opt for a portable chair.
4. Loading capacity
We're not trying to be shady or anything, but it's a fact that every chair has a different weight limit. Some chairs can support up to 300lbs, while others can handle more.
You're probably not the only one who will use the chair, so go for a higher loading capacity just to be safe.
Conclusion
---
You can please your customers by giving them the most convenient chairs, but you shouldn't compromise yours. Hence, the one you sit on should also have dense and soft cushioning.
It can be hard to choose among the best tattoo artist chairs, that's why you should figure out your needs before shopping around. Learn the specs of a product before you consider buying it.
Different chairs not only have different features, but also different price tags, so take your time to choose the most suitable one. That's the roundup of the best tattoo artist chairs.
---
Related Posts – Tattoo Furniture Products
---